Cara Delevingne Mourns The Loss Of Model And Skateboarding Pro Dylan Rieder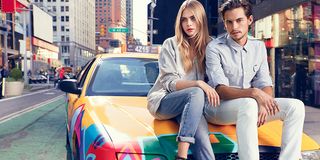 Dylan Rieder was a professional skateboarder, a model, and according to Cara Delevingne, an awesome person all-around. After Rieder died at age 28 on Wednesday, the model and actress remembered him in a sweet tribute on her Instagram, calling him "one of the kindest, most down to down, incredible human beings" that she has ever encountered.
The photo that Cara Delevingne posted was from the set of a 2014 DKNY ad campaign photoshoot, which served as Dylan Rieder's primary credit as model. Rapper A$AP Rocky and model Jourdun Dunn were also on set and participated in that shoot.
Dylan Rieder died on Wednesday due to complications from leukemia. He had been battling the cancer for two years prior to his death at the age of 28. News of Rieder's death was reported by his manager via Jenkem Magazine on Facebook. The skateboarding-centric publication shared that Rider was surrounded by family and friends when he passed, and that they are asking for donations to Rieder's doctor instead of flowers.
Dylan Rieder began skateboarding at the age of 9 before turning pro at age 18. He competed in multiple Street League and X Games competitions between 2010 and 2013, and also broke big in modeling after appearing in a Vogue spread.
But Dylan Rieder's influence stretched far beyond fashion and skateboarding, as evidenced by the number of celebrities who memorialized him on social media after learning of his death. A number of musicians shared their condolences over the loss, including Ozzy Osbourne, who posted a photo of himself and Rieder from some years back and commended him for his talent and bravery.
Ozzy's wife Sharon Osbourne also mourned Dylan Rieder's death by sharing a photo of him and writing that he was "one of the most beautiful & talented men [she's] ever met."
And known skateboard enthusiast Lil' Wayne also paid his respects in a short and sweet tweet.
But one of the most heartwarming tributes came from the skateboarding icon himself Tony Hawk. Hawk posted a video clip of Dylan Rieder jumping over a picnic table on his skateboard, and gushed about the passion and style that Rieder possessed.
Your Daily Blend of Entertainment News
Thank you for signing up to CinemaBlend. You will receive a verification email shortly.
There was a problem. Please refresh the page and try again.