Jennifer Lawrence And Director Darren Aronofsky Have Called It Quits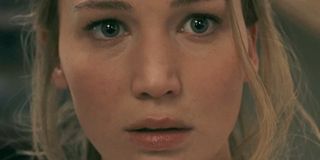 According to various entertainment news outlets, Academy Award-winning actress Jennifer Lawrence and lauded American filmmaker Darren Aronofsky have split up after a year of dating. Apparently, Lawrence and Aronofsky broke up on amicable terms. While it is a good to hear Lawrence and Aronofsky are still friendly, the news of their breakup does come as a bit of a surprise.
Outlets like ET are saying Jennifer Lawrence and Darren Aronofsky's romance is a thing of the past. But Lawrence was still saying loving things about the Black Swan director as recently as Monday, November 20. During a revealing interview that day, Lawrence gushed about the beginning of their relationship, and there was no hint that the pair might be calling it quits. She told The Hollywood Reporter's Awards Chatter podcast she developed a crush on Darren Aronofsky before he extended the offer to work together on a movie.
Before filming mother!, Darren Aronofsky insisted on rehearsals--something that is not always a requirement for all movies or all trained actors, especially powerhouses like Javier Bardem, Domhhnall Gleeson, Michelle Pfeiffer, Ed Harris, and Kristen Wiig, who all appeared in the film along with Jennifer Lawrence. The rehearsals gave Lawrence and Aronofsky a chance to get to know each other, but according to Lawrence, Aronofsky remained "professional" the whole time. They did not broach the topic of a relationship until after filming wrapped. Lawrence explained,
Paparazzi spotted Jennifer Lawrence and Darren Aronofsky having dinner in New York around August 2016, and then the press started talking about a romantic connection between them about two months later. However, the now-former pair never confirmed or denied the romance, until Lawrence dished about her boyfriend in the September 2017 issue of Vogue. In that article, the Silver Linings Playbook Oscar-winner indicated it felt nice never to be confused about the ins and outs of her relationship with Aronofsky.
Jennifer Lawrence also told the fashion magazine about how she and Darren Aronofsky shared similarities regarding work ethic, but they had stark differences, too. For example, Lawrence said her passionate love for all things Keeping Up with the Kardashians never made sense to Aronofsky-- although he still supported her. In fact, Aronofsky even let her create a quasi-meditative space on the set of mother! and fill it with things devoted to KUWTK.
Before dating Darren Aronofsky, Jennifer Lawrence had romantic connections to Chris Martin of Coldplay and actor Nicholas Hoult. Aronofsky was together with actress Rachel Weisz until 2010 when they split up after nine years. Weisz later married James Bond actor Daniel Craig.
While it is a bummer to hear Jennifer Lawrence and Darren Aronofsky have separated, it is good to know the split was friendly overall. It will be interesting to see who Lawrence dates next (and if it will be Chris Pratt, who is also single at the moment). We'll have to stay tuned.
Your Daily Blend of Entertainment News