The Reasons Jennifer Lawrence And Darren Aronofsky May Have Broken Up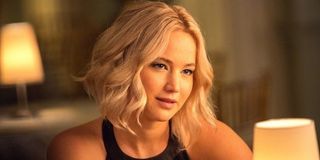 Recent reports say Academy Award winner Jennifer Lawrence and acclaimed filmmaker Darren Aronofsky have split up after dating for about a year. Aronofsky and Lawrence have not publicly commented about the supposed breakup or what caused it, but there's been plenty of information about the former relationship and the breakup, and by looking at the evidence, we can piece together a semblance of understanding about what might have moved Aronofsky and Lawrence to call it quits. Let's recap.
Days before news surfaced about Jennifer Lawrence and Darren Aronofsky's split, Lawrence joined a podcast for an interview in which she spoke as if they were together or at least friendly. Reports say Aronofsky and Lawrence broke up about a month before the breakup made headlines, so Lawrence speaking fondly of Aronofsky could support reports saying they ended on amicable terms. Thus, we can assume there was not a big blow-out argument; still, we cannot know for sure.
After all, Jennifer Lawrence previously told the press about tense moments she and Darren Aronofsky shared on the set of mother!, the recent Aronofsky-directed film starring Lawrence in addition to Javier Bardem, Domhhnall Gleeson, Michelle Pfeiffer, Ed Harris, and Kristen Wiig. In September, Lawrence told Vogue she once felt so much anxiety and stress during the filming that she hyperventilated and needed emergency oxygen. She even dislocated one of her ribs one day, too. Lawrence described the hyperventilation and said,
Yikes! When we first heard that story, it read in a different way. It added to the notion Jennifer Lawrence and Darren Aronofsky had found common ground in their intense work ethic and pushed each other to be their absolute best at all times--like, even when one of them needed emergency oxygen. While it might be true Aronofsky and Lawrence are hard workers and even bonded over that characteristic, this particular anecdote reads in a much different light now that Aronofsky and Lawrence's fling supposedly is a thing of the past. (Also, Lawrence said she requested a room devoted to all things Keeping Up with the Kardashians to help her survive the filming, and Aronofsky never understood why she relied on reality TV to relax. In the article, this bit came across as cute and quirky, like Aronofsky didn't get it but still wanted J. Law to be happy. However, it might have been some breakup foreshadowing related to age and maturity. More on that in a moment.)
Other reasons might have contributed to the split. For example, Page Six heard from a source who simply said, "It was just time," which does not give a lot of detail--but, at the same time, gives plenty of detail, doesn't it? Similarly, Jennifer Lawrence herself even talked about the frustrations mounting between her and Darren Aronofsky when they went on tour to promote mother! together. During a recent Actors on Actors talk by Variety, Lawrence said she would return to the hotel and want to decompress after a long day of promoting, but Aronofsky would want to continue talking about the film. She said,
Again, this remark did not come across as trouble in paradise when we first heard it. Jennifer Lawrence always seemed to chalk up matters like this one to Darren Aronofsky's strong work ethic. On numerous occasions, Lawrence even acknowledged how the Black Swan filmmaker's serious approach toward work drew her to him in the first place. But now it gives us pause.
Finally, the most important piece of the puzzle might be their vast age difference. Jennifer Lawrence is 27 while Darren Aronofsky is 48. No, there is nothing at all wrong about two adults dating despite a nearly 20-year age gap. Yet, we would be remiss not to recognize how people innately are different at different stages of life.
In fact, a source for People indicated Jennifer Lawrence and Darren Aronofsky didn't work out mainly because they have different priorities reflecting where and who they are as people. The insider went on to indicate Lawrence is giving 100% of herself to her career right now. While Aronofsky also is deeply passionate about his professional life, he also has had experiences Lawrence has not, and he has obligations Lawrence does not. For instance, Aronofsky shares an 11-year-old son, Henry, with actress Rachel Weisz; Lawrence, on the other hand, does not have kids at the moment.
It is worth noting there might be some noise about Jennifer Lawrence possibly breaking up with Darren Aronofsky because Chris Pratt is single. While Lawrence and Pratt promoted Passengers in 2015, some tabloids posited the idea Lawrence and Pratt had become more than friends during the filming, though Pratt was married to Anna Faris at the time. Faris even dished about that topic in her new book and indicated it was hard to process the insecurity, though she knew in her heart Pratt did not cheat with Lawrence. There most likely was not and is not anything between Lawrence and Pratt, so all this information is here just to say this should not have contributed to Aronofsky and Lawrence's breakup whatsoever.
Regardless, the other possible reasons why Jennifer Lawrence and Darren Aronofsky supposedly split seem to paint a picture about why they are no longer together. We'll have to wait and see if Aronofsky and Lawrence one day offer details about what happened. Hopefully, reports about the amicable breakup remain true.
Your Daily Blend of Entertainment News