Selena Gomez's Mother Is Reportedly In The Hospital Because Of Gomez's Reunion With Justin Bieber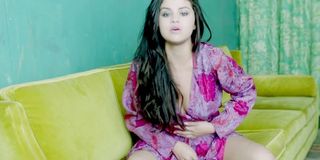 It has been an intense year for Selena Gomez. The pop star began and ended a relationship with The Weeknd, and underwent a successful kidney transplant surgery. Now she is making headlines for getting chummy with her ex, Justin Bieber. Reportedly, the stress of all these changes has taken a toll on Gomez's mom, Mandy Teefey, who recently ended up in the hospital after supposedly having a fiery discussion with her celebrity daughter who allegedly revealed an interest in rekindling a romance with Bieber.
Last week, law enforcement agents visited Mandy Teefey's Los Angeles hotel room in response to a request by a family member to do a welfare check. TMZ says Teefey then freely traveled with the authorities to the hospital for medical attention. Allegedly, a health scare occurred because of stress Teefey felt over learning Selena Gomez wanted to try couple's therapy with Justin Bieber to take another chance on their tumultuous on-and-off relationship, which began in 2010 and ended in 2015.
It is worth noting Justin Bieber's family seems to see his connection with Selena Gomez as a good thing. His mom, Pattie Mallette, recently opened up about how proud she is of her son, and how she loves Gomez because her son does. Mallette also talked about having a great personal relationship with Gomez and "a special bond." Mallette even referred to Gomez as "precious."
From the sounds of it, the two families have different information. Previous reports indicated Selena Gomez's family blamed Justin Bieber for her rehab visits. They allegedly thought the relationship took Gomez to a negative, stressful place. Considering how Gomez's family already felt about Bieber, we can guess they were livid when he returned, after what she endured with her operation and breakup. But maybe Pattie Mallette knows some of the upsetting moments, and just wants to have her son's back.
Justin Bieber does seem to be getting his personal life together. For example, he quit his world tour this year to focus on his mental health and outreach like visiting a children's hospital. Bieber began attending church more often, according to his mom. There have even been rumors the "Sorry" singer made amends with Selena Gomez because her kidney transplant surgery made him realize his love for her. Plus, when they hang out, reports usually say it's in low-key situations and over non-alcoholic beverages, which sounds a bit different from the past when partying behaviors seemed to cause problems.
Then again, Justin Bieber has had some odd times this year, such as getting a full torso tattoo, accidentally driving over a photographer, and offending Spanish speaking fans by not knowing lyrics to the "Despacito" remix. Needing a life-threatening moment to make Bieber interested in Gomez doesn't necessarily read well. Although this still seems like a step toward the positive for the singer.
Hopefully, Mandy Teefey is feeling better after her visit to the hospital; it should be interesting to hear her perspective on everything. It seems like her view is a stark contrast to Pattie Mallette's, but maybe there is more to the story. We'll have to stay tuned to see if Teefey opens up down the road.
Your Daily Blend of Entertainment News
Thank you for signing up to CinemaBlend. You will receive a verification email shortly.
There was a problem. Please refresh the page and try again.