Black Book Of Infamous Hollywood Madam Heidi Fleiss May Be Selling On eBay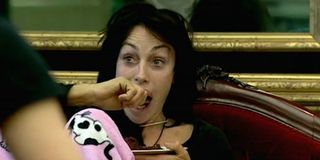 Former madam, Heidi Fleiss was regularly in the Hollywood headlines back in the early 90s, but in 1993 when the "Hollywood Madam" was arrested for multiple charges, including attempted pandering, her time managing her own prostitution ring came to an end. But, Fleiss had always been open about the celebrity appeal of her ring. Without naming any names (other than Charlie Sheen who acknowledged being a customer) Fleiss was clear that her business only attracted A-List clientele. And the proof of it lies in little red Gucci planner which is about to go on sale on eBay.
The address book of the former Hollywood Madam is said to include the names and numbers of some of Fliess' wealthy clientele. Back in '93 when Fleiss was at the top of her game, she threatened to make this "black book" public. It initiated a huge uproar. And she had told Larry King that her clients were "the richest people on earth" and would pay "$3 million on a hand of blackjack and have five hands going". According to TMZ, the mysterious black book including these names is about to go on sale, and the 28 pages are said to include the names of actors, musicians, politicians, sports figures and agency executives. It is apparently going to show up on the site under the tag "Memorabilia" with a minimum bid of $100k.
There's not much else out there detail wise. Heidi Fleiss has spoken out about the auction, telling TMZ that she has nothing to do with the sale, and thinks it was stolen from an FBI evidence room. There is some mystery clouding the entire situation though, as 20 years ago Fleiss did claim someone had stolen her book, but only now is she dragging the FBI into the whole mess.
Who knows whether or not the whole shenanigan actually involves the real book, or it is just an internet troll. Either way, if someone out there does have Fliess' black book, it's surprising that this is the first we've heard about it.
Your Daily Blend of Entertainment News
Thank you for signing up to CinemaBlend. You will receive a verification email shortly.
There was a problem. Please refresh the page and try again.