Pete Davidson And Chase Sui Wonders Have Been The Talk Of The Town Since Bodies Bodies Bodies. Now, They're Collaborating Together Again
They're going to be back on screen together!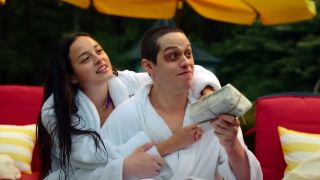 (Image credit: A24)
After hearing about Pete Davidson and Chase Sui Wonders' "insane chemistry" on the set of Bodies Bodies Bodies, and reading all the rumors about the duo dating, I was thrilled to find out the actress would be joining the SNL alum in his new Peacock series Bupkis. The upcoming comedy is a fictionalized version of the comedian's life, so I can't help but wonder if his alleged new gal will be playing a girlfriend, or if she'll simply be playing a new character. Either way, I'm just excited to see this duo back on screen again, because they were amazing together in the A24 Gen-Z whodunnit, and their chemistry is off the charts.
New photos from Bupkis revealed that Wonders would have a part in Davidson's Peacock comedy. Along with Wonders, who will play a character named Nikki, the cast of Davidson's semi-autobiographical comedy includes Joe Pesci as Joe Larocca, Edie Falco as Amy Davidson, Ray Romano as himself, Kenan Thompson as referee, Charlie Day as Glen Rossi, and more. It's unclear who these people will play in relation to Davidson, other than Edie Falco who will play his mom, so I'm curious to see what his relationship will be with Wonders' character. Although, I'm positive they will be great together on screen, because of how fantastic they were in Bodies Bodies Bodies.
While we don't know much about Nikki, we do know what Wonders' character looks like:
The photo is from episode five of the comedy, and it shows her in a store that looks like some sort of thrift or gift shop. The caption says she's playing a character named Nikki, but other than that we don't know much about her.
Meanwhile, Davidson will be playing himself in the upcoming show, as the photo below was captioned "Pete Davidson as Pete Davidson" in episode seven of Bupkis.
This is not the first time Davidson has created art that imitates his life. He's played himself many times in various Saturday Night Live sketches, most notably on Weekend Update, and he starred in the semi-autobiographical movie The King of Staten Island. The series is described as a half-hour comedy that is a heightened and fictionalized version of the SNL alum's real life, and it uses "grounded storytelling with absurd elements" to tell his story.
Considering Wonders' involvement in the show and Davidson's highly publicized love life, I can't help but wonder how his dating history will be depicted in Bupkis. From his engagement to Ariana Grande to his short-lived, but highly-covered, relationship with Kim Kardashian, to his new relationship with Chase Sui Wonders that seems to be getting serious, the guy has been in a lot of highly publicized relationships. So, since this show is semi-autobiographical, it seems like a possibility that they'd address his love life somehow.
However, we won't know what aspects of Davidson's life will be portrayed in Bupkis until the show premieres. The comedy series is on the 2023 TV schedule for a May 4 premiere. Make sure you have a Peacock subscription so you can see the wonderful duo that is Pete Davidson and Chase Sui Wonders when they return to the screen together this spring.
Your Daily Blend of Entertainment News
Riley Utley is a Weekend Editor at CinemaBlend. She spent many years working in local journalism across the country writing about art, news and sports. One of her favorite films is When Harry Met Sally and she walks around constantly quoting Ted Lasso.