Queens Court: 5 Things To Know About The New Peacock Dating Series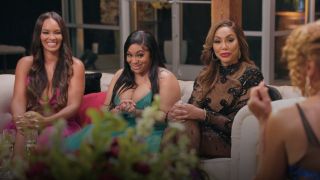 (Image credit: Peacock)
There are a lot of dating shows out there, with just about every streaming service having at least one competition series about the quest for love. The same can be said for Peacock, which has long featured its fair share of romantic reality shows, including Queens Court, which features not one, but three leading ladies looking for a new partner in life. With nearly two dozen bachelors competing for a shot at love, there's a lot going on here.
If you've heard about the new Peacock original series but still don't know if it's something you want to watch, stick around, because we have five things you should know about Queens Court that could help make your decision a little easier. Let's discuss this unique spin on the dating show format.
The Dating Show Follows Tamar Braxton, Evelyn Lozada And Nivea As They Search For Love
Though there are some exceptions like VH1's Real Chance at Love, for the most part, the vast majority of dating shows typically have one person looking for love in multiple suitors. That can't be said for Queens Court, as the show follows four-time Grammy nominee Tamar Braxton, Basketball Wives alum Evelyn Lozada, and "Laundromat" singer Nivea as they search for love with nearly two dozen potential matches.
Queens Court Adds Some New Dynamics To The Dating Show Format
In addition to following three bachelorettes as they search for love, the series also makes some major changes to the dynamics of the dating show format. Though there are 21 suitors vying for a shot at the three leading ladies, not all show up in the first episode. In fact, there's a new group of men in each of the show's first three episodes, before those who make it to the next round all come together near the midpoint of the season.
On top of that, in order to go on a one-on-one date with any of the Queens, the men must first be asked out on a date, which adds a fresh spin to this style of show.
Queens Court Finds A Balance Of Light And Heavy Topics
This is a dating show, so that means there's going to be a lot of fun and games throughout its duration. But, unlike a lot of reality shows featuring young stars and contestants, the new Peacock original show centers on three women who have been married before and who all have children. This adds a sense of realness and heaviness to the show, as none of the Queens are looking for a quick fling or shot at fame, but instead, something more.
All 10 Episodes Are Streaming Now
Braxton, Lozada, and Nivea's quest for love plays out over the course of 10 episodes, all of which are currently available for anyone with a Peacock Premium subscription. The decision to watch the full run in one extended session or split it up weekly is completely your own.
Stream Queens Court on Peacock. (opens in new tab)
Queens Court Is Rated TV-14
The show has a TV-14 rating, which is to be expected with a reality dating series like this. There isn't anything too risqué or over-the-top, but there is some choice language and situations that may not be ideal for young children.
Who knows, maybe Queens Court will be like Perfect Match in the sense that it restores your faith in dating show formats. The only way to know for sure is by giving the new 2023 TV show a shot.
Your Daily Blend of Entertainment News
Philip grew up in Louisiana (not New Orleans) before moving to St. Louis after graduating from Louisiana State University-Shreveport. When he's not writing about movies or television, Philip can be found being chased by his three kids, telling his dogs to stop yelling at the mailman, or yelling about professional wrestling to his wife. If the stars properly align, he will talk about For Love Of The Game being the best baseball movie of all time.