The Oscars 2020: When And How To Watch The Academy Awards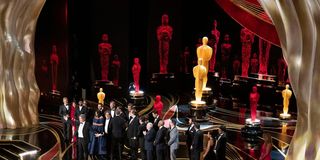 During award season, there isn't an award show more watched and world renowned than the Academy Awards. Every year, millions gather around their homes or fancy parties to watch talented professionals take home the golden statue. The Oscars is one of the most exciting events for the film industry and award show fans because it celebrates the best movies of the year, and the 2020 Academy Awards aims to be one of the most exciting yet.
This year's Academy Awards has some heavy weight actors, directors, and screenwriters vying for the title best of their category. The Oscars 2020 might see such battles as Martin Scorsese versus Quentin Tarantino, Adam Driver versus Joaquin Phoenix, and Renee Zellweger versus Scarlett Johansson. It'll be some exciting battles of the Hollywood elite. The Oscars 2020 will continue some interesting traditions that could make it one of the best or worst award shows this year.
Let us help prepare you for the Academy awards by giving you all the info that you need-to-know before it airs.
When Are The Oscars?
The Oscars air on Sunday, February 9, 2020.
That's a few weeks earlier than it aired last year (toward the end of February), and nearly a month ahead of the March air date in 2018.
What Time Do The Oscars Start?
The Oscars start at 8:00pm EST/7:00pm CST/5:00 PST. Of course, there will likely be a red carpet special airing ahead of that, for those who want to get a glimpse of the fashion and hear from some of the nominees and presenters.
What Channel Is The Oscars On?
As has been the case for years, the Oscars airs on ABC network.
Can You Stream The Oscars Online?
Those with a cable subscription that includes ABC can use their TV provider account login information to access the Oscars on the ABC app or through ABC.com/watch-live. Those without a traditional cable subscription can stream the Oscars through various live TV streaming platforms, such as Hulu + Live TV, Youtube Premium, AT&T TV Now, and SlingTV. The monthly prices on these services vary. Most of these live TV streaming platforms offer 7-day free trials, so those not ready to commit to a live TV service can use a 7-day free trial to view the Oscars.
Who Is Hosting The Oscars?
For the second year in a row, the Oscars will go without an official host.
The 2019 Academy Awards went without a host after Kevin Hart stepped down following controversy that arose shortly after it was announced that he would host. The Jumanji: The Next Level actor received backlash after some homophobic tweets began to resurface. It looks like the Oscars are going to forgo a host this year as well. The Academy Awards confirmed plans for no host for Oscars 2020 through a tweet. In a Variety interview, the Head of ABC Entertainment, Karey Burke, expanded on the decision to not have a host:
The 2019 host-less Academy Awards had a 12 percent increase in viewership from the 2018's Jimmy Kimmel hosted Oscars, but it was still the second least watch Oscars of all time. Critics and Oscar fans had mixed reactions to the host-less Oscars, some liked it's straight to business style without a host, and some others thought that it lacked a personality.
Who Is Performing At The Oscars?
The Academy Awards tweet confirmed that there will be performances, but the Oscars has not announced any performers yet. However, most likely the five Best Original Song nominees will perform throughout the night. The nominated songs include "I Can't Let You Throw Yourself Away" from Toy Story 4, "(I'm Gonna) Love Me Again" from Rocketman, "I'm Standing With You" from Breakthrough, "Into the Unknown" from Frozen II and "Stand Up" from Harriet.
During the 2019 Academy Awards, Queen started the show by performing with Adam Lambert as the front-man. Without a host to open the show once again, the 2020 Oscars might take a similar approach in having a musical number or band kick off the event.
Which Movies And Stars Are Nominated For An Academy Award In 2020?
The nominations for the 92nd Academy Awards were announced on Monday, January 13. Coming out on top with 11 nominees is Todd Phillip's Joker. Not far behind and tied with ten nominations a piece were 1917, Once Upon a Time... in Hollywood and The Irishman. All four films are among the Best Picture contenders. Bong Joon-ho's Parasite earned itself 6 nominees, including a spot among the Best International Feature Film and Best Picture nominees. Little Women, Marriage Story, Ford v Ferrari and JoJo Rabbit were also nominated for Best Picture.
The Best Actors/Actress categories are full of incredible talent, with names like Joaquin Phoenix, Leonardo DiCaprio, Adam Driver, Renee Zellweger, Charlize Theron and Scarlett Johansson among the nominees. Johansson actually managed to score two nominations at this year's Academy Awards, with a nomination for her role in Marriage Story in the Best Actress category, and a nomination for JoJo Rabbit in the Best Supporting Actress category. She's up against Laura Dern, Kathy Bates, Margot Robbie and Florence Pugh in the Supporting category. The Best Supporting Actor is brimming with A-list talent, with Tom Hanks, Anthony Hopkins, Al Pacino, Joe Pesci and Brad Pitt all up for the award.
Among the directors nominated this year are Martin Scorsese (The Irishman), Todd Phillips (Joker), Sam Mendes (1917), Quentin Tarantino (Once Upon a Time... In Hollywood) and Bong Joon-ho (Parasite).
Spent most of my life in various parts of Illinois, including attending college in Evanston. I have been a life long lover of pop culture, especially television, turned that passion into writing about all things entertainment related. When I'm not writing about pop culture, I can be found channeling Gordon Ramsay by kicking people out the kitchen.
Your Daily Blend of Entertainment News
Thank you for signing up to CinemaBlend. You will receive a verification email shortly.
There was a problem. Please refresh the page and try again.