Ozark Season 3: 6 Huge Questions We Still Need Answered From Season 2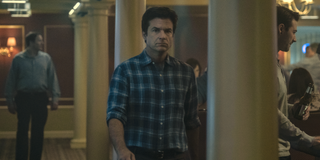 (Image credit: Guy D'Alema / Netflix)
Season 3 of Ozark is almost here! It has been an arduous wait. Season 2 premiered back in August 2018 on Netflix. All of the thrills, chills, death, and mayhem are about to resume. Can Season 3 top Season 2 when it comes to shocking departures and surprising twists?
It is one of many questions that Ozark fans are undoubtedly contemplating as they await the Byrdes return. When Season 2 left off, Wendy went nuclear. She told Marty they were not going to run off from the Ozark's after all, and she ordered a hit on Ruth's sleazy dad. Season 3 should see a massive sea change.
After a lot of back and forth in the power dynamics in Wendy and Marty's marriage, Season 3 seems primed to dig even deeper into the consequences. Will it resolve the burning questions brought on by Season 2? Ozark's next outing is destined to be a winding road of potential answers, these are the ones I want the most.
Will The Byrdes Get Zeke Back?
Marty screwed up royally at the end of Ozark Season 2 by giving into the maniacal demands of Darlene Snell. After murdering her husband, Jacob, there is really no telling what she is capable of. Marty got a pretty good idea when she shaved the head of his son, Jonah.
Following that horrible act, Marty capitulated in giving Darlene baby Zeke. Wendy was not pleased, and she seemed determined to bring Zeke back to the Byrde residence. If there is one thing that she proved in Season 2, it is that Darlene cannot be underestimated. Getting Zeke back in Season 3 could be one of the Byrdes' most significant challenges on Ozark.
Will Darlene Ever Get What Is Coming to Her?
This sort of follows the Zeke question. Darlene has murdered a lot of people, including a pregnant woman from whom she stole Zeke. She is a monster, and Ozark has been setting up anticipation for her ruin throughout its first two seasons with Season 2 taking the cake. Will Season 3 be the one to deliver the massive comeuppance due to Darlene's way?
Ozark has built up the villainy of Darlene to such heights that it is hard to imagine her actually getting a demise worthy of what she has wrought. Wendy seems to want to play a game of sorts with Darlene, and that is a bad idea. You cannot toy with someone as dangerous, ruthless, and cruel as Darlene.
Will Charlotte Stop Acting Like A Jerk?
Charlotte Byrde is annoying, in my opinion. She takes moral high ground where it does not exist and continues to burden her family by distracting them with her drama when life-threatening peril exists. Ozark seems to sympathize with her, but I may be reading that wrong. In Season 2, Charlotte demanded emancipation and sought without any care for her family.
She showed up to the casino's opening in the finale. Will Season 3 finally see Charlotte step up to the plate without whining? Or could she be her family's ultimate undoing? It could really go either way. Her loyalty is fickle, even when she knows that her parents and brother are facing a life-or-death struggle.
What Is Up with Wendy's Brother?
Wendy's brother has been teased for a considerable period on the fan-favorite Netflix series. Season 2 did not let up on the foreshadowing. Ozark is finally going to let viewers meet Wendy's mysterious sibling in Season 3. Iron Fist's Tom Pelphrey will star as Ben Davis, and he is said to remind Wendy of "who she used to be," per Deadline.
Ozark's showrunner has teased that Wendy's brother will be a "very destabilizing factor" for the Byrdes. Wendy has discussed her bother's struggles with mental illness, and some of her dialogue suggested that her brother shot up his high school. Season 2 continued to drop hints, and time will tell how Season 3 sees them manifest.
Is Rachel Going to Come Back and Bite the Byrdes?
Rachel has been a powder keg ready to explore for a while. She did not explode in all of the predictable ways one would have thought, though. Season 2 saw Rachel wear a wire to incriminate Marty. She ended up warning him, and to make a long story short, Marty sent her off to rehab.
Is that the last Ozark has seen of Rachel? It feels like there is a lot of story left between Marty and Rachel. It was apparent back when Ozark started that she and Marty shared a spark of some sort. Season 3 will start six months after Season 2, so Rachel should be out of rebab at that point, right?
Is Wendy Turning Into A Villain?
When it comes to the Byrdes' marriage, I tend to be Team Marty. After all, Wendy went along with getting into the money laundering business, and she cheated on Marty. Ozark has not convinced me that Marty is the bad guy in their relationship, and Season 2 sort of sealed the deal on that front.
In fact, the Season 2 finale seemed to indicate that Wendy may be going the course of Game of Thrones' Cersei Lannister. A person who is willing to do anything for ambition while using her children to justify it. Marty's intentions are easier to see. Will Season 3 see Wendy become a full-blown villainess? Stay tuned. It is right around the corner.
After two seasons, I still do not get why Wendy resents Marty so much. That is a big question that I would like to see Ozark resolve in Season 3. Marty has not cheated on her, and he sought her approval before getting into the money laundering business. The Byrdes' current circumstances are as much on Wendy as anyone else.
Season 3 should be a war of wills between Marty and Wendy. It is going to be an intense ride with many layers to it. The trailer for Ozark (opens in new tab)'s upcoming season teased the Byrdes' getting some marriage counseling. I just want to be able to see Marty and Wendy's squabbles. Better lighting, please!
Ozark Season 3 premieres Friday, March 27, on Netflix as one of the streamer's 2020 offerings. The show is part of this winter and spring's premieres.
Like a contented Hallmark movie character, Britt happily lives in the same city she grew up in. Along with movies and television, she is passionate about competitive figure skating. She has been writing about entertainment for 5 years, and as you may suspect, still finds it as entertaining to do as when she began.
Your Daily Blend of Entertainment News
Thank you for signing up to CinemaBlend. You will receive a verification email shortly.
There was a problem. Please refresh the page and try again.