Former Walking Dead Star Shares Distressing Story About Getting Tested For Coronavirus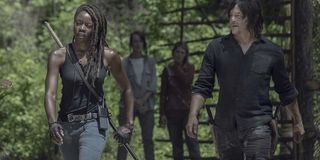 Amid coronavirus fears, a multitude of TV shows have shut down production, delaying or ending seasons early in the process. Following the news that Tom Hanks and wife Rita Wilson were diagnosed with coronavirus, several actors have also come forward with their test results, including Idris Elba, The Bachelor's Colton Underwood, and Game of Thrones and The Witcher star Kristofer Hivju. Most recently, a former The Walking Dead shared a very distressing story about getting tested for coronavirus.
As coronavirus cases rise in the U.S., getting tested for the novel virus has proven to be a difficult task for many who believe they are experiencing symptoms that come with it. While many celebrities were able to confirm their positive test results to the public, The Walking Dead actor Daniel Newman shared a rather horrifying story about the coronavirus testing process and his experience with the healthcare system in general. In a post made to Instagram, here's what Newman had to say about his ordeal:
Daniel Newman's story is incredibly distressing and is unfortunately indicative of the overall lack of testing. The actor is transparent regarding his experience, holding none of the details back, seemingly shaken and disturbed by the process. What's more, he revealed how much it cost him to get tested on top of everything else he endured. In his words:
Yikes. Personally, not knowing for sure whether he tested positive or not is rather scary considering the rising cases of coronavirus, and Daniel Newman seems rather angry at the way his situation was handled. At the end of the post, he advises his followers to stay safe and wash their hands. You can read the post in its entirety below.
The actor recurred as Daniel on The Walking Dead from Season 6 through Season 8, appearing in a total of ten episodes as a soldier in the Kingdom, which was led by Ezekiel. Daniel Newman has also had guest starring roles in The Vampire Diaries, Homeland, and Drop Dead Diva.
We here at CinemaBlend hope he has a speedy recovery. Stay tuned to CinemaBlend for updates. For more on how the coronavirus pandemic is affecting Hollywood, be sure to check out our updated list of TV production shutdowns.
Your Daily Blend of Entertainment News