One Loki Star Has A Unique Connection To Tom Hiddleston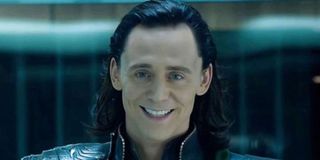 Loki has rounded up a pretty impressive cast, with Owen Wilson, Richard E. Grant, and Belle and The Morning Show star Gugu Mbatha-Raw joining Tom Hiddleston in his solo Marvel adventure on Disney+. While these actors will surely work well together onscreen, it's Mbatha-Raw, in particular, who has quite the unique connection to Hiddleston.
News of Gugu Mbatha-Raw's casting was announced earlier this year, though exactly who she'll be playing is a relative mystery for now. Mbatha-Raw is a newcomer to the MCU but, in discussing Loki and its "great cast," the actress revealed a surprising little tidbit: she already knows Tom Hiddleston. It's the six degrees of separation at work! Speaking with Variety's Marc Malkin on The Big Ticket podcast, the actress explained her history with Hiddleston. Here's what she said:
The connection is unexpected, but fantastic all the same! I bet she and Tom Hiddleston have a lot of catching up to do. Hiddleston's been in a fair share of MCU films at this point, so he could definitely show Gugu Mbatha-Raw the ropes when it comes to all things Marvel. Either way, it's very sweet that Loki will be a reunion of sorts for the two actors.
Gugu Mbatha-Raw is no stranger to sci-fi projects, having played a superpowered character in Fast Color and has also appeared in Ava DuVernay's A Wrinkle in Time. Loki will likely have a much different tone than both films, but she'll surely knock it out of the park either way.
Loki is set to follow the time-traveling adventures of the God of Mischief. The last we saw of Loki was in Avengers: Endgame; well, the The Avengers version of him anyway. During the superheroes' time heist, the trickster god took it upon himself to relieve the team of the Tesseract before happily teleporting away. Perhaps Gugu Mbatha-Raw's character will join him or apprehend him, but it's hard to tell with so little information.
The series was in the midst of filming when Hollywood-wide shutdowns halted production. It's unclear when Loki will pick back up with filming and if the production delay will push back the film's premiere date. Considering that it wasn't supposed to be released until next year means it's possible that not much will change. That said, we'll have to wait for official confirmation.
Loki does not yet have a scheduled premiere date. Stay tuned to CinemaBlend for updates. In the meantime, be sure to check out our 2020 summer TV premiere schedule. Swing by our Netflix, Hulu, and Disney+ guides as well for even more options.
Your Daily Blend of Entertainment News
Thank you for signing up to CinemaBlend. You will receive a verification email shortly.
There was a problem. Please refresh the page and try again.