6 Netflix TV Shows To Watch If You Like Locke And Key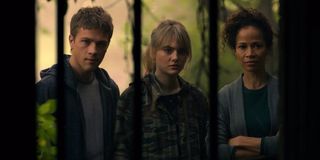 After the wild ending of Locke and Key's first season, you probably had an increased urge to continue on to the second season. But, as you might know by now, Season 2 has yet to come out; though it's on the way. Fortunately, there are plenty of other great TV shows on Netflix that are pretty similar to Locke and Key, and should hold you over until Locke and Key Season 2 comes around. So, let's dive in!
The Umbrella Academy
Based on the Dark Horse comic books of the same name, The Umbrella Academy is a dark comedy about a group of children adopted by a billionaire in an attempt to turn them into superheroes. Years later, they reunite to solve their father's mysterious death and to also save the world from the apocalypse. This TV show is a bit more quirky and silly than Locke and Key, but it has some of the same themes of family, powers, and mystery that bring the characters together.
Perhaps the two most notable actors in the show are Juno's Ellen Page and Black Sail's Tom Hopper. But, it features an ensemble cast of actors playing eccentric, comedic, and heroic characters as one big dysfunctional family. It has received warm reviews from critics and audiences. Season 2 just released this July, so there's never been a better time than now to jump in and catch up.
Stream The Umbrella Academy on Netflix here.
Chilling Adventures Of Sabrina
Chilling Adventures of Sabrina is based on the Archie comic of the same name. Developed by Roberto Aguirre-Sacasa and starring Kiernan Shipka as the titular lead, it follows Sabrina as she turns sixteen and lives a dual life of human and witch, having to reconcile the two and fight the forces of darkness in the process.
While Chilling Adventures of Sabrina leans more heavily on horror and witchcraft than Locke and Key, the two still have a lot in common, including compelling coming-of-age narratives, mystery, magic, and strong characters. It's likely if you're a Locke and Key fan, you'll find something to like here, too.
Chilling Adventures of Sabrina currently has three seasons and a fourth season is on the way. So, if you're looking for a show to sink your teeth into, this will give you plenty to devour.
Stream Chilling Adventures of Sabrina on Netflix here.
The Haunting of Hill House
Loosely based on Shirley Jackson's novel, The Haunting of Hill House is a TV series developed by Doctor Sleep director Mike Flanagan. It's about the Crain family moving into Hill House to renovate and quickly flip it to build their own house, but they're forced to stay because of unexpected issues with the house. During their stay, they experience scary paranormal activity that leads to a disastrous end. Each episode flips between past and present, telling parallel stories of the young children dealing with the terrors of Hill House and the adults they have become as a result.
The Haunting of Hill House deals with much more mature content, scary themes, and horror, but the unraveling mystery with their family, the kids' struggle with their father, and some of the coming-of-age story may intrigue Locke and Key fans.
It also has a large ensemble cast of mostly unknowns, but you might recognize Gerald's Game's Carla Gugino and Game of Throne's Michiel Huisman. Right now, it only has one season in the bank, but Mike Flanagan is working on a Season 2, of sorts, in The Haunting of Bly Manor.
Stream The Haunting of Hill House on Netflix here.
I Am Not Okay With This
If you liked some of the coming-of-age, teenage angst in Locke and Key, then you're sure to love I Am Not Okay With This. Starring IT's Sophia Lillis and Wyatt Oleff, I Am Not Okay With This is about a teenage girl dealing with high school, family, friends, her sexuality, and her newfound superpowers. It's a mature, quirky comedy with familiar callbacks to the horror movie Carrie.
While Locke and Key fans will probably find something to like with this TV show, they won't be able to get too invested in the show. It was announced earlier this year that I Am Not Okay With This was canceled and won't be getting a Season 2. Still, it's worth the watch.
Stream I Am Not Okay With This on Netflix here.
The Magicians
Magic! The Magicians has plenty of it, which is sure to delight all you Locke and Key fans out there. Based on the novels by Lev Grossman, this TV show is about Quentin Coldwater going to Brakebills University to study magic and ends up finding a magical land like the one he reads about in his favorite novels. It's kind of like Harry Potter meets The Lion, The Witch, and The Wardrobe but for grown-ups due to its use of alcohol, profanity, and sexual content.
Jason Ralph, who recently appeared in Netflix's latest film I'm Thinking of Ending Things, plays the lead role of Quentin Coldwater and does a solid job leading you down the magical rabbit hole. In many ways, The Magicians is a kindred spirit to Locke and Key for its use of wonder, magic, and dealing with coming-of-age themes and topics. So, if you're favorite part about Locke and Key was the magical abilities, then this is a must-see. Right now, The Magicians has five seasons, but there are only four seasons currently on Netflix.
Stream The Magicians on Netflix here.
A Series of Unfortunate Events
It doesn't take much to see how reminiscent A Series of Unfortunate Events is to Locke and Key. In A Series of Unfortunate Events, the Baudelaire children are sent to their distant relative Count Olaf's house after their house fire kills their parents. Count Olaf's house is particularly gothic and his intentions to take custody of the children are less than innocent. The children try to solve the mystery of their parents' past while simultaneously avoiding their uncle.
A Series of Unfortunate Events is a much more family-friendly TV show and doesn't have as much teenage angst as Locke and Key, but it still deals with children dealing with growing up in a rather extraordinary situation and having to fight an incredible evil. Unfortunately, A Series of Unfortunate Events ended after three seasons. But that might be just enough to tide you over until Locke and Key's second season arrives.
Stream A Series of Unfortunate Events on Netflix here.
Stranger Things
If you liked Locke and Key but haven't seen Stranger Things yet, then you need to put it at the top of your list, post haste. Stranger Things is another coming-of-age story set in the 80s about three boys that discover their fourth friend, Will Byers, has disappeared. In a panic to find him, they discover something dark lurks underneath the town of Hawkins, Indiana.
Stranger Things has a lot of what Locke and Key has, including paranormal activity, supernatural powers, scary and horror themes with callbacks to Steven Spielberg and Stephen King stories, and so much more. And just like Locke and Key, it has a gripping story that doesn't let go.
As of now, Stranger Things has three seasons on Netflix. But, it has been renewed for a fourth season, but it just might take a bit longer for it to premiere.
Stream Stranger Things on Netflix here.
Of course, nothing can replace Locke and Key, but it doesn't hurt to try out a new TV show now and again. These are just a few of the TV shows that bear a resemblance to Locke and Key, but I don't doubt there are plenty of others. So, which of these are you going to try out first? Let us know in the comments!
Your Daily Blend of Entertainment News
Thank you for signing up to CinemaBlend. You will receive a verification email shortly.
There was a problem. Please refresh the page and try again.