Where To Watch The Boys Cast While Waiting For Season 3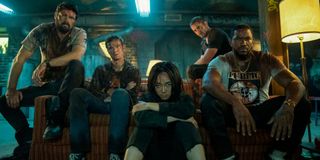 I do not think that I have ever anticipated the return of a show more than I am looking forward to The Boys Season 3 to premiere. This is mainly because I strongly believe the Amazon Prime original is the best series currently on television (well, streaming, more accurately), and not just for the engrossing writing, the cinematic production value, and the brilliant dual satire of superhero culture and real-life American culture, but also for The Boys' cast.
The people chosen to breathe life into the characters from Garth Ennis' popular comic book (first published by DC's Wildstorm in 2006 before being picked up by Dynamite Entertainment until 2012) are either veterans of the big and small screen, more obscure newcomers, or even Hollywood royalty. The one thing that they all have in common is turning out such impassioned performances on The Boys that, depending on the nature of their role, is almost too believable for their own reputation. I think if I have ever had the chance to talk to Homelander actor Antony Starr, I would be severely overwrought with a combination of anger and fear that would only subside by a reminder that he is not actually a sociopathic mutant, but just really good at his job.
In fact, there are plenty other movies and TV shows that prove the range of his talents, and that of his co-stars, that you may have forgotten about or even had not heard of before. If you were curious to explore previous efforts from the cast of this ingeniously witty and shockingly morbid series while the wait for its third season, allow us to point you in the right direction of where they are currently available to rent or stream. Let's look at some of the other movies and TV shows featuring The Boys cast and how you can watch them while you wait for Season 3.
Karl Urban (Billy Butcher)
Even if you did not know Karl Urban by name before he appeared as The Boys' leader, Billy Butcher, you surely recognized the New Zealander from something. Perhaps it was from his role as Eomer in the latter The Lord of the Rings sequels, or as Vaako in The Chronicles of Riddick, Skurge in Thor: Ragnarok, or as the title role of Dredd.
Stream The Lord of the Rings: The Two Towers, The Lord of the Rings: The Return of the King, and The Chronicles of Riddick on HBO Max and Thor: Ragnarok on Disney+. *
*Rent Dredd on Amazon.
Jack Quaid (Hughie Campbell)
Funny how Jack Quaid (the son of Dennis Quaid and Meg Ryan) plays such a meek hero in The Boys when his debut role in The Hunger Games was Marvel, the hatefully violent career tribute who killed Rue. Later on, he would party with Alice Cooper on HBO's short-lived inside look at the music business, Vinyl, helped a redneck Channing Tatum rob a NASCAR arena in Logan Lucky, and can also be heard as the voice of Richie Rich on the Netflix animated series Harvey Girls Forever!
Stream Vinyl on HBO Max, Logan Lucky on Amazon Prime, Harvey Girls Forever! on Netflix, and The Hunger Games on IMDb TV.
Erin Moriarty (Annie January/Starlight)
Playing a hero in The Boys must be a refreshing change of pace for Erin Moriarty after playing a victim on Season 1 of Jessica Jones - another gritty TV series adapted from a comic book. The Starlight actress is also well-known as Audrey, the daughter of Woody Harrelson's Martin Hart, on True Detective and the love interest of Viggo Mortensen's son (played by 1917 star George McKay) in the quirky indie drama Captain Fantastic.
Stream Jessica Jones on Netflix, True Detective on HBO Max, and Captain Fantastic on Hulu.
Antony Starr (Homelander)
Coincidentally, Antony Starr has played a bad guy posing as a good guy before The Boys, having led the cast of Cinemax drama Banshee as a comparatively more likable ex-con pretending to be a sheriff. Probably the New Zealand-born actor's most best-known big screen role was Billy Newwood in Without a Paddle, whose death reunites childhood friends (played by Seth Green, Matthew Lillard, and Dax Shepard) in the 2004 adventure comedy.
Stream Banshee on Max Go. *
*Rent Without a Paddle on Amazon.
Dominique McElligott (Queen Maeve)
Starring as the only other member of The Seven worth rooting for (after Starlight) is Irish actress Dominique McElligott, who has never played anyone quite like her The Boys role who, unlike her House of Cards character Hannah Conway, hates social media attention and would probably prefer to get as much screen time as astronaut Sam Rockwell's wife does in Duncan Jones' chilling sci-fi drama Moon. Lily Bell, a widow struggling to survive a man's world, on the AMC western series Hell on Wheels is probably the one character of McElligott's who best resembles Queen Maeve, without the super strength.
Stream House of Cards and Hell on Wheels on Netflix. *
*Rent Moon on Amazon.
Jessie T. Usher (A-Train)
Before playing The Boys' selfish, unapologetically murderous answer to The Flash, Jessie T. Usher seemed to make a name for himself playing the descendent of iconic black heroes from blockbuster movies, such as Dylan Hiller, the son of the late Steven Hiller (Will Smith), in Independence Day: Resurgence and J.J., the grandson of Richard Roundtree's legendary titular cop in 2019's Shaft with Samuel L. Jackson as his father. That same year, he also got to star alongside Jackson and fellow MCU vet Anthony Mackie in The Banker, a fact-based drama about racial injustice in the 1960s.
Stream Shaft on Max Go and The Banker on Apple TV+. *
*Rent Independence Day: Resurgence on Amazon.
Laz Alonso (Mother's Milk)
With a scene-stealing performance as Mother's Milk, Laz Alonso has come a long way from his early appearance in Leprechaun: Back 2 Tha Hood. He would follow that hilariously titled, straight-to-video sixth installment of the horror-comedy franchise with more respected roles, such as in Stomp the Yard and in international sensation Avatar as Tsu'tey.
Stream Leprechaun: Back 2 Tha Hood on HBO Max and Avatar on Disney+. *
*Rent Stomp the Yard on Amazon.
Chace Crawford (The Deep)
Playing The Boys' sleazy parody of Aquaman is a far, far stretch over the ocean from Chace Crawford's breakout television role as the friendly and trustworthy Nate Archibald on The CW hit Gossip Girl. In fact, The Deep has a bit more common with Tyler Simms, Crawford's character from his 2006 feature film debut The Covenant, but only because they both have supernatural powers.
Stream Gossip Girl on Netflix. *
*Rent The Covenant on Amazon.
Tomer Capon (Frenchie)
The Boys was, more or less, American television audiences' introduction to Frenchie's Tomer Capon, who was otherwise known for TV shows based in his home country of Israel, such as Fauda and When Heroes Fly - both of which are exclusively available to stream in the states on Netflix. The actor also has a role in A Tale of Love and Darkness, the feature-length directorial debut of Natalie Portman.
Stream Fauda, When Heroes Fly, and A Tale of Love and Darkness on Netflix.
Karen Fukuhara (Kimiko Miyahsiro)
I don't know about you, but I would consider Karen Fukuhara's turn as The Boys' resident "supe," Kimiko as a major step-up from her other most famous comic book role - Katana in 2016's Suicide Squad - even though their dialogue equals to about the same amount. You can still hear the Los Angeles-born actresses' voice (for once) in the Netflix animated adventure series She-Ra and the Princesses of Power and Kipo and the Age of Wonderbeasts.
Stream Suicide Squad on HBO Max and She-Ra and the Princesses of Power and Kipo and the Age of Wonderbeasts on Netflix.
Nathan Mitchell (Black Noir)
Also managing to give a memorable performance without speaking a word is Nathan Mitchell, who tackles his most mysterious and sinister comic book role to date on The Boys after a small recurring spot on iZombie and playing loose cannon vigilante Isaac Stanzler on Arrow. He also starred as an angel in two episodes of Supernatural and is credited as "Black Gentlemen Ninja" in 2017's Psych: The Movie, which could be considered a precursor to Black Noir in some ways.
Stream iZombie, Arrow, and Supernatural on Netflix and Psych: The Movie on Peacock.
Aya Cash (Stormfront)
Coincidentally, You're the Worst (an FX romantic comedy series starring Aya Cash) would be exactly how I would describe her character Stormfront, who might actually be the most despicable supe on The Boys so far because at least Homelander is not a Nazi… by the literal definition, that is. The actress plays far more likable people in The Wolf of Wall Street (as Jordan Belfort's assistant Janet) and the Shudder exclusive horror-comedy Scare Me.
Stream You're The Worst on Hulu and Scare Me on Shudder. *
*Rent The Wolf of Wall Street on Amazon.
What do you think? Do you think you can survive the wait for Season 3 of The Boys by streaming or rent all of these movies and TV shows starring its main cast, or do you think patience will be more on your side than any of these titles? Let us know in the comments and be sure to check back for additional information and updates on the superhero show to end all superhero shows, as well as even more of our recommendations of what you can stream or rent right now, here on CinemaBlend.
Your Daily Blend of Entertainment News
Jason has been writing since he was able to pick up a washable marker, with which he wrote his debut illustrated children's story, later transitioning to a short-lived comic book series and (very) amateur filmmaking before finally settling on pursuing a career in writing about movies in lieu of making them. Look for his name in just about any article related to Batman.