11 Marvel And DC Characters The Boys Cast Could Play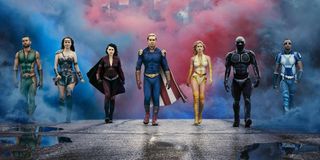 Part of the fun in watching The Boys is not just how well it pokes fun at real issues of the modern day through a comic book fantasy lens, but how it also takes aim at popular superhero movie franchises. For me, though, those cheeky references only do more to help me picture the cast as famous heroes (and villains) from DC Comics or characters the new continuity of Marvel movies have yet to introduce.
I should mention, however, that the corrupt "supes" and (mostly) powerless CIA squadron covertly taking them down in the hit Amazon Prime original, technically, are already DC characters - or once were, at least. Garth Ennis' comic book series that inspired The Boys was originally a property of the DC-owned brand Wildstorm for its first six issues before getting picked up by Dynamite Entertainment. Of course, the likes of Billy Butcher or Homelander were still never part of the same universe as Batman or Wonder Woman, so we are still safe to imagine the the actors who play them in the DCEU or the MCU, respectively.
That is just what we intend to do with the following 11 stars from what I personally consider to be the finest-written series on television (or streaming, to be precise). Yet, as big a fan of The Boys (and comic book-related content in general) as I am, I did not initially realize that some of its main leads actually have dipped their pen in either the DC or Marvel ink before. I did, however, recognize our first actor on the roster as the one who has taken a dip in both worlds.
Karl Urban - Vandal Savage (DC)
He has been Skurge from Thor: Ragnarok, William Cooper in the adaptation of DC-Wildstorm's Red, and the title character of Dredd, but The Boys' leader, Billy Butcher, may be the most entertaining comic book character Karl Urban has brought to life yet. If the New Zealander ever wanted to try out a more "official" DC character for size (in live action, that is), I would recommend underrated Golden Age villain Vandal Savage - an immortal with unprecedented influence on all that is evil dating back to the days of the caveman.
Jack Quaid - Human Torch (Marvel)
Playing the meek, but vengeful, Hughie Campbell on The Boys is a bit of an overcorrection for Jack Quaid (son of Dennis Quaid and Meg Ryan), whose debut role was the kid who killed Rue in The Hunger Games. For that reason alone, he might want to continue the hero schtick, but maybe instead as someone more powerful and boastful, like Johnny Storm - otherwise known as the Human Torch in the Fantastic Four, whose eventual MCU introduction is more anticipated than just about any other property.
Erin Moriarty - Supergirl (DC)
There is not as much anticipation for another big screen appearance of Clark Kent's cousin, Kara Zor-El, since Melissa Benoist has, arguably, played her to perfection on The CW's Supergirl, which is approaching its final season. With the chance of a reboot up for grabs, I would say that former Jessica Jones star Erin Moriarty's performance as Starlight on The Boys has served as a great audition tape to be the Kryptonian heroine for the DCEU.
Antony Starr - Hyperion (Marvel)
New Zealand-born former Banshee actor Antony Starr had never before played a character quite as animated as Homelander, who is essentially The Boys' version Superman if he were a total bastard. Hyperion, a Marvel character commonly referred to as the publisher's own Superman due to many distinct similarities, started off that about the same way before becoming a more heroic figure - though I think it might be an even more fun idea for the MCU to see Starr portray his original, more villainous incarnation for their own chance to lampoon the Kryptonian.
Laz Alonso - Steel (DC)
Speaking of which, when Superman famously died in the 1990s, one hero who stepped forward to fight in his honor was armored mortal John Henry Irons, who would come to be known as Steel. Even though Laz Alonso (a scene-stealer on The Boys as Mother's Milk) has been in a DC movie before (but just barely) as a morgue security guard in Constantine, he would be my first choice for a much-deserved second chance at a big screen adaptation after the failed first attempt in 1997 with Shaquille O'Neal.
Karen Fukuhara - Psylocke (Marvel)
Not many fans regard the live action debut of Elizabeth "Betsy" Braddock, called Psylocke for her telepathic abilities, in X-Men: Apocalypse too highly either (not to blame Olivia Munn) and, quite frankly, I also do not think too highly of how Karen Fukuhara's role as DC sword-wielder Katana was handled in Suicide Squad. Maybe, as a way to make up for each lackluster portrayal, the MCU could cast The Boys actress in a future X-Men movie as a version of Psylocke that combines the original Braddock with her later incarnation via body-swap, Kwannon.
Tomer Capon - Nitro (Marvel)
The character closest to Karen Fukuhara's role as The Boys' resident "supe" Kimiko is the group's explosives expert (among other technical talents), Frenchie. As I see it, the coolest way for Israeli actor Tomer Capon to one-up that role is to play Captain Marvel villain and literal human bomb, Nitro.
Dominique McElligott - Hawkgirl (DC)
I am not sure if there is a way that Irish actress Dominique McElligott could one-up playing Queen Maeve (one of the more complex and actually admirable members of The Seven) on The Boys, if not by replacing Gal Gadot as Wonder Woman. On the other hand, there is the chance to play winged warrior Hawkgirl in the Golden Age superheroine's big screen debut, which the announcement of Hawkman appearing in Black Adam shows signs of happening at some point.
Chace Crawford - Iceman (Marvel)
The push for more LGBTQ+ representation in the MCU also shows signs that a more faithful portrayal of Iceman in a future X-Men installment may also be on the way and I think Chace Crawford has the charm and range to be a great choice for that role. I mean, it is either that or play Namor the Summariner, which already would be too similar to his aquatic character, The Deep, on The Boys.
Jessie T. Usher - Static (DC)
I especially hope the next superhero role Jessie T. Usher would take on is nothing like his The Boys character, A-Train - who accidentally, but without much of an apology, obliterated Hughie's girlfriend Robin with his superhuman speed in the first few minutes of the pilot. I think a great well-natured alternative would be Static - a young electricity wielder who had a successful animated series in the early 2000s, but not much else in the realm of adaptations so far.
Nathan Mitchell - Tombstone (Marvel)
At least the black albino criminal Tombstone has gotten to be in the popular Spider-Man video game and briefly in the Oscar-winning Spider-Man: Into the Spider-Verse, but not in a live action setting, which is a shame because he has one of the most strikingly sinister appearances of any Marvel villain. That sounds to me like the perfect follow-up comic book movie role for Nathan Mitchell, who has never once been seen nor heard on The Boys as the mysterious Black Noir.
What do you think? Is going from an unspoken stint as Black Noir to the viscerally frightening Tombstone the right transition for Nathan Mitchell, or do all of these actors deserve better Marvel or DC roles than I have chosen for them. Let us know in the comments and be sure to check back for additional information and updates on the cast of The Boys, as well as even more hypothetical comic book movie casting sessions, here on CinemaBlend.
Your Daily Blend of Entertainment News
Jason has been writing since he was able to pick up a washable marker, with which he wrote his debut illustrated children's story, later transitioning to a short-lived comic book series and (very) amateur filmmaking before finally settling on pursuing a career in writing about movies in lieu of making them. Look for his name in just about any article related to Batman.