Selena Quintanilla And Chris Perez: 7 Things To Know About Their Love Story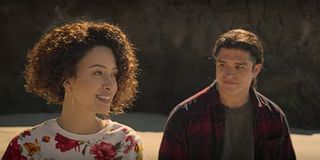 Recently, Netflix released Selena: The Series. This Netflix original TV show focuses on the life and legacy of mega superstar Selena Quintanilla (eventually Selena Quintanilla Perez). The streaming service decided to release the series in two parts. The first part mainly deals with Selena and her family's early years touring and making a name for themselves in the music world, especially the Tejano music scene. The end of Selena: The Series Part 1 started to show the development of Selena and Chris Perez's relationship. The second part should deal a lot more with their love story.
Chris and Selena's relationship is a significant part of her story. It's such a beautiful and tragic romance that many fans may be anxious to see how Netflix and the actors playing Chris (Jesse Posey) and Selena (Christian Serratos) depict their story. Luckily, there have been plenty of books, articles, and films written and made about Selena, so it's easy to see the accuracy of their version. For those new to Chris and Selena's story, let's take a look at some interesting facts about their timeless love story.
Chris And Selena Were Opposites
Chris Perez wrote all about his relationship with Selena in his book To Selena, with Love (opens in new tab). He mentions in the book that Selena and he were "polar opposites." He then expanded by saying how she was outgoing and the center of attention, whereas he was quiet and watched what was going on around him. He even mentioned that Selena teased him about being too laid-back. In an interview with Houston Life, Perez also further explained that he was very introverted at that time, but Selena was always outgoing.
Selena and Chris also initially started off as having an opposite tastes in music. Chris aspired to play rock music, and originally had no intention of playing Tejano music. His favorite artists were bands like Alice in Chains, Pearl Jam, and Green Day. Selena loved Tejano music and pop artists like Whitney Houston and Janet Jackson.
Most Of Selena And Chris's Close Friends And Family Knew About Their Relationship Before Abraham Quintanilla
Chris and Selena's relationship was a public secret among their close friends and bandmates. To Selena, With Love explains that Selena was very affectionate with Chris when they were with the band and together on dates, but their relationship was kept secret from Selena's father. Everyone knew he wouldn't approve of Selena dating Chris.
Chris even introduced Selena to his parents long before Abraham found out. Selena's mother, Marcella Quintanilla, even knew before Abraham. Abraham became aware of their secret relationship when Suzette, Selena's sister, in anger, one day just told him. Abraham wouldn't learn the extent of their love and relationship until they were married.
Chris And Selena Were Married In Their Early 20s
Chris and Selena were the youngest members of Selena Y Los Dinos, so it didn't surprise anyone when they developed a bond, but it surprised many when they ran off and got married before Selena was even 21 and Chris was only 22. The two wed on April 2, 1992, a few weeks before Selena's 21st birthday.
In To Selena, With Love, Chris details how it all happened. Selena's father was doing everything in his power to keep them apart, but they continued to see each other secretly. On April 2, 1992, Selena came to see Chris at his hotel. She was fed up with Abraham trying to keep them apart and thought the only way for them to truly be together was if they married.
They then secretly eloped at a courthouse. Within the hour, Abraham and Selena's family knew of the marriage, due to the gossip mill. Abraham was forced to accept Chris into the family.
The Song 'More Than Words' By Extreme Played A Role In Chris And Selena's Romance
In Selena: The Series, there is a scene where Selena and Chris are singing "More Than Words" by Extreme. It's a cute moment in the series that has some real-life significance. In To Selena, With Love, Chris details a memory he has with Selena and the song:
In an interview on WFAA's site, Chris shared even more about the significance of the song for the couple:
Chris also shared in his book that after Selena's death, Extreme came to Corpus Christi, where Selena spent the majority of her life. They played the song and dedicated it to her.
Chris And Selena First Said I Love You In A Pizza Hut
In To Selena, With Love, Chris gave an anecdote about the first time Selena and he said I love you. The band was hungry and Selena's favorite food was pizza with extra pepperoni. Chris and Selena noticed a Pizza Hut nearby, so they decided to go there alone. Then they began discussing their relationship and its future. Chris poured his heart out to Selena about how much he cared for her. He also shared how he was in agony about keeping their relationship a secret from her father.
After Chris finished talking, Selena responded by saying "I love you." He echoed her sentiment by saying it too.
Selena And Chris Owned Many Pets
In one of the funniest chapters of To Selena, With Love, Chris details how Selena and he obtained all of their pets. It started with plans for a few fishes and ended with a python who ate their pet mouse, Bugsy.
The chapter talks about how they got each of their five dogs: Pebbles, Jax, Taylor, Winnie, and Andre. Selena seemed to be unable to resist those furry faces. Each time they came in contact with a new puppy, Selena seemed to want it. Chris also talks about a funny story involving their escaped python and Selena's horror when it was found.
Chris Still Has A Hard Time Hearing Selena's Song 'Dreaming Of You'
In an interview with Ken5, Chris Perez was asked about which song he still had difficulty listening to, and he shared that he still has a hard time listening to "Dreaming of You," because of the story behind it. In To Selena, With Love, he tells that story.
At the time, Chris was helping an artist for who he was writing music and decided to not accompany Selena at the recording studio. She called him later that day to ask him to come to listen to her sing "Dreaming of You," but he declined because he was busy with the artist. He talked about regretting that moment because it would be one of his last chances to hear her sing.
You can catch Jesse Posey and Christian Serratos bring Selena Quintanilla Perez and Chris Perez to life on Selena: The Series currently streaming on Netflix (opens in new tab) (and part 2 coming soon), or you can get their story straight from Chris by buying his book, To Selena, With Love, which is available wherever books are sold.
Your Daily Blend of Entertainment News
Spent most of my life in various parts of Illinois, including attending college in Evanston. I have been a life long lover of pop culture, especially television, turned that passion into writing about all things entertainment related. When I'm not writing about pop culture, I can be found channeling Gordon Ramsay by kicking people out the kitchen.
Your Daily Blend of Entertainment News
Thank you for signing up to CinemaBlend. You will receive a verification email shortly.
There was a problem. Please refresh the page and try again.