The Chilling Adventures Of Sabrina: What To Watch Streaming If You Like The Netflix Series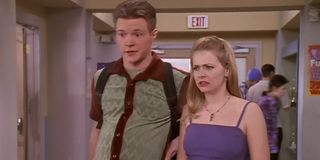 After four parts and seemingly endless adventures, The Chilling Adventures of Sabrina has come to an end sadly. The stories have been told and the tales ended, which now leaves fans hanging with the need for a new show to watch. But what other shows are there out there that might have some sort of relation to the same aspects of Sabrina?
The answer is plenty. From Riverdale to Salem, there are so many options for fans of The Chilling Adventures of Sabrina to pick from that will fill that void that the show has left now. Streaming platforms like Netflix, Hulu, and Amazon Prime are loaded with shows to view, and these are just a selected sample of some witchy picks that fans are sure to enjoy.
Sabrina The Teenage Witch (Hulu)
Now, this is what made Sabrina popular before this new version of the show came out. Sabrina The Teenage Witch is about the same premise as The Chilling Adventures of Sabrina except much less dark. In fact, it's a comedy rather than the drama show that the Netflix original was, with aspects of drama sprinkled in.
However, just because the genre has changed, it doesn't mean that the hijinks, spells, and wizardry has. If anything, I almost enjoy this show a little more because it doesn't take itself as seriously. While Chilling Adventures of Sabrina was a good combination of drama and comedy, there's no harm in having a nice change in scenery. Plus, Salem actually talks in this – not that strange puppet from the last season. It's so worth the watch.
Stream it on Hulu here.
Riverdale (Netflix)
Before anyone comes for me, Riverdale was actually created by the same people who wrote the story of The Chilling Adventures of Sabrina. That being said, Riverdale isn't seated in witchery, but definitely has some supernatural elements throughout it. The story covers the town of Riverdale and the horrible instances that go on throughout it as the seasons progress.
While the first season seemed to be based in reality a bit (it was a murder mystery), the next couple of seasons do begin to step a little more into the supernatural and mystique. While there isn't any crossover between the two series, sadly, fans of Sabrina will surely find something that they enjoy about Riverdale. There are romances to follow, mysteries to solve, and some pretty ridiculous musical episodes to make fun of. Give it a go – just don't take it seriously.
Stream it on Netflix here.
Charmed (Peacock)
Whenever I thought of witches before The Chilling Adventures of Sabrina, I thought of two things – Harry Potter and Charmed. The series is about a trio of sisters who are known to be the most powerful "good" witches of all time. Throughout the series, they use their combined power to protect the lives of innocent people from evil beings, like demons, warlocks, and other horrible creatures.
It sounds pretty familiar, doesn't it? The only difference really between Charmed and The Chilling Adventures of Sabrina is that Charmed doesn't worship Satan as the Netflix original does. And with eight seasons to watch, there are so many adventures for fans to follow along with, romances to love, and mysteries to solve. There's a reason why it has since gotten a revival and has a cult following.
Stream it on Peacock here.
Supernatural (Netflix)
Dean and Sam Winchester will forever have my heart and that is a fact. Supernatural follows the two brothers, who are walking in their father's footsteps as monster hunters. Throughout the episodes, they take down demons, vampires, monsters, and sometimes even fallen gods from above, all for the greater good.
It sounds like a serious series, but what really makes Supernatural a great show to watch is the chemistry between Jared Padalecki and Jenson Ackles. Their brotherly love, along with their comedic moments throughout the show, adds so much humility to an otherwise serious show that shows some really creepy and scary stuff sometimes, something that The Chilling Adventures of Sabrina fans are quite used to.
Stream it on Netflix here.
The Order (Netflix)
Think The Chilling Adventures of Sabrina, but with a college twist. The Order follows the tale of Jack Morton, a freshman in college who ends up joining a strange society at his new school. Suddenly, as soon as he is pushed into this world, he faces off against a variety of magical beings and is exposed to the sorcery that is hidden deep within the cracks of the university.
I feel like Netflix is really trying to push themselves into the magical realm with shows like The Witcher and Chilling Adventures of Sabrina. But The Order is a nice change of pace considering the story is a bit more mature and older, and not completely soaked in a fantasy world. The college aspect makes it all the more alluring.
Stream it on Netflix here.
Buffy The Vampire Slayer (Hulu)
Another classic supernatural series, Buffy the Vampire Slayer was the epitome of a monster-hunting show before the genre became cool. The premise of the series follows Buffy, a young woman who is chosen to be "the slayer" (as the title suggests), and tasked to fight against the darkness that threatens to take over the world.
It's clear that these shows are quite popular as Buffy the Vampire Slayer has seven seasons for fans to enjoy. Not only that, but Buffy the Vampire Slayer really paved the way for most of these shows, showing that fans did have an interest in the macabre and monsters on TV as much as they did in movies.
Stream it on Hulu here.
The Haunting Of Hill House (Netflix)
Personally, I believe this is one of the best horror series out there. The Haunting of Hill House is all about the Crain family, and how their past supernatural experiences at Hill House continue to haunt them to this very day. But a tragedy strikes their lives that forces them to return back to the place they hate the most.
There isn't much I can say without revealing so much about this show. Just know that the cinematography is amazing, the story even better, and the thrills top notch. It's only one season because it's part of an anthology series, but it's definitely worth a day to binge-watch for Sabrina fans. Trust me.
Stream it on Netflix here.
The Vampire Diaries (Netflix)
I feel like everyone has heard of The Vampire Diaries at this point, but I might as well talk about it here. The Vampire Diaries tells the story of Elena Gilbert, a teenage girl who just lost both her parents and the tribulations of her life when she falls in love with vampires.
Again, there's not much I can say that people don't already know. The Vampire Diaries was one of the biggest teen shows out there during its time, so much so that it spawned popular spinoffs. For fans of The Chilling Adventures of Sabrina, this is most certainly a choice, but instead of a focus on witches, it will be on vampires with dark intentions. The same premise but a switch in monsters, essentially.
Stream it on Netflix here.
American Horror Story (Netflix)
The whole entire anthology of American Horror Story is fantastic. While some seasons follow rather interesting topics (looking at you, Season 8), there are others that will knock your socks off, like Asylum or Freak Show. But the season that stands out the most to me is Coven, known as the third season.
Since American Horror Story is an anthology series, you can watch any season without having to see the last, and Coven is most certainly the season for The Chilling Adventures of Sabrina fans, considering it follows the growth of a coven down in New Orleans and the battle between witchery and voodoo. But, if horror in general interests you as well, check out the other seasons too. They're so much fun.
Stream it on Netflix here.
A Discovery Of Witches (Shudder)
The first up on Amazon Prime here, A Discovery of Witches follows Diana Bishop, a reluctant witch who is suddenly thrust into the world of magic once more when she finds a bewitched manuscript hidden in Oxford's Bodleian Library. From there, she tries to unravel the mysteries of the magic world from the manuscript, and drama ensues.
What makes this series so fun is that not only does it expand the world of witchery, but it's also the first series to really incorporate both witches and vampires into the same world – which are enemies in this show. There are two seasons so far available to stream, but a third one is planned, so there's plenty of time to catch up soon.
Stream it on Shudder here*. *
Witches Of East End (IMDB TV)
I found Witches of East End so much fun. The series follows a family of witches who live out on Long Island and their daily affairs with their powers. As someone who grew up in Long Island for most of her life until going away to college, they nail the style and the people to a T and leave nothing left guessing, but what really makes this series so much fun is the family dynamic.
I loved watching this series for the relations between the matriarch and the daughters, and everything else that came along with that. It was almost like a witch-related version of Gilmore Girls to an extent, which made it so much more fun to root for the magic-filled family. It only has two seasons so it's an easy watch for witch fans.
Stream it on IMDB TV at Amazon here.
Salem (Hulu)
Salem isn't that much of a far-cry from The Chilling Adventures of Sabrina because the Salem witch trials were actually included in the Netflix original. Salem is inspired by the real-life Salem witch trials that took place in the 17th century, but of course with some actual witchery, drama, and romances thrown in there.
With three seasons to watch, Salem has plenty of the same expectations of what The Chilling Adventures of Sabrina fans have gotten used to, but with plenty of other horror elements mixed in there as well. It was the most popular show on WGN America at the time, so even though it was canceled after three seasons, there is still a good amount of fans who will stand by it and say it was one of the better witch shows out there.
Stream it on Hulu here.
Even though The Chilling Adventures of Sabrina has come to an end, there are plenty of options out there still for people to watch. These are just the tipping point. What is your favorite supernatural show?
Big nerd and lover of Game of Thrones/A Song of Ice and Fire. Will forever hate season eight. Superhero and horror geek. And please don't debate me on The Last of Us 2, it was amazing!