The Goldbergs Star And Oscar Nominee George Segal Is Dead At 87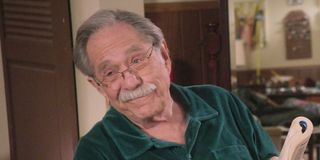 (Image credit: ABC)
The entertainment industry lost a star of both television and film with the death of George Segal, known for appearances on multiple hit TV comedies as well as a movie performance that earned him an Academy Award nomination, among others. He was 87-years-old at the time of his passing on the morning of March 23.
George Segal's wife Sonia confirmed the news of her husband's death in a statement (via Deadline), saying that he died "due to complications from bypass surgery." Born in Great Neck, New York on February 13, 1934, Segal is best known in recent years for his role as Pops on ABC's The Goldbergs, starting in 2013 and which has run for eight seasons and more than 175 episodes so far.
The Goldbergs wasn't George Segal's first or only long-running sitcom role. He played Jack Gallo for the seven seasons of Just Shoot Me from 1997-2003, and was nominated for the Golden Globe for Best Actor in two consecutive years for Just Shoot Me. Segal also appeared in series ranging from Murphy's Law to The Larry Sanders Show to Retired at 35, to name just a few of many large and small.
That said, George Segal wasn't just known for his work on the small screen, and he accumulated some major awards attention over the years for his films. In 1967, he was nominated for the Academy Award for Best Supporting Actor following his performance in the film adaptation of Who's Afraid of Virginia Woolf?. He was also nominated for the Golden Globes on the film front on three separate occasions, winning for New Star of the Year for The New Interns in 1965 and Best Actor for A Touch of Class in 1974.
Between his film and television roles, George Segal proved that he could tackle both dramatic and comedic roles to great success, with The Goldbergs keeping him on the air for the better part of a decade. The Goldbergs will air the final episode featuring Segal as Pops on April 7, and will presumably include a tribute to the actor and his character.
Adam Goldberg, who created The Goldbergs, shared a message of tribute for George Segal on social media following news of his passing:
Adam Goldberg chose a selection of images of George Segal in his Twitter tribute, including from the iconic Goldbergs episode that saw Pops and his grandson dress up like different versions of Batman. Goldberg also included a screenshot of an exchange that he had with Segal, in which Segal pitched a "Who's on first?" routine on the show, because he just loved the show. Adam Goldberg is also not the only member of the Goldbergs team to already express sadness at Segal's death. Patton Oswalt, who narrates the ABC comedy, posted on Twitter:
In his tribute to George Segal, comedian and actor Patton Oswalt cited some of the actor's lesser-known roles, at least compared to The Goldbergs, Just Shoot Me, and Who's Afraid of Virginia Woolf? from his career. Segal had a long and successful career in the entertainment industry, and he'll clearly be missed by those who knew him. Our thoughts and sympathies are with the family, friends, and loved ones of George Segal in this difficult time.
Resident of One Chicago, Bachelor Nation, and Cleveland. Has opinions about crossovers, Star Wars, and superheroes. Will not time travel.
Your Daily Blend of Entertainment News
Thank you for signing up to CinemaBlend. You will receive a verification email shortly.
There was a problem. Please refresh the page and try again.