Cruel Summer Cast: Where You've Seen The Freeform TV Show Stars Before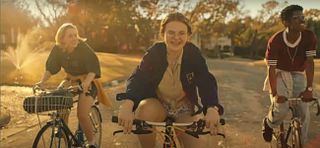 Cruel Summer is the latest Freeform series which is bound to become your TV obsession. The series follows Jeanette Turner (Chiara Aurelia) and Kate Wallis (Olivia Holt) as an abduction rocks their small town. Kate disappears and Jeanette becomes the prime suspect in her disappearance. Set in Skylin, Texas, Cruel Summer takes place over three years, 1993, 1994, and 1995, and showcases three days of events, all starting on June 21. Cruel Summer has intrigue, drama, and a mystery which should keep you hooked all spring long. It's one of the 2021 TV shows that we're most excited to see. Cruel Summer seems like a good fit for Freeform because it fills that missing mystery, suspense gap left by series Pretty Little Liars and Dead of Summer. The show's plot and the Cruel Summer cast make this a must-watch show.
The Cruel Summer cast, led by Olivia Holt and Chiara Aurelia, are rising stars who could have a star-making moment in this highly anticipated Freeform drama. The series' cast consists mainly of young actors who have just begun to make their names in Hollywood, but the Cruel Summer cast also includes some Hollywood veterans and very familiar faces. Let's explore the Cruel Summer cast's other projects prior to the series.
Olivia Holt (Kate Wallis)
Olivia Holt plays Kate Wallis, the girl who goes missing and sends the town into a panic. From the outside, Kate's life seems perfect, but nothing is ever perfect. Holt began her acting career by being a Disney Channel regular from 2010 to 2017. She appeared in various Disney Channel Original movies and TV shows. Her first main Disney Channel role was in Kickin' It. Olivia Holt appeared in that series from 2011 to 2015, playing the main role as Kim until Season 4.
She then appeared in the Disney movie Girl vs. Monster and the TV shows Shake It Up, I Didn't Do It, Dog with a Blog, and The Evermoor Chronicles. Many will also recognize Holt from her main role as Tandy Bowen, a.k.a. Dagger, in the Freeform and Marvel series Cloak & Dagger. She is also a singer and sang a version of "You've Got A Friend in Me" from Toy Story with Jordan Fisher.
Chiara Aurelia (Jeanette Turner)
Chiara Aurelia plays Jeanette Turner. Jeanette is an outcast who dreams of one day having everything that Kate has, which leads to things getting beyond Jeanette's control and turning her town against her. She's insecure about her appearance but her life doesn't turn dark until Kate disappears. Many may recognize Aurelia from her role on the Amazon Prime series Tell Me Your Secrets, where she played Rose Lord.
She has also appeared in episodes of CSI: Crime Scene Investigation, Pretty Little Liars, Agent Carter, Nicky, Ricky, Dicky & Dawn, Recovery Road, and The Brave. Aurelia also had roles in the films Back Roads, Gerald's Game, and Big Sky. She will also soon be appearing in Netflix's Fear Street.
Froy Gutierrez (Jamie Henson)
Froy Gutierrez plays Kate's boyfriend who starts dating Jeanette when she disappears. He's well-liked by his peers and is Jeanette's crush long before Kate's abduction. Gutierrez played Charlie in Bella and the Bulldogs. He also had a recurring role on The Goldbergs as Handsome Ben, and he had recurring roles on One Day at a Time, Teen Wolf, and Light as a Feather.
Gutierrez has appeared in the films A Cowgirl's Story, The Vampyre, and Initiation. He is also a singer and has released singles such as "Fix Me," "When It's Midnight" and "Crash."
Harley Quinn Smith (Mallory Higgins)
Harley Quinn Smith plays Mallory Higgins, one of Jeanette's best friends. Jeanette distances herself from Mallory and Vince (Allius Barnes) once she starts to become popular, which hurts and confuses Mallory. Harley Quinn Smith is the daughter of filmmaker Kevin Smith and she has appeared in a few of his movies, including Jay and Silent Bob Reboot, Tusk, Clerks II, and Yoga Hosers. Harley Quinn Smith has also appeared in Quentin Tarantino's Once Upon a Time in Hollywood. She's had roles in the film Madness in the Method and the series Supergirl.
Allius Barnes (Vince Fuller)
Allius Barnes plays Vince Fuller, the third part of the trio of best friends that includes Jeanette and Mallory. Barnes has had recurring roles on S.H.R.I.E.K, PEN15, and the critically acclaimed Netflix mini-series Unbelievable. He also appeared in episodes of Snowfall, Chicago P.D., Rosewood, Bones, Melissa & Joey, and Sam & Cat. Allius Barnes has also been in the movies Thumper and American Skin.
Blake Lee (Martin Harris)
Blake Lee plays Martin Harris, a popular teacher at the high school all of the main characters attend. According to the official Cruel Summer page, Harris may care "a little too much" about his students. Smells like a scandal to me. Blake Lee is best known for starring opposite his husband, Ben Lewis, in the first Lifetime LGBTQ+ romantic movie, The Christmas Setup. Lee has also appeared in the shows Friends with Benefits, Mixology, Angie Tribeca, Fam, and he played Derek on Parks and Recreation.
Michael Landes (Greg Turner)
Michael Landes plays Jeanette's father, Greg Turner, in Cruel Summer. Michael Landes has had a long career in Hollywood. He had a recurring role in The Wonder Years as Kirk McCray, and also had a recurring role in The Fresh Prince of Bel-Air. Landes had a recurring role in the criminally underrated family series The Torkelsons, which was alternately known as Almost Home. He played Jimmy Olsen in Lois & Clark: The New Adventures of Superman, and recurred in the BBC series Silent Witness.
Michael Landes also appeared in episodes of CSI: Crime Scene Investigation, The Crazy Ones, Don't Trust the B----in Apartment 23, Miranda, Boston Legal, Peep Show, and Ghost Whisperer. The actor has also worked on the movies Final Destination 2, Hart's War, Lakeview Terrace, My Girlfriend's Boyfriend, Burlesque, and Angel Has Fallen.
Brooklyn Sudano (Angela Prescott)
Brooklyn Sudano plays Angela Prescott, a bartender at the local dive bar. She's there to listen when customers need to rant, and she can also kick butt when patrons get too rowdy. Sudano had a lead role in NBC's adaptation of Taken, and played Christy Epping, Jake Epping's (James Franco) ex-wife in 11.22.63, the Hulu adaptation of Stephen King's best-selling book.
Brooklyn Sudano has been in episodes of 90210, Without a Trace, Friends with Benefits, and Ballers. She also played Vanessa Scott on My Wife and Kids, was seen in the movie Rain, and in the MTV movie Turn the Beat Around.
Nathaniel Ashton (Ben)
Nathaniel Ashton plays the recurring character Ben, who is one of Jamie's friends. It seems like Ben wants Jamie to be happy but also worries about his mental state when Kate disappears and he just moves on with Jeanette. Ashton has appeared in a couple of episodes of The Price of Fame. He's also in episodes of Mr. Mercedes and Ashes. Cruel Summer will be one of Ashton's first major projects.
Sarah Drew (Cindy Turner)
Sarah Drew plays Cindy Turner, Jeanette's mother. Cindy used to be very popular around town but now struggles to stay out of the spotlight as the town gossip about her and her family escalates because of Kate's abduction. Most Grey's Anatomy fans will recognize Sarah Drew from her role as Dr. April Kepner on the medical drama. She played the character from 2009 to 2018, and made an appearance as a guest star in 2021. Prior to Grey's Anatomy, Drew had main roles in Daria, where she voiced Stacy Rowe, and Everwood, where she played Hannah Rogers.
Sarah Drew has also appeared in the shows Supernatural, In Plain Sight, Numb3rs, Private Practice, and Mad Men. She can also be seen in the films Mom's Night Out, American Pastime, and Tug.
Barrett Carnahan (Derek Turner)
Barrett Carnahan plays Derek Turner, the older brother of Jeanette. He remains a constant source of support for Jeanette, even when he's away at college. He'll be a recurring character, so will only be visibly offering Jeanette support sometimes. Carnahan played Link Evilman in the Nickelodeon series The Thundermans. He also played Young Kreese in Cobra Kai.
Barrett Carnahan played Aiden in Alexa & Katie's final season. He has also appeared in episodes of Grown-ish, Best Friends Whenever, Good Girls Revolt, Bones, Colony, Grey's Anatomy, Sleepy Hollow, and Drop Dead Diva.
Andrea Anders (Joy Wallis)
Andrea Anders plays Joy Wallis. She is Kate's mother. She's known for being a bit scary, especially towards those who may stand in her way. Andrea Anders had a lead role in the Friends spin-off Joey, where she played Alex, Joey's main love interest throughout the show's two seasons. Anders has had recurring roles on About a Boy, Modern Family, Young Sheldon, The Good Fight, Necessary Roughness, and Ted Lasso. She also had a series regular role on Mr. Mom, Better Off Ted, and Mr. Sunshine.
Anders appeared in the films Sex Drive, Instant Family, Daddy's Home 2, Nancy Drew and the Hidden Staircase, and The Stepford Wives.
You can catch Olivia Holt, Chiara Aurelia, Froy Gutierrez, and the rest of the Cruel Summer cast Tuesdays at 10 p.m. EST on Freeform, and on Hulu the next day.
Your Daily Blend of Entertainment News
Spent most of my life in various parts of Illinois, including attending college in Evanston. I have been a life long lover of pop culture, especially television, turned that passion into writing about all things entertainment related. When I'm not writing about pop culture, I can be found channeling Gordon Ramsay by kicking people out the kitchen.
Your Daily Blend of Entertainment News
Thank you for signing up to CinemaBlend. You will receive a verification email shortly.
There was a problem. Please refresh the page and try again.