The Pursuit Of Love Cast: Where You've Seen The Actors Before, Including Lily James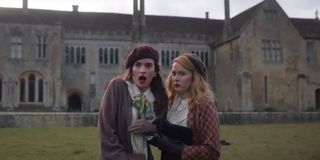 CinemaBlend participates in affiliate programs with various companies. We may earn a commission when you click on or make purchases via links.
In July 2021, The Pursuit of Love, which sounds a lot like a reality show that would be on VH1 around 2008, came out on Amazon Prime Video and gave everyone something to watch while we wait for Bridgerton Season 2 to arrive on Netflix. With standout performances from Lily James and Dominic West, who made a lot of news earlier in 2020, The Pursuit of Love cast is filled from top to bottom with amazing and talented actors and actresses who have made their mark in film and television on both sides of the pond.
Below is a quick yet comprehensive breakdown of the members of The Pursuit of Love cast and just about everywhere you've seen them before whether it be in musicals like Mamma Mia: Here We Go Again or gritty crime dramas like The Wire. If you've watched a movie or show in the past couple of decades, chances are you've see these faces at one point or another.
Lily James (Linda Radlett)
Lily James appears as Linda Radlett, the fearless, charismatic, and beautiful free spirit front and center throughout The Pursuit of Love and its adventurous story, set between the first and second World War. James is no stranger when it comes to the world of television, having become a massive star following her three-year run on Downton Abbey, where she portrayed Lady Rose Aldridge before leaving and appearing in the 2016 limited series War and Peace. The multi-talented James will soon be seen as Pamela Anderson in the Hulu series Pam and Tommy.
If you don't recognize Lily James from any of her television roles, then you'll certainly remember her from movies like Mamma Mia: Here We Go Again, Yesterday, and the Netflix adaptation of Rebecca. Prior to all of those performances, James starred in Baby Driver, Burnt, Darkest Hour, and probably most notably, the 2015 live-action remake of Cinderella.
Emily Beecham (Fanny Logan)
While Lily James' Linda Radlett is the vibrant free spirited heart of The Pursuit of Love, Emily Beecham has the task of portraying her more reserved cousin and best friend Fanny Logan. Over the years, Beecham has appeared in numerous celebrated television programs, including Into the Badlands, where she portrayed The Widow in all 32 episodes. Her other TV credits included Damages, The Village, and The Musketeers to name only a few.
If you are a fan of the Coen Brothers then you will certainly remember Emily Beecham from her portrayal of Dierdre in the 2016 comedy, Hail, Caesar!, but if not, then Daphne, Berlin, I Love You, or Little Joe may ring a bell or two. More recently, Beecham had a prominent role in the 2021 Netflix science fiction action thriller Outside the Wire which she followed up with another great performance in Disney's Cruella.
Dominic West (Matthew Radlett)
Taking on the role of the mustachioed Matthew Radlett, father to Linda and uncle to Fanny, is none other than Dominic West, who has one of the most impressive television filmographies of anyone on the list. There are the givens, like the HBO crime drama series The Wire, where he played Baltimore Police detective Jimmy McNulty, and The Affair which netted him a Golden Globe nomination, but there other additions to his resumé that are also worth mentioning. Those are the British drama The Hour and the 2018 television adaptation of Les Misérables. He will also soon join the cast of The Crown Season 5 as Prince Charles.
Dominic West's film credits are also worth noting, as the actor has appeared in everything from Zack Snyder's 300 to Chicago and Pride to Finding Dory. Before finding fame, West also had roles in movies like Spice World and Star Wars: Episode I — The Phantom Menace.
Andrew Scott (Lord Merlin)
Lord Merlin, the Radlett's wealthy, eccentric, and artistic neighbor is Andrew Scott. You will probably remember Scott from his celebrated and award-winning portrayal of The Priest on Fleabag Season 2, but the talented veteran of television, film, and the stage has small screen credits going back as far as 1995. Previous TV work includes Band of Brothers, Black Mirror, His Dark Materials, and Sherlock where he portrayed the obsessive criminal mastermind James "Jim" Moriarty.
Over on the film side of things, Andrew Scott has given commanding performances in some of the most highly regarded movies of the past quarter-century including Saving Private Ryan and 1917. Prior to appearing in Sam Mendes' tense World War I drama, Scott worked with the director in 2015's Spectre, where he took on the role of C, an intelligence official whose actually working for the titular criminal organization.
Emily Mortimer (The Bolter)
Portraying Fanny's mother, The Bolter, on The Pursuit of Love is Emily Mortimer, who not only stars on the show but also wrote and directed the adaptation of Nancy Mitford's novel of the same name. Over the years, Mortimer has put together a string of great television projects including The Newsroom and Doll and Em, a show she created and wrote in addition to playing one of the leads. Prior to that, she appeared in a few episodes of 30 Rock and various other shows and made-for-TV movies throughout her career.
Emily Mortimer has also appeared in dozens of feature-length films over the years including Elizabeth, Notting Hill, Dear Frankie, Match Point, and Shutter Island. If you have kids or just like watching Disney movies (not judging if you do), then you will recognize Mortimer from Mary Poppins Returns, or at least her voice from Cars 2.
Dolly Wells (Sadie Radlett)
Dolly Wells portrays Linda Radlett's mother and Matthew Radlett's wife Sadie on The Pursuit of Love. Throughout her career, Wells has appeared on dozens of television programs ranging from smaller roles on shows like The Mighty Boosh and The IT Crowd to more recurring roles on the likes of Some Girls, Blunt Talk, and Dracula, where she portrayed Sister Agatha Van Helsing.
No stranger to the silver screen, Dolly Wells has showed up in Bridget Jones's Diary as well as its 2016 sequel Bridget Jones's Baby, Home Again, Can You Ever Forgive Me?, and the horror spin on Jane Austen with Pride and Prejudice and Zombies.
Beattie Edmondson (Louisa Radlett)
Taking on the role of Louisa Radlett, Linda's sister, is Beattie Edmondson, who has made a name for herself the past decade with performances on various British comedies, specifically sitcoms. Prior to landing a spot in The Pursuit of Love cast, Edmondson appeared on sitcoms like Upstart Crow, Patrick, and Josh, where she played one of the main characters by the name of Kate. Edmondson's work on television goes all the way back to 2008, with a pair of episodes in the second season of the comedy Clatterford. She also had a small role in the 2011 Comic Relief short Uptown Downstairs Abbey.
Assaad Bouab (Fabrice de Sauveterre)
What would a sprawling romantic saga be without romance? That's where Assaad Bouab comes in as Fabrice de Sauveterre, the man with his heart set on Linda Radlett in The Pursuit of Love. With film, television, and stage credits to his name, Bouab has done a little bit of everything throughout his career, including a recurring role on the Netflix thriller Messiah, the Netflix comedy Call My Agent!, and Homeland, which aired on Showtime.
Assaad Bouab's film contributions include Made in France, Queen of the Desert, and Outside the Law, to name only a few. Prior to that, Bouab appeared in stage productions of everything from William Shakespeare's Twelfth Night to Voltaire's Zadig as well as multiple others.
Shazad Latif (Alfred Wincham)
Then, there is Shazad Latif, who takes on the role of Alfred Wincham, who has an eye for Fanny Logan on The Pursuit of Love. Prior to joining the show's cast, he appeared in a number of popular television shows in recent years, including Penny Dreadful, The Dark Crystal: Age of Resistance, and Star Trek: Discovery. Oh, and like so many other actors, Latif lent his talents to an episode of Black Mirror in 2011.
Over on the film side of things, Shazad Latif has appeared in movies like The Man Who Knew Infinity, The Second Best Exotic Marigold Hotel, The Commuter, and Profile. He is set to share the screen with Lily James again in the upcoming What's Love Got to Do With It?.
Freddie Fox (Tony Kroesig)
And, finally, our journey through The Pursuit of Love cast comes to an end with Freddie Fox, who plays the dashing Tony Kroesig. If you are a fan of The Crown, then you'll most likely recognize Fox from his portrayal of Mark Thatcher, the son of Prime Minister Margaret Thatcher who went missing for a short time in 1982. Before that, Fox appeared on shows like Parade's End, Year of the Rabbit, and Lewis.
Freddie Fox's film roles include King Arthur: Legend of the Sword, Victor Frankenstein, and The Riot Club, to name just a few.
This is just the main actors in The Pursuit of Love cast, as there are multiple other memorable characters from the three-part Amazon series. If you have already binged all the episodes, why not take a look at CinemaBlend's 2021 Summer TV Schedule to see what else is happening in the streaming world.
Philip grew up in Louisiana (not New Orleans) before moving to St. Louis after graduating from Louisiana State University-Shreveport. When he's not writing about movies or television, Philip can be found being chased by his three kids, telling his dogs to stop yelling at the mailman, or yelling about professional wrestling to his wife. If the stars properly align, he will talk about For Love Of The Game being the best baseball movie of all time.
Your Daily Blend of Entertainment News
Thank you for signing up to CinemaBlend. You will receive a verification email shortly.
There was a problem. Please refresh the page and try again.