Gaming Streamer And OnlyFans Star Corinna Kopf Reveals How Much She's Made So Far, And Whoa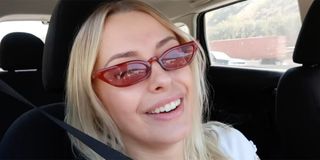 Corinna Kopf is one of the many influencers who saw their visibility grow thanks to the rise of social platforms like YouTube and Instagram. Back in June of this year, however, she decided to expand out to OnlyFans, a platform known for nudity ( and one that has in recent months tried to expand out from that model). Now, she's speaking out about how much she's made so far, and wow.
If you've been keeping tabs on Corinna Kopf at all, you may already know that she had a very popular debut on OnlyFans. During her first two days, she previously said she made well over a million dollars, so I guess I shouldn't be totally surprised by her reveal of how much she's made in total, but the number is still a jaw-dropping one. She recently spoke to fellow YouTuber David Dobrik about the lucrative nature of the fan-frequented site and she says she's made a bucketload of money so far, though she played down her feelings about the total, calling it "not as crazy as you'd think."
In a video vlog from David Dobrik earlier this month, Corinna Kopf spoke out to note that while she is going topless on OnlyFans she doesn't "plan on" showing any more nudity outside of that part of her body. Despite this, she says the money is coming in at a rapid rate, noting the amount she's made so far is "crazy" and that she's brought in "$4.2 million" in total. The first topless pic she shared she says brought in $165,000 by itself. Then, there's the aforementioned million+ she made just after joining OnlyFans.
The numbers may seem high, but similarly OnlyFans star Belle Delphine spoke out a few months ago to confirm she's been pulling in around a million dollars a month for a $35 dollar subscription, also offering some extras. Of course, that was some months ago and it's hard to tell if the numbers have kept up over time. Still, Corinna Kopf only joined the platform earlier this summer, so she's also managed to earn a tidy sum in just a few month from the service.
It is worth pointing out that not everyone can pull crazy high numbers just by joining OnlyFans. Cornna Kopf had a built in fanbase before joining the platform and her trajectory has followed other big names like Bella Thorne and Belle Delphine who already had followings before signing on. Even former Boy Meets World star Maitland Ward makes a tidy sum through the platform. Yet, a study at the beginning of the year showed the average person who joins the platform only makes $180 dollars a month.
Currently the influencer, who came to prominence as a member of David Dobrik's "vlog squad," charges $25 dollars a month for the platform and continues to make money off of her tamer YouTube page and other ventures. Only time will tell if she will stick with OnlyFans over the long haul, though she previously admitted she went gambling and won $30,000 after her initial earnings. So, it seems she's living large with the wages right now.
Reality TV fan with a pinch of Disney fairy dust thrown in. Theme park junkie. If you've created a rom-com I've probably watched it.
Your Daily Blend of Entertainment News
Thank you for signing up to CinemaBlend. You will receive a verification email shortly.
There was a problem. Please refresh the page and try again.