Hot In Cleveland To Stage Mary Tyler Moore Show Reunion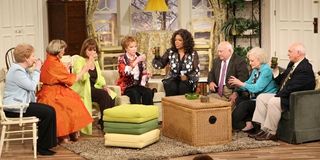 Hot in Cleveland is staging a major reunion of The Mary Tyler Moore Show's cast. The TV Land series that just got its fifth season renewal yesterday will bring together five ladies from the classic 70s sitcom who haven't acted on screen together since Mary Tyler Moore's final episode in 1977.
Hot in Cleveland already stars Mary Tyler Moore alum Betty White, while castmate Georgia Engel has a recurring role. Now the series is planning an upcoming episode that will also star Cloris Leachman, Mary Tyler Moore herself, and Valerie Harper. It may be a bit of a bittersweet reunion for the ladies, following on Harper's terminal brain cancer diagnosis earlier this month.
Deadline says that the episode will tape on April 5th. The storyline is said to feature Elka (White) and Mamie Sue (Engel) bringing back together their former bowling team, known as GLOB (Gorgeous Ladies of Bowling), which fell apart after a championship caused some ego problems. They'll gather the other three members, played by their Mary Tyler Moore castmates to make the team complete again.
Hot in Cleveland isn't as strong in the ratings as it once was, but it remains TV Land's flagship original series. The show has had a lot of notable guest stars, and reunited another classic TV comedy team - Carol Burnett and Tim Conway – this season already. Certainly a big Mary Tyler Moore reunion could help that flagging ratings for the series, especially since it may, sadly, be among the last times we'll see Valerie Harper on the screen.
Your Daily Blend of Entertainment News
Thank you for signing up to CinemaBlend. You will receive a verification email shortly.
There was a problem. Please refresh the page and try again.