TV Recap: Greek - Barely Legal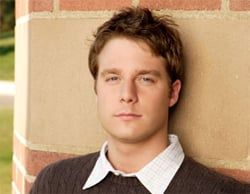 College is all about learning experiences and that's not just limited to what you might pick up in class every now and then. Last week on Greek, Rusty learned all about the benefits of having a "fun buddy," one of which may include the exchange of parasitic bugs. This week, Casey learned that the future she had picked out for herself might not be what she really wants and it looks like Ashleigh's on her way to learning the evils of debt but at the rate she's going (and I'm guessing it's somewhere between 17-20% if we're talking interest), she's going to learn this lesson the hard way.
A college campus wouldn't be complete without at least one predatory lender in sheep's clothing lurking about, offering free stuff and "points" to clueless college kids in exchange for astronomical interest rates and what could end up being years of their lives spent trying to pay off their debt. Cyprus Rhodes is no exception here. As Ashleigh and Calvin are checking out the spring break booths, they stumble across one of these credit card people and after being offered a free mp3 player and the incentive of "points" for dollars spent using the card, they both sign up.
Upon receiving the card (which was overnighted to her), Ashleigh promptly starts using it for everything (beers at Dobblers, new bags, expensive shoes, etc). When trying to buy a pack of gum the store clerk tells her that the card was declined. She maxed out her thousand dollar limit in record time. Calvin suggests she return some of the stuff but instead, Ashleigh calls the credit card place to see if she can work out a payment plan. When she finally gets someone on the phone, she doesn't even get to the whole payment plan thing because the second she tells them she maxed out her card, they up her limit. Problem solved! (Yeah, right.) Something tells me this is going to end badly for Ashleigh.
Meanwhile, The Kappa Taus engaged in the time honored tradition of passing down old drivers licenses from graduated KT guys. Ben Bennett inherits Frank Franklin's old ID. Meanwhile, Rusty gets the ID of a guy named Chad Stewart. Cappie drills the guys about their new identities so that they'll be prepared to use them over spring break in Myrtle Beach (which according to Dale, is where Satan lives). After failing to pass the "What's your sign?" test, Rusty takes his new ID back to his dorm and does some online research. He finds Chad Stewarts myspace (or facebook or whatever social networking site is currently the "it" site of the moment) page and studies up on the guy. Apparently, Chad is some sort of hippie musician who's spent his recent days backpacking through Southeast Asia.
Rusty takes this knowledge and uses it when he and the KT's go to a bar to test out their ID's. Coincidentally, the female bartender recognizes Chad's name and is a huge fan of his music. Apparently Chad Stewart is somewhat of a local celebrity or maybe this chick is just a weird internet stalker. Either way, she's way into Rusty, thinking he's the guy whose music she's been obsessing over.
Bartender-chick invites Rusty to a party and he accepts, against Cappie's advice. Rusty's totally cocky about it and goes on about how he can totally handle himself. Cappie doesn't let the opportunity to make a joke about "handling himself" slip by but also reminds Rusty that the guy who gets too big for his britches usually ends up naked.
Rusty brings Dale with him to the party that turns out to be a wedding and after the bartender girl asks Rusty to sing, he inevitably comes clean (after singing a few off-key notes). The admission results in a fight breaking out between the bride to be and her almost-groom and Rusty and Dale promptly leave.
Finally, Casey is all ready to make the first steps towards her future as a lawyer – or so she thinks. She attends a class to prepare for the LSATs and meets a bunch of over-caffeinated people who are desperate to ace their LSATs. They've already taken practice exams and everything. Casey quickly realizes she's not as ahead as she thought she was and goes to Evan for help. He gives her some practice exams and reminds her of how great she is at Sudoku and this is apparently enough to boost Casey's score on her next LSAT practice exam.
To celebrate, Evan offers to take Casey out to dinner. While enjoying their meal, he tells her he got her a sit-down with a guy on the admissions board at Harvard Law. Due in part to a recent conversation Casey had with Rusty about Evan using sneaky tactics to win her back, Casey is more on her guard than usual and immediately questions his motives, considering Evan is planning on attending Harvard Law, himself. He assures her that he just wants to be friends and that he's just trying to help her out.
Frannie sees Casey and Evan getting all cozy again and her own feelings for Evan draw out her evil-Frannie tendencies. When she spots Shane (the guy Evan paid a grand to in exchange for him blowing off Casey), Frannie casually convinces a tipsy Ashleigh to go call Shane out. When she does, Shane's nameless friend mentions Evan as being the one to blame for Shane humiliating Casey. When Ashleigh defends Evan, Shane reluctantly admits that Evan paid him to ignore Casey.
Obviously Ashleigh tells Casey and Casey confronts Evan. Instead of getting mad at him, she says she feels sorry for him. Evan using his money and connections to win her back only made him look desperate and insincere in the end. He tells her that he didn't pay Shane off out of spite, he did it because he loves her. It does no good though. Casey leaves Evan feeling like a loser (and totally primed to be scooped up by Frannie in next week's season finale, I'm guessing).
Casey later tells Frannie that she's not going to the Harvard interview because it's Evan-tainted. Frannie seems genuinely concerned for Casey (despite being the one to orchestrate the whole thing with Shane and Evan) and says, "Who cares about Evan's taint?" (Yeah, she seriously said that and I don't think I imagined the face Casey made briefly in response to that.) She tells Casey that she can't blow off the meeting and waste this opportunity. This is good advice considering Harvard Law school interviews don't exactly grow on trees. Casey goes to the interview and it appears to go well but when the man asks her why she wants to be a lawyer, she realizes that she doesn't. She only wanted a future in law because that's what Evan wanted and it never really occurred to her to consider other careers after she and Evan broke up. So Casey's not going to be a lawyer and it looks like things are worse than ever between her and Evan.
What do you guys think of Frannie tonight? I mean, it seems obvious that she's going after Evan but at the same time, encouraging Casey to go to the interview showed that she was genuinely concerned about Casey's future. I'm thinking that based on the previews for next week, while she is about to break the girl-code by making a play for her friend's ex, she doesn't seem to want Evan just to spite Casey. Maybe she actually does like him.
Kelly joined CinemaBlend as a freelance TV news writer in 2006 and went on to serve as the site's TV Editor before moving over to other roles on the site. At present, she's an Assistant Managing Editor who spends much of her time brainstorming and editing feature content on the site.
Your Daily Blend of Entertainment News
Thank you for signing up to CinemaBlend. You will receive a verification email shortly.
There was a problem. Please refresh the page and try again.