Vampire Diaries Spinoff The Originals Gets A Series Order, 2 CW Dramas Renewed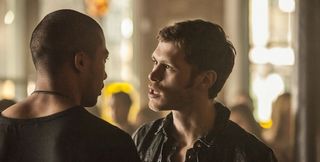 Well, that didn't take long! A day after The CW aired the back-door pilot for the Vampire Diaries potential spinoff series The Originals comes the official word from the network that they've ordered the pilot to series, which means more vampire drama on the CW, as the network had previously announced word of its renewal of TVD for a fifth season.
The Originals centers on Joseph Morgan's character Klaus. The backdoor pilot aired during The Vampire Diaries last night and had Klaus visiting his past in the town he and his family helped build, only to find that his former protege Marcel (Charles Michael Davis) has taken over the human and supernatural population. Apparently, The CW is happy enough with the pilot to give The Originals a series order for next season. The new drama Arrow, Supernatural and TVD among the series the CW already has lined up for their 2013-2014 season. Also set to return next season are Beauty and the Beast and Hart of Dixie. Like Arrow, Beauty and the Beast was one of CW's newcomers this season. Inspired by the classic tale, the drama comes from Sherri Cooper and Jennifer Levin and stars Kristin Kreuk as the titular beauty and a police detective, while Jay Ryan plays the "beastly" Vincent Keller, a former doctor turned soldier who was part of an experimental super soldier program.
Clearly, people took to Beauty and the Beast as they did to Arrow this season. Cult wasn't so fortunate, but the creepy drama's cancellation may leave room for one of CW's pilots in development to find a spot on the line-up.
Your Daily Blend of Entertainment News
Thank you for signing up to CinemaBlend. You will receive a verification email shortly.
There was a problem. Please refresh the page and try again.