I'm Rewatching Full House For The First Time As A Parent, And It's A Whole Other Experience
What ever happened to predictability?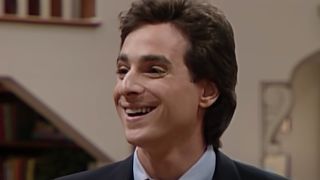 (Image credit: Warner Bros. Television)
I was born the day Full House's "The Seven-Month Itch" (Part 2)" first aired, and so I never really stood a chance. Add in years of watching ABC's TGIF programming block and even more spent watching reruns of the best episodes on TBS after school with my older brother, and it becomes all the more obvious.
I went years without watching Full House, and during that time, got married, bought a house (not one of the Painted Ladies in San Francisco), and had three kids of my own. Recently, my wife and I thought it would be fun to go back and watch the first season for old time's sake, and see if it still held up. The show is still as great as it was 35 years ago, but watching as a parent is a completely different experience.
Full House Has A Pretty Dark Premise When You Think About It
When I used to watch as a kid, I never thought too much of the death of Danny Tanner's (the late Bob Saget) wife because, for one, I was a kid, and two, I rarely caught the first episode. Going back and watching the pilot as an adult with three kids of my own, however, the gravity of the situation does not escape me.
The premise itself is dark: a father of three loses his wife (the glue that kept the family together based on the disheveled state of the place in those early episodes) and has to turn to his brother-in-law and best friend to support him through this difficult time. Sure, it does lead to some of the best sitcom moments from the '80s and '90s, but putting myself in the shoes of one Danny Tanner gives me a greater appreciation, not just for the show, but how lucky I am in life to not have had to go through something as traumatic as that.
Okay, Danny Turning The Big 3-0 Used To Seem So Much Older
At the midpoint of Full House Season 1, Danny celebrates his 30th birthday, which as a kid, seemed like old age. Having eclipsed the big 3-0 myself, and then some, it's crazy to think that at one point I saw "30 years old" as some far off age where I'd have everything figured out. Spoiler: I don't. Life is funny like that in the sense that as a kid you think that once you grow up, get married, have kids, and land an awesome job, everything will just kind of make sense and all you'll have to worry about is your beloved car sinking to the bottom of San Francisco Bay.
It's wild that watching a random episode of a show I hadn't watched in a couple of decades would steer me into the express lane of an existential crisis highway, but here I am trying to make sense of it all. At least I haven't had to have my car pulled from a watery grave or unknowingly entered a bidding war with my brother-in-law and friend in the aftermath.
I Totally Get Uncle Jesse Feeling Torn Between His Old Ways And Life As A Caregiver
I am not trying to say I was as dashing as John Stamos, but just like Uncle Jesse, I had a bit of a wild stretch before I settled down, became all domesticated, and cut my hair. In the two-part episode "The Seven-Month Itch," Uncle Jesse goes through a bit of an existential crisis and decides to run away from his responsibilities at home and head off to Lake Tahoe with his girlfriend and old rocker buddies. I used to think Jesse was being kind of a whiny prick, but I totally get it now, and relate to his struggle.
It's tough letting go of the old you; that fun version of yourself that could stay out all night and sleep all day, especially when most of your friends are still in that phase. As Uncle Jesse comes to discover, though, nothing compares to being there for a child that thinks the world of you.
I Can't Help But Think Danny Invited Jesse And Joey To Move In So They Could Help Cover Rent
A few years ago, we published an article about the Full House home being up for rent, and it wasn't cheap. At the time, the house was nearly $14,000 per month, which would make it difficult for Danny to make rent (or pay a mortgage) even with his job as a sportscaster and later co-host of the "Good Morning San Francisco!" news program. After watching the first season, I couldn't help but think that maybe Danny asked Jesse and Joey (Dave Coulier) to move in to help cover rent.
Jesse was a talented exterminator and must have brought in some money when he wasn't trading jobs for favors and dates, and Joey was probably making some money on the comedy circuit. That would surely help, even if the two new roommates made the utility and grocery bills skyrocket. And, this is before there were like nine people and a dog living under one roof.
Those Life Lessons At The End Of Each Episode Hit So Much Harder Now
Full House was full of hilarious moments and off-the-wall situations, but it also had some heavy moments, especially with those life lessons at the end of so many episodes. Here we are, laughing for 20 minutes and then the rug is pulled out from beneath our feet. I used to treat these moments like the lunch scene from Jurassic Park in that I saw them as the price I had to pay for the rest of the show being so much fun. But while rewatching the episodes, I can't help but feel the full weight of these key moments.
At the end of the first episode, DJ is having a hard time adjusting to life without her mom (this is brought on by sharing a room with Stephanie) and sort of goes off about the situation when talking with her dad. After an incredibly touching moment where Danny opens up about being lost and scared in this new normal, he holds DJ's hand and says "We're still a family, and now is when we really need to stick together." Why is this show making me cry like this?
I Now Fully Understand Just How Hard It Is To Raise Three Kids And Not Lose Your Sanity
Having three kids is tough. Like, really, really tough. There's a level of exhaustion that sticks with you no matter how much sleep you get at night. It can also be isolating, as you don't really have much time for anything else. I love it, and wouldn't trade it for the world, but man, it can be brutal at times.
This is something that is prevalent throughout the first season of the sitcom with the three Tanner sisters pushing Danny, Jesse, and Joey to their limits on more than one occasion. Each of the parental figures have some kind of meltdown over the course of the series, but they try to keep their sanity, which can be a herculean effort at times. As wild as it sounds, the show makes me feel not as crazy when I'm in the trenches of parenting.
Overall, rewatching the first season of Full House has been a great experience, and I honestly think I'll continue pushing forward with the rest of the series. If you want to go back and watch the show, you can do so right now with an HBO Max subscription or by using your Hulu account.
Stream Full House on HBO Max. (opens in new tab)
Stream Full House on Hulu. (opens in new tab)
Your Daily Blend of Entertainment News
Philip grew up in Louisiana (not New Orleans) before moving to St. Louis after graduating from Louisiana State University-Shreveport. When he's not writing about movies or television, Philip can be found being chased by his three kids, telling his dogs to stop yelling at the mailman, or yelling about professional wrestling to his wife. If the stars properly align, he will talk about For Love Of The Game being the best baseball movie of all time.