Steam's Autumn Sale Is Here, Check Out The Best Deals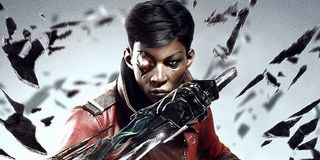 If you're looking to save some money while shopping for video games this holiday season, you'll probably want to drop by the impressive-as-always Steam Autumn Sale. Whether shopping for yourself or looking to gift a game or 12 to your online pals, there's a heck of a lot to choose from this year.
If you'll mosey on over to the Steam Autumn Sale page, you'll find a collection of anything and everything that has been discounted for this seasonal extravaganza. Games are grouped by series and category, including virtual reality titles and virtual reality peripherals. Below, you will find an alphabetical listing of all 6,430 games that make up this year's Autumn Sale.
You know, instead, maybe we'll just cherry pick some of the more noteworthy discounts, yeah? The sale only goes through 10 a.m. on Nov. 28, which is probably how long it would take me to type the names of all of those games.
Each day of the sale, a collection of games will be listed at the top of the page as the daily highlights. Today, for instance, includes Agents of Mayhem marked down to $19.99, Ghost Recon Wildlands at $29.99, Stardew Valley at $10.04 and the haunting Little Nightmares for $9.99. You can also grab the entire Dishonored and Tomb Raider franchises for deep discounts, or pick up the overlooked, but actually quite decent, Marvel vs. Capcom Infinite.
We're unclear if these discounts will fluctuate throughout the sale, but that doesn't appear to be the case. In previous sales, Steam has been known to host special discounts throughout the promotion, encouraging folks to come back on a constant basis. This time around, it looks like they've simply got the discounts lined up, and the features section is just being used to highlight some of those sales.
The second category is "More Highlighted Deal," which includes everything from SteamWorld Dig 2 for $14.00 and Ori and the Blind Forest for $9.99 to Dying Light for $17.99 and, one of my favorite diamonds in the rough, Earth Defense Force 4.1 for $29.99.
If you're looking to enhance your virtual reality library, the Steam Autumn Sale will lend a hand. You can snag Arizona Sunshine for $27.99, just in time for a bunch of new content to be added to the game. Superhot VR is down to $18.74 for the sale, with Raw Data marked down to just $31.99. If you still haven't donned the virtual cowl, then Batman Arkham VR can be yours for just $9.99.
Again, that's only a tiny fraction of the discounts being offered. Heck, even the Steam Link, Steam Controller are various other pieces of hardware are being discounted up to 90 percent off. Have fun diving into all of those discounts and, if you stumble across something noteworthy, be sure to share it in the comments below.
Staff Writer for CinemaBlend.
Your Daily Blend of Entertainment News
Thank you for signing up to CinemaBlend. You will receive a verification email shortly.
There was a problem. Please refresh the page and try again.