18 Wheels Of Steel: Extreme Trucker Debut Trailer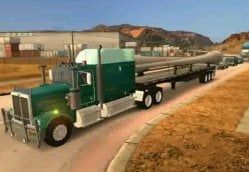 Most gamers probably don't remember the old-school PC truck simulator, Hard Trucker but it was a pretty good game. Well, ValuSoft, a publishing division of THQ, has announced that a new trucking simulator is on the way and it's called 18 Wheels of Steel: Extreme Trucker. A debut trailer for the game was released and it looks fairly good.
The new trailer showcases some of the trucks that will be available for use in the game, including the massive 18 wheelers carrying all kinds of crazy big objects to carry. A variety of missions are present as well as a large cache of scenarios to overcome. Various weather effects and realistic driving conditions will also pose a challenge for truck enthusiast gamers.
You can check out the debut trailer below and you can look for the game to hit store shelves this month for PC. For more gaming news, updates, info and insight, be sure to stay tuned in with Blend Games.
Your Daily Blend of Entertainment News
Staff Writer at CinemaBlend.