Twitch Prime Members Can Get Free Assassin's Creed Odyssey Gear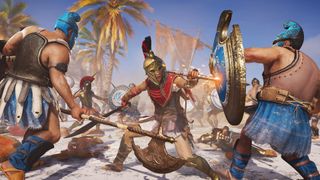 Assassin's Creed Odyssey launches this week and, to celebrate, Twitch Prime subscribers can get their hands on some exclusive in-game gear. From personal armor to swag for your ship and, yes, even horse armor, Twitch Prime is offering its community an "Aegean Pirate Pack" at no additional cost to regular membership. This, of course, comes on top of all of the other digital loot you get on a regular basis for being part of the program.
Set to launch on Friday, Oct. 5, Assassin's Creed Odyssey takes the storied series to Ancient Greece, where history and myth collide. The game has a massive map to explore and an insane set of missions and story branches to explore and, along the way, you'll be able to equip your character with all sorts of rad gear. To get your collection started, Twitch Prime is offering the Aegean Pirate Pack to all of its members, which you can claim through the service anytime between now and Dec. 5.
The pack includes a rare armor set themed after pirates of the Aegean Sea, a ship skin boasting a pretty sweet octopus design on the sail, a themed skin set for your pirate crew and even a full set of armor for your mount. All you have to do to claim your loot is log into your Twitch Prime account, make sure it's linked to your Ubisoft Uplay account, choose your platform and hit the claim button. When you've reached a certain point in the game, all of your Twitch gear will be unlocked. Again, this is at no cost on top of your Twitch Prime membership and, if you're a member of Amazon Prime, you can set up that Twitch Prime access as a service bonus.
Five more games currently have free loot available through Twitch Prime, with more rotating in and out on a regular basis. At the moment, you can get some free pilot skins for PUBG, a loot box in Overwatch, skins for your operatives in Rainbow Six: Siege and a Trinity Prime bundle in Warframe, which is rad as hell if you like playing support in that particular game.
Twitch Prime also offers a collection of free games for Windows on a rotating basis, with current offerings including Darksiders, Sanitarium, Soma and System Shock. On top of being perfectly themed for the Halloween season, I'd put that collection of games up against Microsoft's October Games with Gold or Sony's PlayStation Plus lineup in a heartbeat. Darksiders is one of the best non-Zelda Zelda games out there, Sanitarium and Soma are nice spookfests and System Shock is an absolute classic. All told, that's not too bad for a platform that, at its heart, is for streaming.
Your Daily Blend of Entertainment News
Staff Writer for CinemaBlend.