CloudFTP Portable WiFi USB Storage Device Announced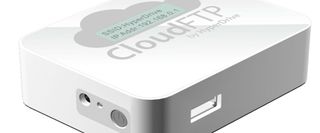 It's a little difficult to clearly explain how Sanho's new portable device works, but here goes: the CloudFTP is a miniature USB compatible WiFi hotspot device that can access your photos, movies, documents, videos and more, enabling iPhone, iPad and other WiFi-enabled mobile users to retrieve data from the iCloud from almost anywhere.
Daniel Chin, President of Sanho Corporation and Inventor of CloudFTP commented in the press release, saying...
The device will also be awarded at the CES 2012 event with the International CES Innovations 2012 Design and Engineering Awards Honoree. It's definitely a useful little device, enabling mobile or PC users to plug 'n grab any kind of media information they need right from their very own mobile hotspot storage device.
Sanho's CloudFTP will be officially launching at the upcoming Consumer Electronics Show in Las Vegas, Nevada on January 9th. You can purchase the CloudFTP from the HyperShop for $99.99 over at the Official Website. (opens in new tab) To get a full listing of how the device works and what you get with it, feel free to scope out the features below.
CloudFTP Features:
• Streams movies or music from USB devices to iPads and iPhones (up to 3 different movies on 3 different iPads at the same time).
• Browses pictures stored on digital cameras and memory cards on iPads and iPhones. Users can choose to save the pictures on iPad/iPhone and upload to Facebook.
• Opens files (PDF, Microsoft Office documents, iWork documents, photos, audio, and videos) stored on the USB device with any iPad/iPhone application.
• Transfers files between iPad/iPhone and USB devices.
• Backs up and syncs data on USB devices with online Cloud storage services (including iCloud, Dropbox, and Box.net) by automatically connecting to the Internet in infrastructure WiFi mode.
• USB port connects to any USB mass storage device (USB hard drives, USB flash drives, USB memory card readers, digital cameras, etc.).
• 5 hours battery life with Lithium-ion rechargeable batteries powers USB port and devices.
• High performance, low power consumption ARM9 microprocessor.
• USB data can be shared over a WiFi Network: secure wireless IEEE 802.11b/g/n.
• Creates its own wireless network to share and stream media for up to 3 WiFi-enabled devices (iPad, iPhone, & computer, etc.) at the same time.
• Able to join an existing WiFi network to share files with other devices on the same network.
• Dimensions: 2.95" x 2.28" x 0.87" / 75 x 58 x 22mm and weight: 3.8oz / 109g.
Staff Writer at CinemaBlend.
Your Daily Blend of Entertainment News
Thank you for signing up to CinemaBlend. You will receive a verification email shortly.
There was a problem. Please refresh the page and try again.