Free Action Figures For Champions Online Fans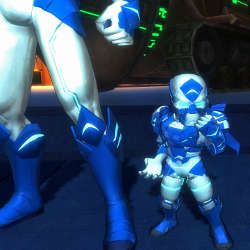 Champions Online hasn't launched yet but it's never too early to start hoarding virtual treasures. Today Cryptic announced an easy way to get a free in-game pet.
If you register to receive Champions news on the game's official website by August 31st, you'll get an exclusive action figure pet. Those of you already registered on the Champions website will obviously have access to this pet as well.
"A hero saves lives, but a real Champion also has a lucrative merchandising deal with a major toy manufacturer," explained the latest newsletter from Cryptic. "And when you're that big, you get a fully automated, animated action figure that follows your every step. Better than any scrupulous, food-needing sidekick, the action figure is ever faithful, powered by unquestioning devotion, and prone to fits of spontaneous dance."
Champions Online will launch on September 1st. The game is currently in closed beta, with open beta set to begin on August 17th.
Staff Writer at CinemaBlend.
Your Daily Blend of Entertainment News
Thank you for signing up to CinemaBlend. You will receive a verification email shortly.
There was a problem. Please refresh the page and try again.