GOG Giveaway: Free Ubisoft Games Of Your Choice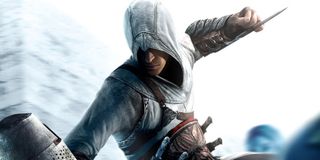 Gaming Blend has partnered up with digital game store GOG.com for a special giveaway. We're giving away free Ubisoft games to twenty lucky PC gamers.
This weekend, GOG is hosting a sale on 41 Ubisoft games in their catalog. The titles receiving a discount include Far Cry, Prince of Persia and Assassin's Creed. These games are being offered at half-price until Tuesday, May 21st at 3:59AM GMT.
For our giveaway, we're letting you decide which free game you receive. In order to enter, leave a comment here with your email address and your preferred game from the list of discounted titles. Please specify only one game. Entries without an email address will be discarded.
Winners will be notified via email on Monday, May 20th. That'll give the non-winners a chance to still take advantage of the GOG discount and pick up their desired game on the cheap. We'll send out a Facebook update when the emails have been sent out to winners.
GOG is a division of CD Projekt, the developer/publisher of The Witcher series. The site, founded in 2008, offers DRM-free digital games. At first, GOG focused on offering retro games updated for modern operating systems but their catalog now includes more contemporary titles as well. The games in its library typically come with downloadable extras. For example, Far Cry 2 comes with a manual, posters, wallpapers and the soundtrack. While GOG offers PC and Mac titles nowadays, the titles offered through this giveaway are only for the PC.
Staff Writer at CinemaBlend.
Your Daily Blend of Entertainment News
Thank you for signing up to CinemaBlend. You will receive a verification email shortly.
There was a problem. Please refresh the page and try again.