Modern Warfare 3 Keyboard, Mouse Announced By Logitech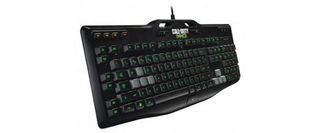 Logitech will be releasing the official keyboard and mouse for Call of Duty: Modern Warfare 3. The Logitech Gaming Keyboard G105 should be hitting stores in the U.S. and Europe this month, while the Laser Mouse G9X will arrive in November.
"The Logitech Gaming Keyboard G105 and the Logitech Laser Mouse G9X are perfect for Call of Duty: Modern Warfare 3 enthusiasts who want the best in precision and customization for their gaming experience," said Chris Pate, Logitech's senior product marketing manager for gaming. "Both devices let you jump right into the action with the power to perform complex maneuvers with confidence."
The G105 keyboard ($79.99) features green LED backlighting to make night gaming easier. It has six programmable keys, with three mode states apiece. These keys will allow you to create intricate macros to give you the edge in online battles. Media key make it suitable for watching videos as well.
The G9X mouse ($99.99) promises hand speeds up to 165 inches per second. You can adjust the mouse's sensitivity up to 5700 dpi. You can also adjust the mouse's weight with up 28 grams worth of extra weights. The MicroGear Precision Scroll is suitable for switching weapons or simply scrolling through web pages.
Logitech is just the latest company offering branded peripherals for Modern Warfare 3. Turtle Beach will be selling MW3 headsets. Microsoft, meanwhile, plans to release an Xbox 360 bundle, headset, and wireless controller inspired by the game.
Staff Writer at CinemaBlend.
Your Daily Blend of Entertainment News
Thank you for signing up to CinemaBlend. You will receive a verification email shortly.
There was a problem. Please refresh the page and try again.