Nintendo Digital Releases: Zombies Ate My Neighbors, Golden Axe, Tales Of Monkey Island Chapter 3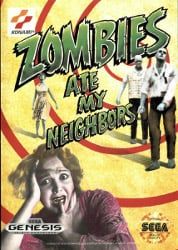 Nintendo has announced the new digital downloads available for the DS and Wii and it's a big week for the Wii. Virtual Console receives 16-bit classics Golden Axe and Zombies Ate My Neighbors and Tales of Monkey Island: Chapter 3 has landed on WiiWare.
Ghost Mansion Party
Publisher: Gameloft
Players: 1-4
ESRB Rating: E (Everyone) - Mild Cartoon Violence
Price: 1,000 Wii Points
Description: Fazzy the ghost has been locked out of his mansion by some evil spooks, and he's willing to give his treasure to anyone who can chase them out. Work cooperatively and competitively with friends and family to defeat the ghosts and discover a huge hidden treasure. Travel around this wild mansion in board-game fashion, landing on mini-games that everyone can enjoy. You'll even engage in challenges on the board itself as you try to collect magic scrolls and hints to reveal the secret word that will open the doors to the treasure. Get your Wii Remote™ controllers ready - you're about to play with them in ways you've never imagined.
Tales of Monkey Island: Chapter 3
Publisher: Telltale Games
Players: 1
ESRB Rating: E10+ (Everyone 10 and Older) - Comic Mischief, Language, Mild Suggestive Themes
Price: 1,000 Wii Points™
Description: In the third Tales of Monkey Island chapter, Guybrush gets in deep - literally - as his quest for the voodoo exfoliating La Esponja Grande takes a scenic detour through the guts of a giant manatee. Our hero encounters a surprising band of castaways, including the long-lost explorer Coronado De Cava. Can the Mighty Pirate win the suspicious De Cava's trust? Will sexy pirate hunter Morgan LeFlay prove to be a ruthless enemy or an unlikely ally? Will the group find La Esponja Grande in time to save Elaine from the rampant Pox of LeChuck? And will the world be crushed by the gnashing teeth of a certain demonic skull? Tales of Monkey Island's moist and absorbing third episode, "Lair of the Leviathan," will answer some of these urgent questions and raise even more as the five-month adventure builds to its epic climax.
Virtual Console
Zombies Ate My Neighbors™
Publisher: LucasArts
Players: 1-2
ESRB Rating: E10+ (Everyone 10 and Older) - Cartoon Violence
Price: 800 Wii Points
Description: You will play the game as one of two brave kids: Zeke or Julie. Both kids use the same control scheme and have the same characteristics. If you're playing in two-player mode, each player must pick a kid. You can't have two Zekes or two Julies. Each player starts with three lives. When your life bar runs out, you lose a life. There are hidden 1-Up bonuses in the game. You may also earn bonus lives if you have 10 victims left when you finish a level. Get ready to conquer 48 levels of giant ants, mad scientists and big babies. Find seven bonus levels (look for the question marks), earn points and stockpile your water pistols and other weapons.
Golden Axe
Publisher: SEGA
Players: 1-2
ESRB Rating: T (Teen) - Blood, Fantasy Violence
Price: 900 Wii Points
Description: In this original arcade game that launched the popular Golden Axe series, the evil Death Adder has invaded your land and taken the king and princess prisoner. Three mighty warriors step forward to bring the villain to justice: powerful fighter Ax Battler, Amazon warrior Tyris Flare and mighty dwarf Gilius Thunderhead. They will use their weapons and magic to fight their way through Death Adder's hordes. Along the way, they'll mount fearsome, fire-spitting beasts to help even the odds. Team up with a friend and enjoy two-player simultaneous game play for a better chance of survival.
Nintendo DSiWare
PictureBook Games: The Royal Bluff
Publisher: Nintendo
Players: 1-4
ESRB Rating: E (Everyone)
Price: 500 Nintendo DSi Points™
Description: Aristocratic opponents square off in PictureBook Games: The Royal Bluff, a game of strategy and deceit. Compete for points by adding or subtracting colored chips from rows on the game board and trying to guess each of your opponent's secretly assigned chip colors. Once you're confident in your deduction, issue a Call Out attempt to earn bonus points - at the risk of giving your opponent an extra point if you're wrong. Three modes of play (Tournament, Free Play, DS Wireless Play) offer a variety of options, from facing off against an assortment of computer opponents to competing in a wireless match with up to four players. Throw Trick Cards into the mix and you've got a winning combination of tactics and trickery that's sure to score points.
SUDOKU
Publisher: Electronic Arts
Players: 1
ESRB Rating: E (Everyone)
Price: 200 Nintendo DSi Points
Description: SUDOKU offers hundreds of number-crunching puzzles that will stretch your brain power to the limit. Take it even further by playing in the exclusive Newspaper Mode. Add a daily puzzle from your favorite paper and build your very own collection. From Easy to Insane, a total of five different levels are available for novices and masters alike. Enjoy a host of grid designs that will keep you coming back for more. This worldwide phenomenon delivers an exhilarating game of logic that's not only challenging, but also surprisingly relaxing. It's everything you want for a quick puzzle getaway. Make life easier by taking advantage of smart features like automatic annotation for effortless calculation of your achievements. Stumped? Get help with error-checking tools and friendly cell hints. Track your stats and test your reaction time with the in-game timer. This addictive brain game has been polished to perfection and renders a sleek design that's easy on the eyes.
Your Daily Blend of Entertainment News
Staff Writer at CinemaBlend.