Portal 2 Tops BAFTA 2012 Winners List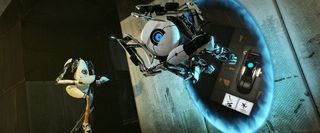 On Friday the British Academy of Film and Television Arts held their annual Video Game Awards ceremony. Puzzle-platformer Portal 2 came out on top, winning Game of the Year honors as well as honors for Best Story and Best Design.
Other winners include Batman: Arkham City for best action game and Battlefield 3 for the GAME award, voted on by gamers. Surprisingly enough, Elder Scrolls V: Skyrim didn't win a single award. Bit surprising, considering how many honors that game has racked up elsewhere. But whatev.
Here's the full list of winners:
Best game: Portal 2
GAME award (voted by public): Battlefield 3
Design: Portal 2
Action: Batman: Arkham City
Story: Portal 2
Online Multiplayer: Battlefield 3
Mobile & Handheld: Peggle HD
Game Innovation: Little Big Planet 2
Family: Little Big Planet 2
Strategy: Total War: Shogun 2
One To Watch: Tick Tock Toys
Online Browser: Monstermind
Artistic Achievement: Rayman's Origins
Sports/Fitness: Kinect Sports 2
Debut Game: Insanely Twisted Shadow Planet
Original Music: LA Noire
Audio Achievement: Battlefield 3
Performer: Mark Hamill for Batman: Arkham City
Special award: Markus "Notch" Persson (Minecraft's creator)
Staff Writer at CinemaBlend.
Your Daily Blend of Entertainment News
Thank you for signing up to CinemaBlend. You will receive a verification email shortly.
There was a problem. Please refresh the page and try again.