Steam Released For Mac, Free Portal With Download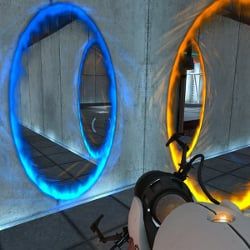 The Mac version of digital games platform Steam is now available for download. There are 57 games available for you to digitally purchase through the service.
The Mac and PC versions of Steam titles are cross-compatible. If you purchase one, you can play the other for no additional charge. You can use the same save files for each version, too, thanks to Steam Cloud support. Here's the full list of launch titles for the Mac Steam:
And Yet It Moves
Atlantis Sky Patrol
Bejeweled 2 Deluxe
Bob Came in Pieces
Bookworm Deluxe
Braid
Brainpipe
Chocolatier: Decadence by Design
Chuzzle Deluxe
City of Heroes: Architect Edition
Civilization IV: The Complete Edition
Cooking Dash
Diaper Dash
The Dig
Diner Dash: Hometown Hero
DinerTown Detective Agency
DinerTown Tycoon
Dream Chronicles: The Chosen Child
Escape Rosecliff Island
Fairway Solitaire
Fitness Dash
Football Manager 10
Galcon Fusion
Gemini Lost
Guns of Icarus
Hotel Dash Suite Success
Indiana Jones and the Fate of Atlantis
Indiana Jones and the Last Crusade
KrissX
Loom
Luxor
Luxor 3
Luxor: Mahjong
Machinarium
Mahjong Roadshow
Max and the Magic Marker
My Tribe
The Nightshift Code
Nightshift Legacy: The Jaguar's Eye
Parking Dash
Peggle Deluxe
Peggle Nights
Portal
Professor Fizzwizzle and the Molten Mystery
Quantz
Sam & Max: The Devil's Playhouse
Tales of Monkey Island Season 1
Toki Tori
Torchlight
Trijinx: A Kristine Kross Mystery
Unwell Mel
Valarie Porter and the Scarlett Scandal
Wandering Willows
Wedding Dash 2: Rings Around the World
World of Goo
Zenerchi
Zuma Deluxe
If you download Steam before May 24th, you'll get a free copy of Valve's first-person puzzle game Portal. Yes, completely free. Pretty good deal considering all you need to do is download (and install) a 1.5 MB file.
Your Daily Blend of Entertainment News
Staff Writer at CinemaBlend.