We Finally Know What May Have Prompted Megan Fox's Viral Cheating Post
Could this be the reason behind the Instagram post?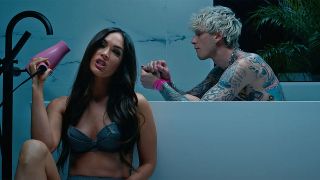 (Image credit: UMG )
The internet was shocked this week as rumors about Megan Fox and Machine Gun Kelly breaking up went viral, and they wondered what caused all of this alleged drama. Following the actress uploading a cryptic Instagram post, deleting all images of her fiancé, and then deactivating her entire account, we now might know why she created that original cheating post.
Reportedly, Fox found texts and DMs on the rapper-turned-rocker's phone that led her to "believe he has been having an affair," according to a source who spoke to Page Six. This new information goes along with the rumors that the actress took off her engagement ring, and seemed ready to break things off because she found out her fiancé was cheating on her.
This rumor quickly built up traction, and people started speculating that Sophie Lloyd, a guitar player who works with MGK, was involved. Those claims were quickly dispelled when her management team released a statement calling the rumors "meritless accusations made by social media." They made it clear she is not involved with Kelly in a romantic way, writing:
So, based on this statement from Llyod's team, it seems like these rumored texts and DMs Fox allegedly found would likely not have been from her.
The source who revealed the information about the DMs and texts continued saying this led to them breaking up. However, the Jennifer's Body star is not completely done with the relationship.
If this is true, and MGK did cheat, it could clarify Fox's cryptic, now-deleted, Instagram post that had the caption:
Those are lyrics from Beyoncé's song "Pray You Catch Me" from her album Lemonade. They allude to her being lied to, and if Fox found texts and DMs that proved Kelly was cheating on her, the Instagram post makes a lot of sense.
Amid all this, the insider from Page Six explained that MGK wants to make up, and work out the relationship. Earlier this week it was reported that the two were "trying to work things out," following the rumors about their breakup going viral. However, the same article noted Fox has "trust issues," and what has happened has caused conflict. While it's been reported by People that what the couple is going through is more serious than other issues they've had in the past, they are allegedly trying to work things out.
On Valentine's Day, Fox and Kelly were seen leaving a building that holds offices for marriage and couples' counselors in it. So, it seems like they really are trying to work on their relationship. However, the issue they are dealing with appears to be very serious.
We'll be sure to keep you updated on all the news surrounding Megan Fox and Machine Gun Kelly. In the meantime, check out the 2023 movie schedule so you are ready to see the actress's next movie Expendables 4 when it hits theaters this fall.
Your Daily Blend of Entertainment News
Riley Utley is a Weekend Editor at CinemaBlend. She spent many years working in local journalism across the country writing about art, news and sports. One of her favorite films is When Harry Met Sally and she walks around constantly quoting Ted Lasso.