New Justice League Script Described As Dark And Mature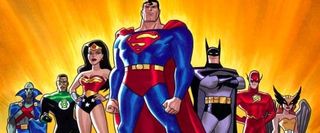 Comic book author Mark Millar is currently helping put together Kick-Ass 2, a second film based on his comic book and an unlikely sequel to the 2010 film, which made almost no money but did make a star out of Chloe Moretz. So how much are we to assume Mark Millar actually knows about DC's recently revived Justice League movie? Well, that's up for you to decide. Millar has spoken up on his website forums about what he knows about the new Justice League script-- "a pal of mine is good friends with the new Justice League screenwriter." If you're not put off by that friend-of-a-friend sourcing, read on for what Millar has to say about it:
He's right at least about the not an Avengers knockoff-- as we reported last night, WB assigned a writer to the job last year, probably in anticipation of The Avengers and their success and not a reaction to it. But with a draft of the script not yet into the studio, and many years left to set up the same kind of world-building Marvel did before The Avengers, we're a long, long way from seeing a Justice League movie. Even if Millar's second-hand info on the script is accurate, there could be none of that script left by the time the movie actually shoots.
And yet, hearing that the tone is "dark and mature" sounds about right, both as a way to separate Justice League from the bright and optimistic tone of The Avengers, and to step in line with by far the most successful DC superhero series, the Batman movies from Christopher Nolan. Earlier this morning Sean got a little crazy speculating about a Justice League movie directed by Christopher Nolan, which I don't think will ever happen. But it does seem very possible the eventual film would follow in those footsteps, a grim and more realistic superhero universe to contrast with Marvel's. Is that what you guys are hoping for in your Justice League movie?
Your Daily Blend of Entertainment News
Staff Writer at CinemaBlend