Vin Diesel's xXx 3 Poster Is Retro and Very Cool, Teases A New Trailer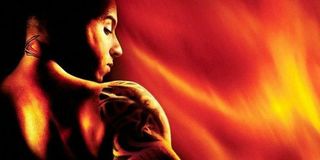 It's been almost 15 years since Vin Diesel introduced the world to his badass super spy, Xander Cage. However, after a long hiatus, a brief replacement by Ice Cube and an apparent death fake out, the character will soon return to the forefront of the xXx franchise in the aptly-titled xXx: The Return of Xander Cage. A brand new poster for the upcoming threequel has just hit the web, and it's as badass as it is retro. Check it out below.
If that poster doesn't get you insanely pumped for Paramount's xXx: The Return of Xander Cage, then I honestly don't know what will. Much of the poster's beauty lies in its simplicity It promises that Vin Diesel's Xander Cage will do a ton of awesome stunts in a ton of awesome locales, and (if the trailers are anything to go by) look utterly "dope" through all of it. In the air, in the water and on land, Xander Cage can do anything, as long as he can go fast enough to do something "stupid."
Another aspect of this poster that's simply too good to ignore is the way in which it harkens back to old-fashioned James Bond movie posters. This seems like an indication that the core thesis of the xXx franchise remains as strong as ever. Despite the apparent differences between a guy like Xander Cage and a guy like 007, the xXx franchise has always reveled in its status as a "Bond killer." It takes the traditional tropes of modern spy movies head-on, and completely subverts them in a very satirical fashion. With this poster, it's already clear that the next xXx film will continue to simultaneously honor and mock the British secret agent that inspired his new, chrome-domed American counterpart.
Beyond the brand new poster, it has also been announced that brand new footage from xXx: The Return of Xander Cage will hit the web very soon. In fact, Paramount has just announced that it intends to release a new trailer for the upcoming sequel tomorrow. Expect quite a bit more plot information to be revealed, as well as some awesome glimpses of some brand new stunts.
That being said, if a poster and the promise of a brand new trailer are not enough for you, then you can always check out the first official xXx trailer that hit the web a few months ago. Check it out below.
Of course, our upcoming reunion with Xander Cage really only represents the beginning. Several other character posters for xXx 3 have just been released as well. Check out some of our favorites on the next page.
xXx: The Return of Xander Cage wouldn't be a proper spy movie without an incredibly flamboyant and exotic supporting cast. In order to bring Vin Diesel's super spy back into action properly, the NSA's xXx program leader, Augustus Gibbons (Samuel L. Jackson), will return to action as well. Check out a character poster for the badly-scarred badass below.
However, a hero is only as good as his villain. Luckily for xXx 3, the film appears to have enlisted a badass bad guy in the form of Donnie Yen's Xiang. Not only does he look like an incredibly lethal foe, but it seems that he will be entirely different from xXx's Yorgi and xXx: State of the Union's George Deckert. Take a look at his character poster to see him up close.
Then there are the women. The xXx franchise has never shied away from tough, capable femme fatales, and The Return of Xander Cage will apparently keep that tradition alive. As far as love interests go, it appears that Cage will have to contend with Deepika Padukone's deadly and beautiful Serena.
Finally, we have Xander Cage's support in the field. Ruby Rose seems incredibly intent on becoming a full-fledged action star in the very near future. She has upcoming roles in movies like Resident Evil: The Final Chapter and John Wick: Chapter 2, and xXx 3 looks like a chance for her to really shine. Her character, Adele, will be an expert sniper who provides Xander Cage with much needed covering fire while he performs his acrobatic extreme stunts. It's already clear that she's going to pack a ton of firepower, check out her poster below.
CinemaBlend will bring you any and all relevant updates related to xXx: The Return of Xander Cage as more information becomes available to us. The film will hit theaters on January 20, 2017. Stay tuned for more details!
Originally from Connecticut, Conner grew up in San Diego and graduated from Chapman University in 2014. He now lives in Los Angeles working in and around the entertainment industry and can mostly be found binging horror movies and chugging coffee.
Your Daily Blend of Entertainment News
Thank you for signing up to CinemaBlend. You will receive a verification email shortly.
There was a problem. Please refresh the page and try again.