The Actual Amount Wonder Woman Has Spent On Marketing So Far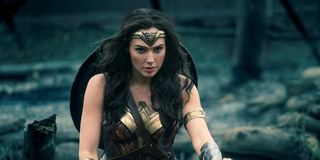 After making her live action theatrical debut last year in Batman v Superman: Dawn of Justice, Wonder Woman is almost a month away from finally leading her own movie after more than 75 years of existence. While Warner Bros has put out three trailers for Diana of Themyscira's adventure since last summer, there have been concerns over the last couple days over the perceived minimized marketing for the Amazon's movie leading up to the release, like new posters, regular TV spots, merchandising, etc. Opinions will vary on how big of an issue this is, but it turns out that at this point, Wonder Woman has already spent over $3 million on ads.
As Vanity Fair discovered when analyzing data from iSpot, which tracks TV advertising, Wonder Woman has dropped $3,043,212 for ads. For comparison, at five weeks before it release, fellow DC Extended Universe entry Suicide Squad had spent $2,645,643 for its ads. However, it's important to note that for Wonder Woman, much of the ads that have aired so far have been at special events, like the Kids Choice Awards, NCCA Finals (which especially charges a lot for ad time), South by Southwest and WonderCon. So yes, Warner Bros certainly hasn't been skimping on spending when it come to big occasions, although exactly how much the studio is dropping on "regular" advertising remains to be revealed.
Whether you believe that Warner Bros isn't doing enough to advertise Wonder Woman or think it is handling this just fine, there's no denying that marketing is key to increasing the chances of a blockbuster being successful. As annoying as it can be to continually stumble across ads for a movie over and over, the point of marketing is to convince people to see said movie who aren't already inclined to do so. Even though Wonder Woman is one of the world's most famous superheroes, Warner Bros still needs to put in the effort to make sure that the movie is well-promoted from every angle possible. With May just around the corner, hopefully we'll see an increase in promotional material.
Make no mistake, Wonder Woman is an important movie; not just for the DCEU, but for the superhero movie genre and pop culture in general. From the DCEU side, it's a fresh chance for the franchise to provide a story that earn more positive reception from both critics and regular moviegoers, something that last year's Batman v Superman: Dawn of Justice and Suicide Squad had trouble doing. From an overall pop culture perspective, Wonder Woman is undoubtedly the biggest superheroine-led movie ever, and in an industry where it's harder to find genre stories led by female protagonists, the tale of Diana of Themyscira's time protecting mankind in World War I will surely influence how similar content is handled in the future.
Wonder Woman charges into theaters on June 2.
Connoisseur of Marvel, DC, Star Wars, John Wick, MonsterVerse and Doctor Who lore. He's aware he looks like Harry Potter and Clark Kent.
Your Daily Blend of Entertainment News
Thank you for signing up to CinemaBlend. You will receive a verification email shortly.
There was a problem. Please refresh the page and try again.