Baby Sonic Is The New Baby Yoda, Thanks To New Trailer And Poster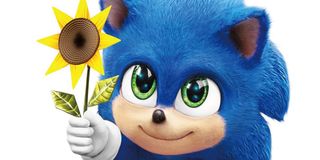 We're only beginning to get used to the idea that a cinematic Sonic the Hedgehog isn't going to give us nightmares. And now, thanks to a newly released trailer and poster from the upcoming movie, we're being hit with another curveball: We're going to meet Baby Sonic. And he's really cute. So cute, in fact, that he may give the internet's current favorite, Baby Yoda, a run for his money.
The first glimpse of Baby Sonic came from SEGA's Japanese trailer for Sonic the Hedgehog. In the clip, we see the younger version of the video game hero running and spinning through South Island, before he shows up in a treehouse, brandishing a Little Planet flower.
Fan response was swift once the footage spread around. Despite only appearing for a few seconds, he seemed to inspire a new wave of enthusiasm. Fans shared artwork featuring Baby Sonic on Twitter, and the general consensus focused on how adorable he is. And given how inescapable the Baby Yoda love has been the past few weeks, it was only natural for fans to draw a comparison.
One fan did a side-by-side comparison of Baby Sonic and an actual baby hedgehog, and determined that there is a distinct similarity.
Another fan stuck to asking the important questions about Baby Sonic's origins.
Given Baby Sonic's immediate popularity, Alan Denton, a story editor for Sonic Boom, said he would volunteer to lead the charge on a TV spinoff.
And more than one fan made sure to remind us all of the true terror that we luckily avoided.
There's no denying that the overall consensus seems be shifting where Sonic the Hedgehog is concerned. When the first footage from the adaptation of SEGA's mega-popular video game surfaced, the response was overwhelmingly negative -- and with good reason. The movie's version of Sonic bore little resemblance to the fast-footed hedgehog fans have loved for decades. The backlash was so severe that the film's original November 2019 release date was delayed. Though there's been controversy surrounding the methods that were used to update Sonic's appearance before the film hit theaters, the results have paid off. Fans around the world -- including some A-listers -- have begun to show their excitement.
It's too early to guess how prominently Baby Sonic will feature in Sonic the Hedgehog -- or whether fandom enthusiasm will translate into actual box office success. Sonic the Hedgehog features the voices of Jim Carrey as Robotnik and Ben Schwartz as the titular rodent hero -- though there's no word on whether he will voice the younger version, too. It hits theaters on February 14, 2020.
Your Daily Blend of Entertainment News
Your Daily Blend of Entertainment News
Thank you for signing up to CinemaBlend. You will receive a verification email shortly.
There was a problem. Please refresh the page and try again.