What The Underworld Cast Is Doing Now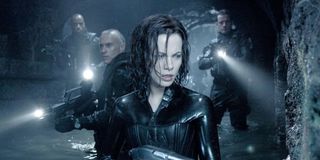 Before Underworld, never had the fantastic world of victorian horror been so… Matrix. That is, by no means, an indictment on the 2003 thriller that brings the mythical conflict between werewolves and vampires to modern times. Other than its bleak color palette, stylized choreography, and dress code that favors skin-tight leather, Len Wiseman's feature-length directorial debut is unique in its own ways with much to admire, especially making a household name out of Kate Beckinsale.
What about the rest of the cast from Underworld and its three follow-ups with a prequel right in the middle? I can think of a couple other well-known efforts from Scott Speedman, the male lead of the first two films, but, additionally, I would not be surprised if some of you forgot about some of the bigger names who would join the cast later.
In that case, how about we go take a look at the most notable actors known for joining the war between the two most notorious species of the undead? These are the current whereabouts of a handful cast members since rising above the Underworld.
Kate Beckinsale (Selene)
After gaining notoriety in Pearl Harbor and Serendipity, to name a few, playing Selene, the face of the Underworld franchise, made Kate Beckinsale one of the most sought after action stars in Hollywood, but she was sure to never limit herself to just one genre. In between reprising her role as the vampire warrior three more times, the British beauty would take on the affections of the eccentric Howard Hughes in The Aviator, a husband obsessed with an enchanted remote in Click, a sadistic hotel manager in Vacancy, and even more vampires and werwolves alongside Hugh Jackman in Van Helsing.
Beckinsale has also voiced Queen Ayrenn in two iterations of the online role-player The Elder Scrolls, and will return to action in Jolt and comedy in director Charlie Day's El Tonto, both of which are in post-production.
Scott Speedman (Michael Corvin)
Selene would find a love interest in medical student Michael Corvin after he becomes a hybrid of the two warring creatures at the story's center, thanks to a bit from her and a lycan named Lucian (a little more on him soon). One of Scott Speedman's more notable roles after starring in two Underworld films saw him, with onscreen wife Liv Tyler, facing off a different kind of monster in the 2009 home invasion thriller The Strangers and later, a creature even more obscure, but equally malevolent, in a small role from the A24 creature feature The Monster.
The British former Felicity star made his most recent return to television in a recurring role on TNT's series of adaptation of Animals Kingdom and will make in a rare appearance in a comedy, alongside Aubrey Plaza and Michael Caine, Best Sellers, which is now in post-production.
Michael Sheen (Lucian)
As Lucian, the progenitor of the lycan race, Michael Sheen had the advantage of playing both an antagonist in the Underworld franchise and a protagonist, particularly in the 2009 prequel, Underworld: Rise of the Lycans, as well as receiving a taste of a bloodsucker's life as Aro in the Twilight films. The 51-year-old British actor has played a hefty variety of characters onscreen, onstage, or on-air, from either fiction or real life, including an angel with a demonic best friend in a miniseries adaptation of Neil Gaiman's Good Omens or Prime Minister Tony Blair, whom he has portrayed in three respective films, two of which he received award nominations for.
More recently, Sheen appeared as the serial killer father of an criminal psychologist in the Fox drama series Prodigal Son and is preparing to star in existential dramedy The Price of Admission alongside Jeff Goldblum and voice a character in an animated adaptation of Heart of Darkness.
Bill Nighy (Viktor)
It is always exciting to see Bill Nighy make an appearance, but as the sinister Vampire Elder Viktor (whom he would reprise twice) he convinced audiences how much they love him as a villain, made further evident by his performance as Davy Jones in two Pirates of the Caribbean films. Underworld was also the first of several memorable death scenes for the 70-year-old, Golden Globe-winning actor, most notably Shaun of the Dead, as well as many more roles rooted in fantasy, such as Harry Potter ally Minister Rufus Scrimgeour, the target of some secret agent gerbils in G-Force, and a time-traveling father in About Time for Richard Curtis, who directed him in a reprisal of his Love, Actually character in honor of Red Nose Day in 2017.
Bill Nighy made a return to the world of vampirism on the animated Netflix original Castlevania, but is focusing more on family entertainment for more of his upcoming projects, including a new adaptation of the classic novel Heidi.
Kevin Grevioux (Raze)
In addition to playing Raze, a lycan and the second-in-command to Lucian, Kevin Grevioux was the original creator of the concept for Underworld and would team up with director Len Wiseman and screenwriter Danny McBride (no, not that Danny McBride) to develop the story, in addition to producing the first three installments of the franchise. The film would become his first writing credit, after years in Hollywood landing small roles in big movies (some that were nameless) like Batman Forever and The Mask and even performing stuntwork, before starting his own comic book imprints, later writing a few titles for Marvel and DC, and eventually voicing characters from both respective comic book universes in various animated projects.
Grevioux continues to work behind and in front of the camera and recently wrapped filming sci-fi adventure The Prey with co-star Danny Trejo.
Rhona Mitra (Sonja)
Rhona Mitra has a career much like Kate Beckinsale's, but in reverse, having starred in multiple thrillers and action projects before she was cast as the Sonja, daughter of Viktor and the female lead of the 2009 prequel Underworld: Rise of the Lycans. The role would spark several more opportunities in the action and fantasy genres (some more successful than others) and mostly on television, two of which also involved vampires, such The Gates, a suburban crime drama on which she played modern day bloodsucker, and The Strain, on which she hunted bloodsuckers this time. The British actress will also soon be seen in the third chapter of the Skyline franchise, Skylin3s, and has joined the star-studded voice cast of the upcoming science-fiction video game Squadron 42.
Theo James (David)
After making his franchise debut as pure-blood vampire David in Underworld: Awakening, English actor Theo James would be promoted to male lead in 2016's Blood Wars. However, he grained further recognition playing second-in-command to a film's female hero 2014 as Tobias "Four" Eaton opposite Shailene Woodley in Divergent trilogy. Even with that success, it seems James has felt a bit homesick for his first big franchise since the last installment, given how many of his subsequent projects have involved fellow Underworld alums, such as voicing a role in Castlevania alongside Bill Nighy, starring in a 2018 musical audio drama adaptation of H.G. Wells' The War of the Worlds with Michael Sheen, and playing a widowed engineer desperate to achieve the perfect AI in Archive, which he and Rhona Mitra recently wrapped up and is slated for 2021.
Charles Dance (Thomas)
Making his first Underworld appearance in Awakening as David's father, Thomas, was Charles Dance, whom film aficionados may also recognize as Clemens from Alien 3, Commander Denniston in The Imitation Game, or an evil sorcerer taking on Eddie Murphy in The Golden Child. The three-time Emmy nominated, English acting veteran, who recently played a villain in Godzilla: King of the Monsters, has had an equally prolific career on television, including Netflix historical drama The Crown, Amazon exclusive miniseries The Widow (also starring Kate Beckinsale), and, especially, as Tywin Lannister on Game of Thrones. Dance's next big cinematic role will be in Kingsman prequel The King's Man, followed by David Fincher's biopic of Citizen Kane's screenwriter Mank, and he is preparing to making his sophomore writing and directing effort with an adaptation of Alice Thomas Ellis' The Inn at the Edge of the World.
Michael Ealy (Detective Sebastian)
Aldo joining the cast in Underworld: Awakening was prominent actor Michael Ealy, not as a vampire nor a lycan, but a human whose dark past has earned him a rare sympathy toward vampires. You could draw comparisons from Detective Sebastian to his role as a human-like android policeman in a world overrun with conflict between man and machine in the short-lived futuristic crime procedural Almost Human, but probably less so to the other TV cops he has played since on Secrets and Lies and Stumptown.
Since his sole Underworld franchise appearance, Ealy has also starred in three remakes (About Last Night, Jacob's Ladder, and HBO's hit series adaptation of Westworld) and recently reunited with Deon Taylor, the director of the 2019 thriller The Intruder, for upcoming crime drama Fatale, which will also star Hilary Swank and Mike Colter.
India Eisley (Eve)
It was Detective Sebastian's sympathy toward the vampire race that convinced him to help Selene protect Eve, her daughter with Michael Corvin and played by India Eisley in her first major motion picture performance after breaking out on the teen drama series The Secret Life of the American Teenager. Playing the unprecedented tri-hybrid of vampire, werewolf, and immortal strains sparked her scream queen reputation that would carry on in roles like the title character of twisted fairy tale retelling The Curse of Sleeping Beauty, the psychological Netflix exclusive Clinical, and the upcoming stalker drama Every Breath You Take, also starring Sam Claflin and Michelle Monaghan.
Following her role opposite Chris Pine in Patty Jenkins' crime miniseries I Am the Night, the 26-year-old has been rumored to co-star with her mother, veteran actress and fellow scream queen Olivia Hussey, in a rare comedic role for the satire One Week In Hollywood.
Be sure to check back for more information and updates on the Underworld franchise as well as the whereabouts of your favorite movie and TV show cast members here on CinemaBlend.
Jason has been writing since he was able to pick up a washable marker, with which he wrote his debut illustrated children's story, later transitioning to a short-lived comic book series and (very) amateur filmmaking before finally settling on pursuing a career in writing about movies in lieu of making them. Look for his name in just about any article related to Batman.