9 2020 Shudder Movies You Really Need To Be Watching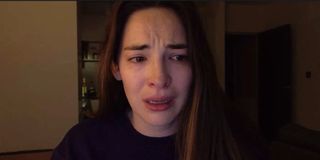 With the outbreak of a global pandemic, the discovery of Murder Hornets, and apparent evidence of real UFOs, I think we can all agree that life has felt a lot like a horror movie lately and the title is 2020. Fortunately, many have found ways of distracting themselves from the madness through entertainment and, if you are like me, horror movies like Host have, ironically, been your choice of escape. In fact, the film is just one of several new horror movies exclusively released on Shudder that have kept me and others entertained all year long.
The streaming platform has been a reliable go-to source of all things mysterious, macabre, and even morbidly cheesy for years, harboring undisputed classics and lovable hidden gems alike. Much of Shudder's own fresh, exclusive content has also proven to be just as good as anything considered a staple of the genre and its original movies released in 2020 alone are certainly no exception.
If you have not been able to keep up with what's new on Shudder, perhaps it is just because you do not consider yourself a horror fan. However, if you are a fan and still do not have a subscription, what the hell are you waiting for? As soon as you set up your account, be sure to add the following nine films that the platform introduced to the world this past year, starting with one that offers a dark reflection of our already dark current reality.
Host
If you ever thought things could not get worse during the Covid-19 lockdown, that is what the socially distant friends in this terrifying word-of-mouth hit thought before they held a seance over a virtual conference call. Conceived, shot, and also released on Shudder during the pandemic, Host proves creativity can still thrive while under quarantine and may be the smartest and scariest entry yet of the steadily emerging "video call horror" subgenre that I recommend watching on your laptop instead of your TV.
Stream Host on Shudder here (opens in new tab).
The Beach House
This intensely uncomfortable gross-out survival film, the feature-length debut from writer and director Jeffrey A. Brown, also has references to the pandemic, but in ways that are purely (and quite strangely) by coincidence, in this case. It stars If I Stay actress Liana Liberato and The Get Down star Noah Le Gros as young lovers spending a romantic getaway at The Beach House's titular location, where the disturbing effects of a mysterious infection begin to take shape around them.
Stream The Beach House on Shudder here (opens in new tab).
The Cleansing Hour
This unique and thoroughly entertaining take on possession thrillers is similar to Host specifically by how it comments on how the Internet dominates our perception of the world, but with more of a biting satire that puts its credibility into question. Max (Ryan Guzman) and his producer friend Drew (Kyle Gallner) have made millions off of The Cleansing Hour, their live-stream of exorcisms, all of which have been staged, until the sudden possession of Drew's girlfriend Lane (Alix Angelis) forces them to stop faking it in their latest, and potentially final, webcast.
Stream The Cleansing Hour on Shudder here (opens in new tab).
The Mortuary Collection
A young woman (Caitlin Custer) seeks a job at a funeral home ran by an odd, elderly man (Clancy Brown), who takes the opportunity to tell her stories of his most notorious clients. A lavish party guest who lets her curiosity get the best of her, a college frat boy (Jacob Elordi) who learns the importance of practicing safe sex, and a babysitter who gets an unexpected visitor are among the brutal cautionary tales in The Mortuary Collection - a dazzling, comically creepy treat for fans of horror anthologies.
Stream The Mortuary Collection on Shudder here (opens in new tab).
Scare Me
In this other darkly funny anthology, but not so much in the traditional sense, a pair of strangers entertain each other during a power outage with their own scary stories that begin to challenge the bounds of their imaginations. Starring Josh Ruben (who also writes and directs), and Aya Cash (Stormfront from The Boys), and Chris Redd from Saturday Night Live, Scare Me might just be the perfect cure for your cabin fever.
Stream Scare Me on Shudder here (opens in new tab).
Z
Speaking of having a wild imagination, a woman (Keegan Connor Tracy) and her husband (Grave Encounters star Sean Rogerson) are concerned over the behavior of their young son (Jett Klyne), who puts the blame on his imaginary friend, whom he calls Z. However, the couple soon begin to question if Z really is imaginary and, moreso, if he can be called a friend in this disturbing psychological thriller.
Stream Z on Shudder here (opens in new tab).
Spiral
Malik (Jeffrey Bowyer-Chapman) fears he may be psychologically disturbed (or worse - completely sane) when he begins to suspect that he, his partner Aaron (Ari Cohen), and their teenage daughter Kayla (Jennifer Laporte) may be in danger after moving into a seemingly perfect neighborhood. Not to be confused with Chris Rock's upcoming spin-off of the Saw movies franchise, Spiral is an intense, engrossing slow-burn that feels like how Get director Jordan Peele would take aim at LGBTQ+ discrimination.
Stream Spiral on Shudder here (opens in new tab).
La Llorona
Not to be confused with 2019's The Conjuring Universe installment The Curse of La Llorona, this ghost story is told from the point of view of an aging fascist leader (Julio Diaz) facing allegations of genocidal acts as a vengeful spirit seems to have latched onto him and his family. Inspired by actual events in Guatemala, La Llorona is a Spanish-language import that brilliantly combines real-world social commentary with a real mysterious legend of folklore for an experience more chilling than you typical haunted house flicks.
Stream La Llorona on Shudder here (opens in new tab).
In Search Of Darkness
Of course, if you happen to love typical haunted house flicks and all the other classic horror subgenres that defined the 1980s, you will fall severed head over slit hells for this documentary exclusively available to stream on Shudder. Featuring interviews with Halloween director John Carpenter, Scream Queen Barbara Crampton, iconic film commentator Joe Bob Briggs, and plenty more names worshipped by gorehounds, In Search of Darkness is a deep and lengthy dive into a one of the horror cinema's most celebrated eras, and it is only part one of the exploration.
Stream In Search Of Darkness on Shudder here (opens in new tab).
What do you think? Does sitting through more than four hours of interviews about '80s horror movies sound too much for you, or does it sound more pleasant than any of the previously mentioned films on this list? Let us know in the comments and be sure to check back for additional information and updates about what is available to stream on Shudder, as well as more of our own recommendations of other movies released digitally in 2020, here on CinemaBlend.