12 Cute Christmas Movies To Watch Streaming For Free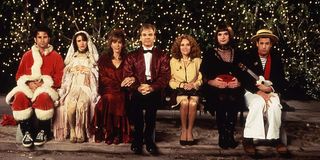 It's the holiday season, which means it's time to grab a tall glass of eggnog, roast some food, and start streaming your favorite Christmas movies. Netflix, Hulu, Amazon Prime, and the million other streaming services provide plenty of Christmas movies to watch...for a fee. Though many of the streaming services cost less than $10 a month and some have free introductory prices, it can be a hassle to pay for all those streaming services.
Maybe you subscribe to one or two, or maybe even 20, streaming services, but you just need more Christmas movie options. You also might be one of those rare individuals who have opted out of paying to stream movies and TV shows. Either way, there are plenty of free options for fans of Christmas movies, especially on streaming services like Tubi, Youtube, and IMDb TV.
Most of the films on this list will be TV Movies or lesser-known Christmas movies because let's face it, the classics will cost you or are only available on premium streaming services. The Christmas movies on this list are cute enough to give you a warm holiday feeling, but there are a few choices that stray from the Christmas movie norm. Let's look at a few free choices.
A Princess For Christmas (IMDB TV)
Merlin and Supergirl's Katie McGrath, Outlander's Sam Heughan, and James Bond himself, Roger Moore star in A Princess for Christmas. It follows Jules (McGrath) as she becomes the legal guardian of her niece Maddie (Leilah de Meza) and nephew Milo (Travis Turner) after her sister and brother-in-law died. Jules, Maddie, and Milo get invited by Milo and Maddie's grandfather on their father's side to spend Christmas at a palace.
While at the palace, Jules starts to fall for Ashton (Heughan), the brother of her sister's husband. This made-for-television movie was directed by Michael Damian and premiered in 2011. A Princess for Christmas is the right dose of romantic cheer to brighten up your holidays.
Stream it on IMDb TV here.
Nothing Like The Holidays (YouTube)
Nothing Like the Holidays follows a family living in Chicago as they celebrate what might be their last Christmas together. It was directed by Alfredo De Villa and released in 2008. Nothing Like the Holidays focuses on the Rodriguez family as each member deals with their own set of struggles, which are only heightened with the stress of the holidays. The cast includes John Leguizamo, Debra Messing, Freddy Rodriguez, Jay Hernandez, Alfred Molina, Elizabeth Peña, and Melonie Diaz.
Nothing Like the Holidays is a film that reminds people to cherish the time you have with your complicated, messy family, because it's limited.
Stream it on YouTube here.
Pete's Christmas (YouTube)
Pete's Christmas stars Zachary Gordon as Pete Kidder, the middle child who often gets overlooked by his family. His older brother is a jock and his younger one is a bookworm. Pete is stuck in the middle of not really standing out. His grumpy grandpa (Bruce Dern) visits for Christmas, which puts extra pressure on Pete and his family.
One disaster after another happens, basically ruining Christmas. Like Christmas Every Day and Groundhog Day, December 25th continues to repeat itself, allowing Pete the chance for a Christmas-do-over and over. Pete's Christmas was directed by Nisha Ganatra and premiered in 2013.
Stream it on YouTube here.
Mister Magoo's Christmas Carol (Peacock)
This animated adaptation of A Christmas Carol follows Mr. Magoo (voiced by Jim Backus) as he plays Ebenezer Scrooge. It aired on NBC on December 18, 1962. Directed by Abe Levitow, Mister Magoo's Christmas Carol follows Mr. Magoo as he heads to Broadway to play Ebenezer Scrooge in a musical version of A Christmas Carol.
We then get the classic tale of Scrooge, with a few Magoo twists. Scrooge is a miserable rich man who gets visited by three ghosts (past, present, and future) to awaken his Christmas spirit and force him to change for the better.
Stream it on Peacock here.
Throwback Holiday (Tubi)
Jacqueline (Jennifer Freeman) was popular in high school and eventually married the popular boy from her high school days. However, in Throwback Holiday, Jacqueline's post-high school life is not what she expected. She is in a doomed marriage and her kids are spoiled. She runs into a former classmate and wishes that she could return to high school and do it all over.
Jacqueline has her wish granted and gets to relive her high school days with the chance to make her present better. With the opportunity to do it all over, will Jacqueline make different choices this time? Throwback Holiday was directed by Trey Haley and premiered in 2018.
Stream it on Tubi here.
Better Watch Out (Tubi)
Better Watch Out isn't exactly a cute Christmas movie because it's a Christmas horror flick. It has the same tone as fellow Christmas horror film Gremlins, as in it's more fun than scary. The film will also appeal to fans of Netflix's The Babysitter in that they both have the same level of humor and twistiness.
Better Watch Out follows babysitter Ashley (Olivia Dejonge) as she must save herself and the boy she is babysitting Luke (Levi Miller) from unexpected guests. However, things aren't quite what they seem for Ashley or the audience. Chris Peckover directed this 2016 horror-Christmas-comedy.
Stream it on Tubi here.
Mixed Nuts (Tubi)
Nora Ephron directed this 1994 Christmas Comedy starring Steve Martin, Madeline Kahn, Juliette Lewis, Adam Sandler, Liev Schreiber, and Rita Wilson. Mixed Nuts tells one wild Christmas Eve story as employees at Lifesavers, a suicide-prevention hotline, deal with their own problems and a few odd characters they encounter that night.
Mixed Nuts is definitely one of those movies that leave a lasting impression for its wackiness and cast of quirky characters. If you want to enjoy something a little different than the usual holiday storylines, then Mixed Nuts might be the right flavor for you.
Stream it on Tubi here.
The Bishop's Wife (Tubi)
Cary Grant, Loretta Young, and David Niven star in The Bishop's Wife. It's a 1947 film directed by Henry Koster. Bishop Henry Brougham (Niven) has been so devoted and focused on building a new cathedral that he's neglected his family, especially his wife Julia (Young). An angel named Dudley (Grant) is sent to guide Henry and help him fix his relationships and turn his focus on the right things.
Dudley develops feelings for Julia, causing conflict with his mission and with Henry. In 1996 Denzel Washington, Whitney Houston, and Courtney B. Vance starred in a remake of this movie called The Preacher's Wife.
Stream it on Tubi here.
Happy Christmas (Tubi)
Joe Swanberg directed Happy Christmas, a 2014 dramedy starring Anna Kendrick, Melanie Lynskey, and Joe Swanberg. Jenny (Kendrick) moves to Chicago to live with her older brother Jeff (Swanberg), his wife Kelly (Lynskey), and their baby.
At first, Kelly is a bit cold towards Jenny because she just sees her as this irresponsible person being forced into her life. With the two women living together, they start to really get to know each other and bond. Jenny and Kelly also help one another grow into better versions of themselves. Kelly helps Jenny become more responsible and Jenny encourages Kelly to write her novel. Happy Christmas in many ways is a love story between Kelly and Jenny (without the romance and sex) as they become best friends and then family.
Stream it on Tubi here.
Borrowed Hearts (Tubi)
Ted Kotcheff directed Borrowed Hearts, a 1997 made-for-television Christmas movie. Before Will and Grace, Eric McCormack played Sam, a playboy businessman who must pretend he has a wife and child to present himself as a loving family man for a business opportunity. After not finding the right hired actors, a young girl (Sarah Rosen Fruitman) runs into his home.
He's charmed by the girl and hires her and her mother Kathleen (Roma Downey) to pretend to be his wife and daughter. Kathleen is an employee at Sam's factory. Sam and Kathleen's personalities clash at first but eventually, they fall in love. Borrowed Hearts is a sweet Christmas romance movie that appeals to Christmas lovers and romance fans alike.
Stream it on Tubi here.
Dear Santa (Tubi)
Dear Santa is a 2011 Lifetime Christmas movie directed by Jason Priestley. Crystal (Amy Acker) is a spoiled rich 30-something who doesn't take life too seriously. She spends most of her days running up her parent's credit card bills. Her wealthy parents give Crystal an ultimatum: get her life together by Christmas or lose all financial support.
Crystal discovers a letter from Olivia (Emma Duke) asking Santa to bring her dad a new wife for Christmas. Crystal decides to find Olivia and her father Derek (David Haydn-Jones) in hopes of winning them over. Spending time with Olivia and Derek actually causes Crystal to become more selfless, generous, and caring. Dear Santa is a Christmas makeover movie that's about making over the soul.
Stream it on Tubi here.
A Christmas Winter Song (Tubi)
Stan Shaw and Ashanti star in A Christmas Winter Song. Clio (Ashanti) befriends Fred (Shaw), a jazz singer who has had some hard times and is now homeless. Clio and Fred connect through their love of music. Clio has also recently lost her father, so she makes it her mission to help Fred reconnect with his estranged daughter.
A Christmas Winter Song was a 2019 Lifetime movie that Camille Brown directed. Music and the bond between fathers and daughters are at the heart of this Christmas movie.
Stream it on Tubi here.
The holiday season is just starting, so there will probably be more Christmas movies added to your favorite free streaming service in the upcoming weeks. For now, check out a few of the films listed above to get into the spirit of the holidays.
Your Daily Blend of Entertainment News
Spent most of my life in various parts of Illinois, including attending college in Evanston. I have been a life long lover of pop culture, especially television, turned that passion into writing about all things entertainment related. When I'm not writing about pop culture, I can be found channeling Gordon Ramsay by kicking people out the kitchen.