What The Contagion Cast Is Doing Now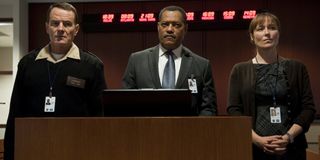 There was a time when you could watch Steven Soderbergh's 2011 thriller Contagion and say to yourself: "Something like that would never happen, and if it did, it wouldn't be like that." But, here we are 10 years later living in a completely different world from the one we knew a decade ago, one that is eerily similar the one crafted by Scott Z. Burns. And, even before the pandemic made the movie a little too familiar, the Contagion cast, which was anchored by the likes of Kate Winslet, Matt Damon, and Jude Law, among others, had been around quite a bit before appearing in this anxiety-inducing drama.
So, what has the large ensemble of the Contagion cast been up to recently, and what have they worked on since the worst public health crisis in our lifetime started more than a year ago? Let's break down where they've been, where they are, and where they're going.
Kate Winslet (Dr. Erin Mears)
Besides telling her friends why they should never watch Contagion now that the stuff of fiction has become everyday life for all of us, Kate Winslet is keeping rather busy with a slew of upcoming projects, including the HBO limited series Mare of Easttown, which is slated to premiere in April 2021. The Divergent actress is also set to return to the worlds of fantasy/sci-fi with James Cameron's Avatar sequels, starting with Avatar 2 in December 2022. And, much like her character, Dr. Erin Mears, Winslet has spent much of the past year advocating for COVID-19 awareness and best practices alongside other members of the cast, including Matt Damon.
Matt Damon (Mitch Emhoff)
In Contagion, Matt Damon's character, Mitch Emhoff, and his on-screen daughter are both immune to the effects of the MEV-1 virus, but in May 2020, the accomplished actor/producer/writer revealed that his real daughter had contracted COVID-19. Luckily, his daughter (and her college roommates) recovered.
When not dealing with the issues (both personally and professionally) caused by the ongoing health crisis, Matt Damon has remained just as busy as ever with a number of upcoming film and television projects both in front and behind the camera. This includes Ridley Scott's The Last Due,l which he wrote alongside his longtime friend and creative partner Ben Affleck, who also stars alongside him.
Jude Law (Alan Krumwiede)
Will Jude Law ever get to play James Bond once Daniel Craig puts down the martini glass and his standard PPK? Who knows, but the Contagion star (Was there anyone worse than Alan Krumwiede?) has been quite busy and his schedule will be just as full (if not more so) in the years to come with everything he has going on. With the third Fantastic Beasts film in production, the world will soon see the younger and conflicted Albus Dumbledore once more, after being introduced to the soon-to-be Hogwarts headmaster.
While we probably won't see Jude Law's Yon-Rogg in the Captain Marvel sequel, he'll take on the role of another antagonist from under the Disney umbrella when he portrays Captain Hook in the upcoming Peter Pan & Wendy.
Marion Cotillard (Dr. Leonora Orantes)
Much like her character, Dr. Leonora Orantes in Contagion, Marion Cotillard is not one to let people suffer just because they were given the short end of the stick. Throughout her career, the Academy Award-winning actress (La Vie en Rose) has used her platform to be a voice for the voiceless, doing everything from locking herself in a cage at the Louvre museum to protest Russia's jailing of Greenpeace activists in 2013, to making a push for sustainability on the red carpet in 2020.
On the acting side of things, Marion Cotillard has shown up in everything from 2015's Macbeth, where to she played Lady Macbeth alongside Michael Fassbender, to Dolittle, where she provided the voice of Tutu, a French fox. She will next appear in the musical Annette.
Laurence Fishburne (Dr. Ellis Cheever)
Since the release of Contagion, in which he portrayed the CDC's Dr. Ellis Cheever, Laurence Fishburne's career has continued to be as fruitful as it was in the years leading up to his 2011 performance. With multiple awards, including a Primetime Emmy in 2020 for his turn on FreeRayshawn and the Gregory Peck Lifetime Achievement Award at the 2019 San Diego International Film Festival, the former Matrix star has had a lot to celebrate.
Looking ahead, Laurence Fishburne will appear in the animated television series Moon Girl and Devil Dinosaur (which he helped get off the ground) as well as a few film projects, including The Ice Road and All the Old Knives, though his John Wick 4 status remains unclear.
Gwyneth Paltrow (Beth Emhoff)
Since her portrayal of Beth Emhoff, aka the woman who brings the virus to America, in Contagion, Gwyneth Paltrow has let her acting career (at least in film) take a backseat to other projects like her Goop brand. Now, this doesn't mean she hasn't been in anything, as Paltrow has appeared in five entries in the Marvel Cinematic Universe since the 2011 thriller, as well as a number of television projects, including The Politician and her Netflix original The Goop Lab.
Bryan Cranston (Lyle Haggerty)
Bryan Cranston isn't in Contagion all that much, but whenever his character, Rear Admiral Lyle Haggerty, is on screen, the award-winning actor makes the most of every second. The same can be said for Cranston's career in general since then. With celebrated performances in biographical dramas like Trumbo and All The Way, not to mention the conclusion of Breaking Bad and the start of the Showtime original Your Honor, the former Malcolm in the Middle star has been on an absolute tear, and he doesn't look to be stopping anytime soon.
Jennifer Ehle (Dr. Ally Hextall)
Jennifer Ehle has made a career out of playing strong, confident characters who take control of any situation to the best of their ability, and she did the same with Dr. Ally Hextrall, the dedicated CDC research scientist in Contagion. With appearances in Zero Dark Thirty, the Fifty Shades franchise, and a number of other film projects, Ehle has continued to show why she's one of the best actresses out there.
Then there is Jennifer Ehle's television work, which includes two brief appearances on the consistent fan-favorite The Blacklist, as well as two political limited series, The Looming Tower and The Comey Rule.
Elliott Gould (Dr. Ian Sussman)
Since taking on the role of Dr. Ian Sussman, the University of California research scientist whose work helps develop a vaccine in Contagion, Elliott Gould has continued to be one of the most prolific actors in all of Hollywood. With film credits that include Ruby Sparks, Dangerous Lies, and Ocean's 8, in which he reprised his character, Reuben Tishkoff, as well as television productions, including Mulaney, Doubt, Ray Donovan, and even Law & Order: Special Victims Unit, the cool and suave actor has just kept going.
Chin Han (Sun Feng)
Chin Han's portrayal of Sun Feng, the government official with quite a secret in Contagion, might not be as recognizable as some of the other stars of the 2011 pandemic movie but the Singaporean actor has been in a few of the biggest movies and television shows of the 21st Century with everything from The Dark Knight to Captain America: The Winter Soldier, and The Blacklist to Arrow under his belt. We'll next see Han in the April 2021 release of the bloody Mortal Kombat reboot, in which he will play the evil and powerful Shang Tsung.
John Hawkes (Roger)
John Hawkes isn't in Contagion for very long, but his character, Roger, is a part of one of the most heartwarming scenes in the movie when Ellis Cheever gives the custodian's son a dose of the vaccine. Hawkes, an incredible character actor, has gone on to show up in movies like Lincoln, Three Billboards Outside Ebbing, Missouri, and The Peanut Butter Falcon, but his biggest success in the past 10 years was in the 2012 drama The Sessions, which netted him a Golden Globe nomination for Best Actor. Hawkes also returned for Deadwood: The Movie, reprising his role of Sol Star from the original HBO series.
Sanaa Lathan (Aubrey Cheever)
Sanaa Lathan briefly appears in Contagion as Ellis Cheever's finacée Aubrey, a role which she followed up with performances in movies like American Assassin, The Best Man Holiday, and Native Son. In addition to her film roles. Lathan has done quite a bit of voice work throughout her career, most notably Family Guy and Harley Quinn.
Demetri Martin (Dr. David Eisenberg)
Demetri Martin is another actor who appears in a smaller role in Contagion, in which he takes on the character of researcher Dr. David Eisenberg. Since the release of the 2011 drama, Martin has released two comedy albums, appeared in various commercials for Lunchables, and provided his voice for the 2019 revival of Crank Yankers.
Enrico Colantoni (Dennis French)
Enrico Colantoni appears in Contagion as DHS official Dennis French, but he will always be known for his portrayals of Keith Mars in the teen mystery drama Veronica Mars, and Elliott DiMauro on the sitcom Just Shoot Me! Colantoni's most recent appearances include A Beautiful Day in the Neighborhood, Feel the Beat, and the third season of Westworld, in which he appeared in one episode in 2020.
Monique Gabriela Curnen (Lorraine Vasquez)
Monique Gabriela Curnen, who portrayed San Francisco Chronicle journalist Lorraine Vasquez and one of the people who fell for Alan Krumwiede's games in Contagion, hasn't been in a movie since the film's release, but her television career is alive and well. In the past 10 years, Curnen has had major roles on shows like Power and the Netflix space drama Away, as well as smaller one-off appearances on shows like Taken, Elementary, and Person of Interest.
It is hard to believe that Contagion will be 10 years old later this year and it's even harder to believe that the film is more relevant now than ever before. Judging by everything we've heard about the names on this list, the same can be said about the relevancy and staying power of its cast.
Philip grew up in Louisiana (not New Orleans) before moving to St. Louis after graduating from Louisiana State University-Shreveport. When he's not writing about movies or television, Philip can be found being chased by his three kids, telling his dogs to stop yelling at the mailman, or yelling about professional wrestling to his wife. If the stars properly align, he will talk about For Love Of The Game being the best baseball movie of all time.