Coming 2 America: What To Watch On Streaming If You Liked The Eddie Murphy Movie, Including Trading Places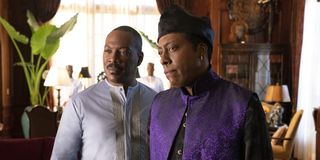 CinemaBlend participates in affiliate programs with various companies. We may earn a commission when you click on or make purchases via links.
Within days of its exclusive premiere on Amazon Prime Video, Coming 2 America became the most popular movie on the streaming platform that weekend. It is likely that many of the viewers who checked out the comedy sequel also made time to catch up on the original 1988 film, Coming to America, as well as a few other Eddie Murphy classics.
The Academy Award-nominated comedian, actor, and celebrated Saturday Night Live veteran actually first brought his talent for playing multiple characters to the big screen in the original royal rom-com, which he does once again in the follow-up. Of course, part of the fun of Coming 2 America is also seeing the return of supporting players like Arsenio Hall as Semmi, Shari Headley as Akeem's bride Lisa, and, of course, the legendary James Earl Jones as Zamunda's king, Jaffe Joffer. Yet, we should not forget the newcomers to the franchise (whom most of us were already well acquainted with) such as Jermaine Fowler, Tracy Morgan, and Leslie Jones.
I imagine there are many viewers pleasantly entertained by Coming 2 America who may want to see more from its hilarious cast or even just another funny fish-out-of-water tale. The following are 12 movies currently available on streaming that can grant those wishes, starting with the classic that began everything.
Coming To America (Amazon Prime)
Exhausted by his endless pampering and unhappy with his chosen bride, the prince of an African country journeys to the United States with his trusted servant (Hall) in search of a new perspective and, especially, true love.
Why It's Worth Checking Out If You Like Coming 2 America: Admittedly, if you have seen Coming 2 America, you probably saw Coming to America first, but the sequel is also a good way to get you in the mood to rewatch the timeless, thoroughly hilarious, and moving love story from director John Landis.
Stream Coming to America on Amazon Prime (opens in new tab).
Trading Places (Starz)
A pampered business investor (Dan Aykroyd) and a poor street hustler see what it is like to live at each other's end of the totem pole, not realizing that it's all part of a bet between two snobbish billionaires.
Why It's Worth Checking Out If You Like Coming 2 America: Not only is the clever 1983 economic satire Trading Places Eddie Murphy's first collaboration with director John Landis, but it exists in the same universe as Coming to America, which boasts an epic surprise cameo by the villains Mortimer (Don Ameche) and Randolph Duke (Ralph Bellamy), and Coming 2 America, which stars Colin Jost as their descendant.
Stream Trading Places on Starz (opens in new tab).
48 Hrs. (Amazon Prime)
In order to catch a pair of notorious killers, a hardened, bigoted San Francisco cop (Nick Nolte) enlists the help of a motormouth ex-con recently put on parole for a two-day hunt for the criminals.
Why It's Worth Checking Out If You Like Coming 2 America: Aside from its romantic themes, Akeem and Semmi's Queens adventures essentially make Coming 2 America's predecessor a buddy movie, much like Eddie Murphy's 1982 feature-film debut, 48 Hrs., if it also had the pulse of a noirish, breakneck action thriller.
Stream 48 Hrs. on Amazon Prime (opens in new tab).
Bowfinger (HBO Max)
Desperate to finally make a hit, a down-on-his-luck producer (Steve Martin in the title role) attempts to make the biggest action star in Hollywood the lead of his cheesy sci-fi flick without knowing that he's in it.
Why It's Worth Checking Out If You Like Coming 2 America: Coming 2 America continues Eddie Murphy's tradition of playing multiple roles in films, the funniest of which I could find on streaming is Bowfinger - writer and star Steve Martin's criminally overlooked movie industry satire starring Murphy as both A-list actor Kit Ramsey, and his nerdy lookalike "Jif."
Stream Bowfinger on HBO Max (opens in new tab).
Harlem Nights (Amazon Prime, Peacock)
The owner of an underground casino faces his most challenging gamble yet when rivals in the mafia and dirty cops threaten to put him out of business in 1930s New York.
Why It's Worth Checking Out If You Like Coming 2 America: Before reuniting in Coming 2 America and a year after the original 1988 film, Eddie Murphy cast Arsenio Hall as a scene-stealing gangster who has it out for his character in Harlem Nights - the only film that Murphy's directed. He also wrote the script and shared the screen with his idol, comedian Richard Pryor.
Stream Harlem Nights on Amazon Prime (opens in new tab) or on Peacock (opens in new tab).
Dolemite Is My Name (Netflix)
Desperate to make a name for himself, a middle-aged aspiring comedian becomes a word-of-mouth hit after developing a boisterous stage persona called Dolemite, whom he later attempts to bring to the big screen.
Why It's Worth Checking Out If You Like Coming 2 America: Just a couple years before reuniting in the Amazon Original comedy, Eddie Murphy shared the screen with Wesley Snipes in Dolemite Is My Name - a fascinating Netflix exclusive biopic from Coming 2 America director Craig Brewer depicting the making of writer and star Rudy Ray Moore's 1975 blaxploitation hit.
Stream Dolemite Is My Name on Netflix (opens in new tab).
Top Five (Tubi)
An actor struggling to outgrow his reputation as primarily a star of comedies (Chris Rock), and a New York Times reporter (Rosario Dawson) learn a lot about each other during a particularly revealing Q&A session.
Why It's Worth Checking Out If You Like Coming 2 America: While Top Five puts its central focus on the blossoming relationship between Rosario Dawson and Chris Rock (who also wrote and directed the 2014 satire), it also bears a stunning ensemble cast that notably includes Coming 2 America stars Tracy Morgan and Leslie Jones in supporting roles.
Sorry To Bother You (Hulu)
Developing a "white voice" when speaking to customers helps a broke, black man from Oakland finally rise up in the ranks at his telemarketing firm, only to discover the disturbing dark side to his success.
Why It's Worth Checking Out If You Like Coming 2 America: The amazing ensemble cast of Boots Riley's strikingly inventive and, at times, uncomfortably bizarre feature-film debut, Sorry to Bother You, also features Jermaine Fowler (King Akeem's previously unknown son, Lavell Junson, from Coming 2 America), whose hilariously passive aggressive argument with Lakeith Stanfield's central character absolutely steals the show at one point.
Stream Sorry to Bother You on Hulu (opens in new tab).
Crocodile Dundee (Showtime)
An America reporter (Linda Kozlowski) travels to the Australian Outback to meet a legendary hunter (Paul Hogan), whom she invites to see what life is like in her neck of the woods in New York City.
Why It's Worth Checking Out If You Like Coming 2 America: If you are still in the mood for another globe-spanning fish-out-of-water rom-com after Coming 2 America, the 1986 classic Crocodile Dundee is a classic example of that theme and, in many ways, also tells a story similar to the original Coming to America, but in reverse.
Stream Crocodile Dundee on Showtime (opens in new tab).
Black Panther (Disney+)
T'Challa (Chadwick Boseman) accepts the role of king and protector to his home land of Wakanda, as an assassin (Michael B. Jordan) with a shocking connection to his family emerges as a tyrannical threat to the country.
Why It's Worth Checking Out If You Like Coming 2 America: In addition to also being about the ruler of a fictional African nation who has an awkward run-in with a long lost family member, Marvel Studios' acclaimed blockbuster Black Panther won the Academy Award for its costumes by Ruth E. Carter, who went on to develop the look of modern Zamundan fashion for Coming 2 America.
Stream Black Panther on Disney+ (opens in new tab).
The Lion King (Disney+)
Tricked by his evil uncle into believing he is the cause of his father's tragic death, a young lion prince abandons his life to become a outcast until a run-in with a childhood friend years later gives him the chance to finally fulfill his destiny as the jungle's true king.
Why It's Worth Checking Out If You Like Coming 2 America: There are also a few thematic similarities between Coming 2 America and The Lion King (royalty, family secrets, a violent battle for the throne, etc.), but its most fascinating connection to Disney's beloved 1994 animated film is that Mufasa and Sarabi are voiced by James Earl Jones and Madge Sinclair, who also played Zamunda's king and queen in Coming to America.
Stream The Lion King on Disney+ (opens in new tab).
The Princess Diaries (Disney+)
A clumsy, unpopular high school student (Anne Hathaway) experiences a crash course in elegance and high-class status after discovering that she is heir to the throne of a European country.
Why It's Worth Checking Out If You Like Coming 2 America: Director Garry Marshall's 2001 adaptation of Meg Cabot's novel The Princess Diaries, and even its sequel from three years later, both draw parallels to Lavell Junson's story in Coming 2 America as a young, average American who learns he is royalty and defies tradition by refusing to marry if not for true love.
Stream The Princess Diaries on Disney+ (opens in new tab).
It was not until now when I realized that Coming to America seems to have much in common with many Disney movies, not that that's a bad thing. In fact, in case Eddie Murphy needed any other ideas for another sequel after Coming 2 America, I think we have just discovered a golden opportunity for Wakanda and Zamunda to join forces in a future crossover with Black Panther. I do not care how that happens, but it needs to.