Moulin Rouge Cast: What The Actors Are Doing Now, Including Nicole Kidman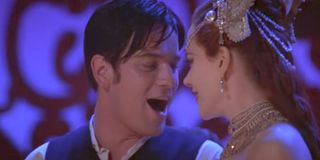 CinemaBlend participates in affiliate programs with various companies. We may earn a commission when you click on or make purchases via links.
Baz Luhrmann's romantic musical, Moulin Rouge, follows star-crossed lovers. They are being torn apart by greed and ambition, but brought together by the beauty of music and words. It's a true bohemian love story. Ewan McGregor and Nicole Kidman play lead characters Christian and Satine. Christian is a romantic writer and Satine is a prostitute and performer who dreams of being an actress. Moulin Rouge premiered 20 years ago, and many of the Moulin Rouge cast have had very successful careers, especially Nicole Kidman and Ewan McGregor.
The making of Moulin Rouge involved casting many Australian and European actors and actresses who may have been unknown to American audiences at that time, but over the last twenty years, many have gained international acclaim either on stage or screen. Let's take a look at what Nicole Kidman, Ewan McGregor, and the rest of the Moulin Rouge cast have been up to since appearing in Baz Luhrmann's popular favorite.
Nicole Kidman (Satine)
Satine was the young, beautiful woman who caught the eyes of many who attended the Moulin Rouge. She flirted with several, but only one caught her heart: Christian. Nicole Kidman is easily one of the most recognizable names in Hollywood. In 2001, Kidman also had one of her most famous roles as Grace in The Others. The following year, she played Virginia Woolf in The Hours. From 2003 to 2006, Kidman appeared in the popular films Dogville, Cold Mountain, The Stepford Wives, Bewitched, and voiced a character in the animated film Happy Feet.
Kidman then went on to appear in the movies The Golden Compass, Australia (another Baz Luhrmann film), The Paperboy, Stoker, and The Beguiled. Her recent screen credits have included Aquaman, The Goldfinch, Bombshell, and being part of the ensemble cast in The Prom. Along with building a substantial movie career, Nicole Kidman has been building her television credits. She was one of the leads in Big Little Lies, and a lead in The Undoing with Hugh Grant. Kidman can next be seen in the Nine Perfect Strangers adaptation with Melissa McCarthy.
Kidman will be reuniting with her Big Little Lies co-star Alexander Skarsgård in The Northman. She will also be taking on the iconic role of Lucille Ball in Being the Ricardos.
Ewan McGregor (Christian)
Christian is a young writer who finds himself experiencing life, art, and love for the first time at the Moulin Rouge. He's a deeply romantic person, for better or worse. Many may remember Ewan McGregor for playing Obi-Wan Kenobi in the Star Wars prequel films. He will be reprising this role in 2022 in the miniseries Obi-Wan Kenobi. In May 2021, McGregor will appear in another miniseries Halston, playing fashion designer Halston.
Ewan McGregor's past TV work has included Fargo and Long Way Up. He's appeared in many movies since Moulin Rouge. Some of his most popular films have included Black Hawk Down, Down with Love, Big Fish, The Island, Salmon Fishing in the Yemen, T2: Trainspotting, Beauty and the Beast, Christopher Robin, and Doctor Sleep. In Birds of Prey, McGregor played the villain, Black Mask.
In 2021, Ewan McGregor will appear in one of the highly anticipated 2021 movies: Guillermo del Toro's Pinocchio. He'll play The Talking Cricket. He will also be appearing in the upcoming film The Birthday Cake.
Jim Broadbent (Harold Zidler)
Harold Zidler (Jim Broadbent) runs the Moulin Rouge. His main goal is to get financing for Spectacular Spectacular at any cost, especially if it means selling Satine to the highest bidder. Broadbent has had a long and vibrant acting career. He appears in the Harry Potter franchise as Horace Slughorn. He's also appeared in other major franchises like the Bridget Jones movies, The Chronicles of Narnia: The Lion, the Witch, and the Wardrobe, Indiana Jones and the Kingdom of the Crystal Skull, and the Paddington films. Broadbent has also appeared in the films Dolittle, Brooklyn, Cloud Atlas, The Iron Lady, Hot Fuzz, Gangs of New York, and Bright Young Things.
Jim Broadbent appeared in the 2016 War & Peace miniseries, along with having roles in Game of Thrones, King Lear, and Black Narcissus. His recent theater credits have included playing Scrooge in the 2015 West End production of A Christmas Carol, and in the 2018 Bridge Theatre production of A Very Very Very Dark Matter, where he played Hans Christian Andersen. A Boy Called Christmas is Jim Broadbent's next film project, and he'll be portraying Father Vodell.
Richard Roxburgh (The Duke of Monroth)
The Duke of Monroth (Richard Roxburgh) became obsessed with owning Satine. He would kill anyone that stood in his way, especially a young writer named Christian. Roxburgh very often stole the show in Moulin Rouge. He went on to showcase his talent in other films such as The Hound of the Baskervilles, Van Helsing, Blonde, Matching Jack, Hawke, The League of Extraordinary Gentlemen, and Hacksaw Ridge.
He also appeared in the series and miniseries East of Everything, Rake, Catherine The Great, and The Crown. In The Crown and Hawke, he played Bob Hawke, former Prime Minister of Australia. Richard Roxburgh has two upcoming projects. He'll appear in the miniseries Shantaram and in the upcoming Elvis biopic Elvis. He'll play Elvis Presley's father, Vernon. The film will reunite him with Moulin Rouge director Baz Luhrmann.
John Leguizamo (Henri de Toulouse-Lautrec)
John Leguizamo played Henri, who is the main person who believes in Christian as a writer and in Christian and Satine's love story. John Leguizamo has been lending his voice to the Ice Age franchise as Sid since 2002, with the most recent film premiering in 2016. Leguizamo has also appeared in the films Dr. Dolittle 2, Assault on Precinct 13, The Babysitters, Love in the Time of Cholera, Nothing Like The Holidays, and The Lincoln Lawyer.
Leguizamo has also appeared in the hit films Kick-Ass 2, Ride Along, Chef, John Wick,and John Wick 2. He'll be appearing in the upcoming movie The Survivor. The Survivor's cast also includes Ben Foster, Billy Magnussen, and Danny DeVito. Leguizamo's TV credits include The Brothers Garcia, ER, Bloodline, Waco, The Mandalorian, and When They See Us.
Jacek Koman (The Unconscious Argentinean)
The Unconscious Argentinean (Jacek Koman) doesn't get many lines in Moulin Rouge, but that's why when he does speak, it's such a pivotal moment. He has one of my personal favorite Moulin Rouge scenes when he sings "El tango de Roxanne." Jacek Koman has appeared in the films Defiance, Australia, Horseplay, Breath, The Jungle, The Hater, Children of Men, and Baz Luhrmann's The Great Gatsby
Most of Koman's screen credits are in the world of television. He appeared in Richard Roxburgh's series Rake, where he played Jakub for eight episodes. Koman has also appeared in the series Top of the Lake, Waking the Dead, Hotel 52, Jack Irish, Tidelands, Mustangs FC, The Woods, and The Disappearance. As of April 2021, Jacek Koman is filming a drama called Wiarolom. Koman also is the lead singer of the band VulgarGrad. They formed in 2004 and are still together and touring. They released their latest album, The Odessa Job, in 2019.
Caroline O'Connor (Nini)
Nini (Caroline O'Connor) is another cancan dancer at the Moulin Rouge. She has two very critical moments in the movie. The first is when she clues The Duke of Monroth in on Satine and Christian's affair. The second is when she's The Unconscious Argentinean's dance partner during "El tango de Roxanne." Caroline O'Connor has only appeared in a few film and television projects after Moulin Rouge. The TV series Lowdown and the movies Surviving Georgia, De-Lovely, and Carlotta.
O'Connor is mainly a stage performer and has been performing in theater most of her career. She's appeared in the musicals and plays Bombshell, End of the Rainbow, Sweeney Todd: The Demon Barber of Fleet Street, Chicago, A Christmas Story: The Musical, and Anastasia. In 2019, she joined the production of The Rise and Fall of Little Voice. O'Connor has also released several albums, including A Tribute to Garland. In March 2021, O'Connor enjoyed a short run production of Caroline O' Connor From Broadway with Love.
Kerry Walker (Marie)
Marie (Kerry Walker) kept close to Satine and Harold Zidler. She seems to care about Satine and is one of the few people to know about her illness. Kerry Walker has appeared in the films Sway, Peter Pan, Australia, Cut Snake, and Holding the Man. Kerry Walker also appeared in the series Killing Time, Snob, Grass Roots, and Rake.
Kerry Walker has appeared in many stage productions, including Life Without Me, A Hard God, The Man From Mukinupin, The Wiredancer's Waltz, The Madwoman of Chaillot, and Hypocrite.
Linal Haft (Warner)
Warner (Linal Haft) is The Duke of Monroth's "manservant." He tasks him with killing Christian. Linal Haft will play Philostrate in director Sacha Bennett's film of A Midsummer Night's Dream. Haft also has a role in the upcoming Darkheart Manor. Many may recognize Haft from appearing in various episodes of BBC's Doctors, and in several episodes of the network's drama Casualty. Haft has appeared in episodes of Ripper Street, EastEnders, The Bill, Mary Bryant, Farscape: The Peacekeeper Wars, and Hollyoaks. Linal Haft has appeared in over 90 films and TV shows.
Haft has also appeared in the films More Dead Men, Heist, Outside Bet, After Death, and The Gatehouse, In 2018, he appeared in the cast of The Glenn Miller Story London Coliseum production. In 2017, he appeared in New Wimbledon Theatre's production of Cabaret.
DeObia Oparei (Le Chocolat)
Le Chocolat (DeObia Oparei) appears mainly as a background character in Moulin Rouge, but he is the one who helps Satine escape an assault from The Duke of Monroth. DeObia Oparei appeared in Dirty Pretty Things, The Foreigner, Thick as Thieves, Your Highness, Pirates of the Caribbean: On Stranger Tides, Dumbo, and Jumanji: The Next Level.
Many Game of Thrones fans will recognize DeObia Oparei as Areo Hotah. He also played Loki Hayes in Santa Clarita Diet. Oparei has also appeared in episodes of Emerald City, The Orville, and Proof. DeObia Oparei played Mr. Effiong in Sex Education. In 2021, DeObia Oparei will appear in Guy Ritchie's Wrath of Man.
Kylie Minogue (The Green Fairy)
The Green Fairy (Kylie Minogue) only appeared in the absinthe scene. She appears as a hallucination to Christian and the others. Kylie Minogue, of course, is Kylie Minogue so she's been actively making music. But, she also had some screen credits after Moulin Rouge. She appeared in the films Jack & Diane, Holy Motors, San Andreas, and Swinging Safari. Minogue also appeared in the shows Doctor Who, Young & Hungry, and Galavant.
In 2020, Kylie Minogue released her fifteenth studio album Disco.
Amazon Prime currently has Moulin Rouge streaming until May 1, 2021. Stream it here (opens in new tab).
Spent most of my life in various parts of Illinois, including attending college in Evanston. I have been a life long lover of pop culture, especially television, turned that passion into writing about all things entertainment related. When I'm not writing about pop culture, I can be found channeling Gordon Ramsay by kicking people out the kitchen.