Vin Diesel And The Rock: A History Of Their Fast And Furious Beef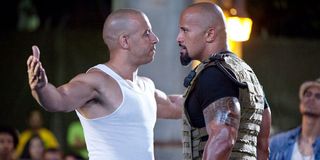 There is a shot in the closing minutes of Fast and Furious 6 where Dominic Toretto (Vin Diesel) and Luke Hobbs' (Dwayne Johnson) dynamic reluctantly goes from an international cop chasing a Dodge Charger-obsessed and family-driven criminal to somewhat of a loose partnership built on respect. The two stand side-by-side, looking in the general direction of the other, but not making eye contact, creating a confusing perspective that leaves you wondering what's going on there.
Something similar can be said about the real-life feud between The Rock and Vin Diesel that went public during the making of The Fate of the Furious and didn't seem to calm down until years later. Yet, here we are, still discussing one of the strangest chapters in the history of the Fast and Furious movies, and one that also played out in coded messages, tweets, Instagram posts, and even in publications around the world.
Here is a fast and furious breakdown of the years-long and heated beef shared by Mr. "Quarter Mile at a Time" and the "Franchise Viagra."
The Vin Diesel/Dwayne Johnson Beef Became Public With The Rock's 'Candy Asses' Instagram Post In August 2016
It has never been made entirely clear when Vin Diesel and Dwayne Johnson first started beefing with one another, but the first chapter that played out extensively over social media, and the media in general, kicked off during the production of The Fate of the Furious. In an August 2016 Instagram video that has since been taken down, Johnson shared some behind-the-scenes footage of the film's iconic prison fight scene before taking things to the next level in the comment section where he called out his male co-stars while not naming any names:
This could have very well meant any of Dwayne Johnson's co-stars, but as great as it would be to see The Rock trade barbs with Kurt Russell (maybe over the Big Trouble in Little China remake), in the days following it became clear this message was pointed at one person and one person only: Vin Diesel, who just so happened to be one of film's producers.
In The Wake of The Incendiary Post, Dwayne Johnson And Vin Diesel Had A One-On-One Meeting
The buzz surrounding Dwayne Johnson's incendiary comments was both fast and furious as the world began to take in what the former WWE Champion was saying about his co-stars. And as the day went on, it began to look more and more like the comments were aimed at none other than Vin Diesel, according to a detailed TMZ report. But even though Tyrese Gibson, Chris "Ludacris" Bridges, Scott Eastwood, Kurt Russell, and even Jason Statham appeared to escape The Rock's Instagram takedown, they all were reportedly upset with their costar.
The whole situation got so out of hand so quickly, Dwayne Johnson and Vin Diesel had an impromptu meeting. This initially looked like gossip following another TMZ report, the meeting was eventually confirmed by The Rock himself in a 2018 interview with Rolling Stone (via The Hollywood Reporter) where the wrestler-turned-actor confirmed not only the meeting but another rumor about he and Diesel not filming any scenes together:
There is just so much to take in there: the meeting, not filming scenes together, comments like "whether we work together or not." As work on The Fate of the Furious wrapped up, it looked like the beef too was about to run its course, but it quickly became the story that wouldn't go away.
Vin Diesel Later Said His Feud With Dwayne Johnson Was 'Blown Out Of Proportion"
When Vin Diesel was making the media rounds ahead of the release of The Fate of the Furious in April 2017, everyone wanted to know about one thing and one thing only: no, not his beer of choice but instead the business with he and Dwayne Johnson. When speaking with USA Today (opens in new tab), briefly touched on the subject and yet again made it sound as if this was just two brothers coming to a disagreement:
But then Vin Diesel went and said this:
These comments seem to bury the proverbial hatchet but also feature more of that brotherly talk the actor likes to throw out, especially when talking about Dwayne Johnson.
When Addressing The Beef At The April 2017 Premiere Of The Fate Of The Furious, The Rock Chalked It Up To 'Different Philosophies'
By the time The Fate of the Furious premiered in April 2017, Dwayne Johnson and Vin Diesel had appeared to have put the whole beef behind them when speaking with ET at the red carpet event. When asked about his involvement in the feud and how the two let bygones be bygones, The Rock explained that some things just have a way of working themselves out before diving into his comments the previous summer:
Dwayne Johnson's comments make it sound as if the supposed feud between him and Vin Diesel was nothing more than two brothers getting worked up after spending a lot of time together. If the Fast and Furious franchise has taught us anything it is that you don't always have to agree with your family, but you should be there for one another.
The Feud Appeared To Be Finished In 2019 When The Rock Teased His Fast And Furious Future
By the time Hobbs and Shaw became a box office juggernaut in August 2019, the once red-hot feud between Dwayne Johnson and Vin Diesel was over and done with. And that appeared to be the case even more in September when Johnson posted a video to his Instagram page thanking everyone for the spin-off's success before turning his attention to his Fast and Furious costar and their possible future:
In January 2021, just months before F9 was to land in theaters and while Fast and Furious 10 was being mapped out, Vin Diesel took to Instagram and shared picture of Dwayne Johnson and himself with a caption stating he was was "too excited" for what lies ahead. And while it hasn't been revealed if Johnson will return for F10, this means what beef the two had is over right? Right?
Vin Diesel Has Gone On To Say 'Tough Love' Factored Into The Feud
On the heels of the release of F9 in June 2021, the first Fast and Furious film in more than a decade to not feature Dwayne Johnson, Vin Diesel spoke with Men's Health and some offered insight into what caused the two to butt heads so much in the early days, which heavily factored into the feud that came later on:
Well, it seems like a little tough love goes a long way in the Fast and Furious franchise.
Whatever beef Dwayne Johnson and Vin Diesel may have had at one point appears to be over and done with at this point. We will have to see what the future holds for the two in real-life and the upcoming Fast and Furious movies.
Your Daily Blend of Entertainment News
Philip grew up in Louisiana (not New Orleans) before moving to St. Louis after graduating from Louisiana State University-Shreveport. When he's not writing about movies or television, Philip can be found being chased by his three kids, telling his dogs to stop yelling at the mailman, or yelling about professional wrestling to his wife. If the stars properly align, he will talk about For Love Of The Game being the best baseball movie of all time.
Your Daily Blend of Entertainment News
Thank you for signing up to CinemaBlend. You will receive a verification email shortly.
There was a problem. Please refresh the page and try again.