9 Florence Pugh Movies And TV Shows To Watch If You Like The Black Widow Star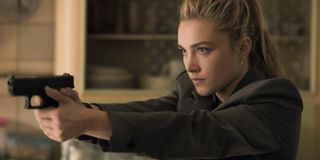 Florence Pugh is a rising star that has already built an impressive resume of movies and television projects. In July 2021, Pugh stepped into the world of Marvel in one of her biggest roles yet: Yelena Belova in Black Widow. This movie will make Pugh an even bigger star, however, long before Black Widow, Florence Pugh movies and TV shows have captivated viewers and made them rethink those trips with Swedish cults.
Florence Pugh made her screen debut in 2014, so she's been acting for less than ten years but already has plenty of exciting movies and TV shows available to stream or rent. Here are some of the best Florence Pugh movies and TV shows available to watch.
Midsommar (Amazon Prime)
Ari Aster wrote and directed Midsommar, a horror film that follows a group of college students who travel to Sweden to observe a festival that a friend invited them to attend. Florence Pugh plays Dani, a woman who just experienced a tragedy and -- sort of -- goes to take her mind off of it and be with her boyfriend. Midsommar's cast also includes Jack Reynor, William Jackson Harper, Will Poulter, and Vilhelm Blomgren.
Midsommar is one of the best horror movies made in the last ten years. It's memorable, scary in multiple ways, has a great cast, and the Midsommar twist ending will have you talking for years to come. Florence Pugh carries the movie as the lead. You're invested because of Aster's great storytelling abilities and because of Dani as a character. Midsommar is one of the best movies on Amazon Prime.
Stream Midsommar on Amazon Prime.
Fighting With My Family (Paramount+)
Stephen Merchant directed Fighting with My Family, the comedy biopic about professional wrestler Paige. The film follows Paige (played by Florence Pugh) as she auditions to be in the WWE and then makes it. Paige and her family are huge fans of wrestling and her brother and she have always dreamed of making it into the WWE.
Paige's dreams aren't all she hoped for because she faces jealousy from her brother, and the WWE world isn't as easy and accepting as she hoped. Fighting with My Family also stars Lena Headey, Nick Frost, Jack Lowden, and Vince Vaughn. Fighting with My Family is a movie that charms even those with no interest in wrestling, because at the heart of the film is family and going after your dreams.
Stream Fighting with My Family on Paramount+.
Rent Fighting with My Family on Amazon.
Little Women (Starz)
Little Women is Greta Gerwig's 2019 adaptation of Louisa May Alcott's beloved classic. It follows the four March sisters as they grow up during the post-Civil War era. Little Women's cast includes Emma Watson, Saorise Ronan, Meryl Streep, Laura Dern, Eliza Scanlen, and Timothee Chalamet.
Florence Pugh earned her first Academy Award nomination for Little Women. She achieved an even greater accomplishment by changing Little Women's fans' minds about Amy March.
Father Of The Bride Part 3(ish) (Netflix via YouTube)
Father of The Bride Part 3(ish) was a special reunion movie filmed during COVID-19 over video chats. It was made to help raise money for World Central Kitchen. It reunited the original cast of the first two movies: Steve Martin, Diane Keaton, Martin Short, Kieran Culkin, and Kimberly Williams-Paisley. Ben Platt and Florence Pugh join this special as adult versions of Megan Banks and George "Georgie" MacKenzie. They were babies in Father of the Bride Part II.
Father of The Bride Part 3(ish) is a great film to watch if you're a fan of the original movies. It gives you a big dose of nostalgia and Platt and Pugh fit right in with the chemistry of the cast. The movie is less than 25 minutes so it's a quick view as well.
Stream Father of the Bride Part 3(ish) on Netflix's Youtube Channel
Outlaw King (Netflix)
Outlaw King tells the story of Robert the Bruce, a Scottish King whose reign of power was during the 14th-Century. The movie follows Bruce as he rebels against Edward I's rule over Scotland from 1304 to 1307. The Outlaw King is a Netflix original movie that premiered in 2018. It stars Chris Pine, Aaron Taylor-Johnson, Florence Pugh, and Tony Curran.
Outlaw King adds to the growing collection of historical action movies on Netflix. This film mainly appeals to fans of movies like Braveheart and Gladiator. The film may appeal to those who don't mind movies that play fast and loose with historical accuracy. Florence Pugh also gives another noteworthy performance in Outlaw King.
Lady Macbeth (Amazon)
William Oldroyd brings the screen adaptation of the novella Lady Macbeth of the Mtsensk District by Nikolai Leskov to life in this 2016 film. Florence Pugh plays the lead of Lady Macbeth Katherine Lester. The film tells a story of a young woman in a loveless marriage who eventually breaks free of her shackles. However, this results in a few deaths and an awakening of Katherine's darker side. Lady Macbeth's cast includes Cosmo Jarvis, Naomi Ackie, Christopher Fairbank, and Paul Hilton.
Lady Macbeth is one of Pugh's first leading roles and she gives a layered performance as a once caged woman who now refuses to be caged again. She's willing to be as ruthless as possible for her independence and freedom.
The Falling (Tubi)
Maisie Williams and Florence Pugh star in The Falling. The 2014 film follows best friends Abbie (Florence Pugh) and Lydia (Maisie Williams) as they attend an all-girls school. Abbie begins to experience fainting spells, which eventually infects the whole school. The Falling cast also includes Maxine Peake, Monica Dolan, and Joe Cole.
The Falling is Pugh's first major acting role and it's always interesting to watch the first works of an actor or actress to see their career evolution. This film is also a very fascinating and complex movie about female friendships, hysteria, and sexual awakening.
The Little Drummer Girl (AMC+)
The Little Drummer Girl is a six-episode series that starred Michael Shannon, Alexander Skarsgard, and Florence Pugh. It was based on John le Carre's novel of the same name. Pugh plays Charmian "Charlie" Ross, a 20-something aspiring actress who finds herself involved in espionage. She's recruited to infiltrate a Palestinian group suspected of plotting terrorism in Europe. Park Chan-wook directed The Little Drummer Girl series.
The Little Drummer Girl has so many things working in its favor: a world-renowned director, an interesting premise, and a talented cast with Florence Pugh at the center. It's almost a must-watch for anyone who has a few hours to spare.
Stream The Little Drummer Girl on AMC+ (via Amazon Prime Channel Subscription)
Buy The Little Drummer Girl on Amazon
Black Widow-Disney+ Premier Access
Black Widow was one of the most highly anticipated summer films going into 2021. It's been over two years since Marvel fans have had a major movie release, and Black Widow is one that's been years in the making. Cate Shortland directed this prequel film that explores Natasha Romanoff (Scarlett Johansson) aka Black Widow's life after the events of Captain America: Civil War.
Black Widow acts as an introduction to several new Marvel Cinematic Universe characters, including Yelena Belova (Florence Pugh). The cast also includes David Harbour, O-T Fagbenle, William Hurt, and Rachel Weisz. The movie is currently playing in theaters and Black Widow is streaming as part of Disney+ Premier Access. You can access the movie online for $29.99 with an active Disney+ subscription.
Stream Black Widow on Disney+.
These are some of the most interesting Florence Pugh movies and TV shows available online right now but we're sure her impressive body of work will continue to grow and make its way to streaming platforms.
Your Daily Blend of Entertainment News
Spent most of my life in various parts of Illinois, including attending college in Evanston. I have been a life long lover of pop culture, especially television, turned that passion into writing about all things entertainment related. When I'm not writing about pop culture, I can be found channeling Gordon Ramsay by kicking people out the kitchen.