Wonder Woman 3: Everything We Know About The DC Movie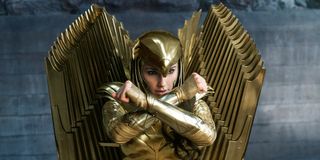 It seems like it wasn't all that long ago the world was anticipating the arrival of Wonder Woman 1984 in theaters (and on HBO Max), but with each passing day we are further away from the second entry of a proposed trilogy of one of DC Comics most famous and prolific characters. And while the March 2021 release of Zack Snyder's Justice League gave us an extra dose of Diana Prince (Gal Gadot) in all her glory, you may be wondering what's next and what's going on with Wonder Woman 3.
The truth is, there is already a lot we already know about the upcoming DC movie, but at the same time, there are a few unknowns at this stage in the game. And while we don't yet know when we'll actually get to see the movie, what it's about, and who will be joining Gal Gadot on the big screen, what we do know about Wonder Woman 3 is pretty freaking exciting. That being said, let's jump into everything we know about the return of Wonder Woman…
Gal Gadot Will Lead The Wonder Woman 3 Cast
No surprise here, but Gal Gadot will be returning to take on the role of the Amazon princess Diana Prince, aka Wonder Woman in the next set of adventures. The rest of the Wonder Woman 3 cast, however, remains a mystery at this time. Even though Asteria (Lynda Carter) made a brief cameo in the Wonder Woman 1984 end credits scene, it was never made all that clear if this was just a one-off appearance by the legendary Amazonian warrior and Wonder Woman TV show actress or the start of something that will be explored at some point in the franchise's future. We will also have to wait and see if Chris Pine's Steve Trevor is actually finished as well.
Writer-Director Patty Jenkins Will Be Back For Wonder Woman 3
Trying to imagine a world in which Patty Jenkins doesn't return to finish what she started with the Wonder Woman franchise is something no one wants to do, and luckily we won't have to either. Although Jenkins initially made comments during an interview with Vanity Fair that made it unclear about her role as a director for the upcoming threequel in addition to penning the script, it has since been revealed that she will return for a third go (as well as the mysterious Amazon-centric spinoff).
Warner Bros. Officially Greenlit Wonder Woman 3 In December 2020
Just as Wonder Woman 1984 was on its way to becoming the most-streamed movie of the year in December 2020, Warner Bros. made the franchise's future official and gave the series' third movie the green light to proceed with development. A statement from Warner Bros. Pictures Chairman Toby Emmerich broke the news, saying that Gal Gadot and Patty Jenkins would be back to bring the trilogy to a close but didn't provide any information about a timeline or any other details about the highly-anticipated DCEU superhero movie.
Wonder Woman 3 Will Not Be Set In The Past Like The First Two Movies
The first two entries in the Wonder Woman trilogy were set in 1918 and 1984, respectively, but the final entry in the franchise will not be set in the past, instead during contemporary times. Patty Jenkins touched on this during a 2019 interview with The Hollywood Reporter where she talked about Diana Prince's story will end, saying:
With Wonder Woman 3 being a more contemporary story than it's predecessors that could place it around the same time as Batman v. Superman: Dawn of Justice and Zack Snyder's Justice League depending on how the DCEU timeline works out.
The COVID-19 Pandemic Forced Patty Jenkins To Re-Evaluate The Wonder Woman 3 Story
At this point it has become a cliche to say the world is a different place now than it was in 2019, but the lingering effects of the COVID-19 pandemic and the way it changed people's perspective on everything is something we will all continue to deal with for quite some time. This also happened to Patty Jenkins, who told Total Film in June 2020 that the health crisis affected the Wonder Woman 3 story:
How the COVID-19 pandemic impacted Wonder Woman 3 remains to be seen, but Patty Jenkins did stress that she wanted to make sure the movie was influenced by what's going on in the world.
Wonder Woman 3 Will Have A Traditional Theatrical Release
When Wonder Woman 3 is eventually released, it won't take the same route as Wonder Woman 1984 which say the superhero sequel opened in theaters and on HBO Max simultaneously in December 2020. Instead, the upcoming threequel will likely have a traditional theatrical release, according to Variety. This should come as no surprise especially considering how Warner Bros. has already announced that the studio will return to its theater-first model in 2022, bringing an end to the groundbreaking yet divisive streaming model.
There Could Be A Long Wait Before Wonder Woman 3 Is Released
Those hoping to see Wonder Woman 3 in 2021, 2022, and possibly even 2023 may be setting themselves up to be disappointed as it could be quite some time before it actually happens. During a December 2020 interview with CinemaBlend's Reelblend Podcast (just a couple of weeks before Warner Bros. gave the threequel the greenlight), Patty Jenkins revealed she had a story in mind that she and Wonder Woman 1984 writer Geoff Johns were fired up about but wasn't sure when it was going to get made, if that actual version of the story gets made at all.
Although she didn't reveal any specifics about the story, Patty Jenkins explained that she wanted to wait and see where we are in the world when she gets around to working on Wonder Woman 3. This could be quite some time considering the other projects Jenkins is working on, most notably the Rogue Squadron movie scheduled to be released December 22, 2023.
Gal Gadot Has Called Wonder Woman 3 'A Nice Closure'
With the current state of the DCEU, Wonder Woman 3 could very well be the end of the road for Gal Gadot's portrayal of the iconic comic book character. This is something the actress addressed during an interview on Variety's The Big Ticket Podcast (which was recorded prior to Wonder Woman 3 being greenlit), saying:
How this talk of 'a nice closure' will affect the Wonder Woman 3 story remains to be seen, but with the franchise always thought to be concluding following its third installment, this could have major ramifications on its narrative. We'll have to wait and see.
And while we wait, now is the perfect time to get caught up to speed on all the other upcoming DC movies coming our way the next couple of years. And don't forget to check out CinemaBlend's 2021 movies schedule for even more cinematic adventures.
Your Daily Blend of Entertainment News
Philip grew up in Louisiana (not New Orleans) before moving to St. Louis after graduating from Louisiana State University-Shreveport. When he's not writing about movies or television, Philip can be found being chased by his three kids, telling his dogs to stop barking at the mailman, or yelling about professional wrestling to his wife. If the stars properly align, he will talk about For Love Of The Game being the best baseball movie of all time.