Billie Lourd And Taylor Lautner Look Adorable On Vacation In Mexico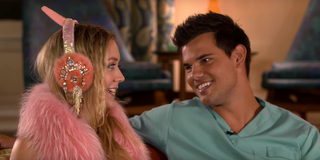 Things are heating up between Billie Lourd and Taylor Lautner... literally! The rumored celebrity couple is soaking up some sun together on a tropical vacation. It looks like Lourd is trying to start 2017 on the sunny side of things after the heartbreaking loss of her mother and grandmother at the very end of 2016. Check out the sweet photo below --- you'll almost forget it's January.
A source has told PEOPLE that Billie Lourd and her Scream Queens costar Taylor Lautner are hitting the beach in Cabo San Lucas, Mexico with each other for some much needed rest and relaxation. Lautner let fans in on the tropical getaway by sharing a selfie of himself and Lourd sunbathing near some palm trees.
Of course, some time in a beachy paradise is well-needed for Billie Lourd after the grim past few weeks she's had. As 2016 drew to an end, Lourd had to say goodbye to both her mother and her grandmother in the same week. On December 27, Lourd's mother, the legendary Star Wars actress and author Carrie Fisher, was pronounced dead after suffering a cardiac arrest. The very next day, Lourd's grandmother Debbie Reynolds, famous for her starring roles in iconic films like Singin' in the Rain, died of a stroke.
As it would be on anyone, the sudden loss of both her mother and grandmother has been devastating for Billie Lourd, but at least she has Taylor Lautner by her side. A source told PEOPLE that Lourd seems really happy on her vacation with Lautner.
Although it has not been definitively confirmed, the closeness that's become apparent between Billie Lourd and Taylor Lautner has many people assuming that they are dating. After the second season of their series Scream Queens finished airing --- during which Lourd and Lautner played love interests --- their costar Keke Palmer posted a SnapChat video of the two actors kissing in a club.
Taylor Lautner showed his love and support for Billie Lourd right after the news of Carrie Fisher and Debbie Reynolds' deaths broke, posting an adorable selfie of himself and Lourd and sharing some sweet words about how much he adores her.
After that gloomy ending to 2016, I'm just really glad that Billie Lourd's life seems filled with love and sunshine right now.
Your Daily Blend of Entertainment News
Your Daily Blend of Entertainment News
Thank you for signing up to CinemaBlend. You will receive a verification email shortly.
There was a problem. Please refresh the page and try again.