Julianne Hough's Honeymoon Just Started, And These Pictures Already Made Us Jealous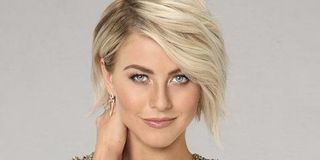 Julianne Hough and Brooks Laich married last week in a beautiful ceremony, and then they flew to an undisclosed seaside spot for a lavish honeymoon in the sun. While on vacation, the couple managed to capture a bunch of perfect seashore pictures to give their social media fans and followers travel goals with a tinge of jealousy. Have a peek at the best of the photos beginning with this one that Laich, who was relaxing in a hammock, captured of his new wife on a beachy tree swing:
In addition to having skills on the ice, Brooks Laich apparently has a great eye for photography. The 34-year-old Canadian ice hockey player took this next Pinterest-ready photo of Julianne Hough through his golden wedding band. Hough looks happy as a clam as she jumps for joy in front of the ocean. Check it out:
The couple kicked off their vacation picture posts on social media with a cute photo of their hands on top of their passports---one Canadian and one American. This particular photo showed off their beautiful wedding bling. Check out the size of that diamond on the Grease Live! star's hand:
Brooks Laich was not the only one who posted dreamy photos from the romantic escapade to paradise. Julianne Hough also showed off her mastery of social media images when she posted Instagram pictures like this one of Laich looking buff as he walked along the beach in a navy blue trilby Panama hat. Have a look here:
Julianne Hough also posted an adorable series of three pictures of herself with her new hubby in a tiki hut by the beach. The newlyweds appear to be over the moon surrounded by palm trees and warm weather. They smiled from ear to ear in two of the pictures and gave each other a kiss for the camera in the third. You can see part of the series here:
As much fun as the lovebirds had on the beach, nothing compared to the overwhelming joy they felt after saying, "I do." Julianne Hough posted a video of the experience, courtesy of People, and the Dancing with the Stars champion called it the best moment of her life. Watch it here:
What a beautiful way to document the happiest moments of their life thus far. They will treasure these pictures for years to come. Congratulations, Julianne and Brooks!